Best Oracle DBA Online Training
Oracle DBA Online Training Course
This Comprehensive Oracle DBA Course will help you to become an expert in Oracle RAC (Real Application Cluster) Concept which will allow users to run Oracle Database in multiple Servers to provide maximum availability and auto Scalability.  From our Advanced Oracle DBA Certification Training you will learn how to replicate and transform data from one database to another database using Oracle Golden Gate 12c.
We will Cover Basic SQL and Linux Commands along with this live instructor Led Online Training at free of Cost. Anyone can learn Oracle DBA Course with Basic SQL and Linux knowledge which is essential.
Get Free Self-Paced Videos, Unique Course Materials and Dumps to Clear exams.
Become good Oracle Database administrator by learning Oracle data guard 12c features for Create , Maintain a Secondary Standby Databases to enable while the Production Database disasters and corruptions.  Avoid downtime by using Oracle data guard and maximize the Service availability.
We focused on 100% Practical and Certification Oriented Oracle DBA Online Course with Placements for our Students. Most Of Our Trainers are currently working as senior oracle database Admin with 10+ Years industry Experienced. Our Oracle DBA Online Course Syllabus will help you to know basic to advanced level techniques in Oracle DBA. Enroll for Oracle DBA Online Course with Gangboard and get extensive knowledge on the Oracle Admin role.
About Oracle DBA Course
We, at GangBoard, provide you with a specialized Oracle DBA Online Training, from beginner to advanced level. We have experienced Oracle DBA experts who will guide and help you understand how to administering standalone Oracle databases. In addition, our team has customized this Oracle DBA Online Course curriculum to meet the standards of the current industry.
Our Oracle DBA Admin experts are renowned corporate professionals who will provide you with corporate-style training that will help you getting MNC jobs. To make Oracle DBA online training better understandable, we have a voice and video recordings that help learners to comprehend the course more efficiently.
Being created with an idea of providing skills to learners about the updated corporate life, GangBoard has produced hundreds of thousand hours of insightful tutorials that deliver the learners with worldwide top-rated skills. After the completion of your Oracle DBA Online Training, we easily can schedule interviews
What you'll learn from this course?
Database Architecture
Installing the Oracle Database Software
Creating an Oracle Database
Managing the Oracle Instance
Managing Database Storage Structures
Administering User Security
Managing Schema Objects
Implementing Oracle Database Security
Configuring the Oracle Network Environment
Backup and Recovery Concepts
Configuring Recovery Manager
Dealing with Database Corruption
Automating Tasks with the Scheduler
Workshop
Upcoming Batches for Oracle DBA Training
Our Oracle DBA Online Course give students the opportunity to take classes on your flexible timings. Choose from a number of batches as per your convenience. If you got something urgent to do, reschedule your batch for a later time. The classes can be attended to at any place and any time as per your choice.
07-10-2023
Saturday (Saturday - Sunday)Weekend Regular
11:00 AM (IST) (Class 3Hrs) / Per Session
09-10-2023
Monday (Monday - Friday)Weekdays Regular
08:00 AM (IST)(Class 1Hr - 1:30Hrs) / Per Session
05-10-2023
Thursday (Monday - Friday)Weekdays Regular
08:00 AM (IST)(Class 1Hr - 1:30Hrs) / Per Session
Course Syllabus of Oracle DBA Online Training
Database Architecture
Describe course objectives
Explore the Oracle 10g database architecture
Installing the Oracle Database Software
Explain core DBA tasks and tools
Plan an Oracle installation
Use optimal flexible architecture
Install software with the Oracle Universal Installer (OUI)
Creating an Oracle Database
Create a database with the Database Configuration Assistant (DBCA)
Create a database design template with the DBCA
Generate database creation scripts with the DBCA
Managing the Oracle Instance
Start and stop the Oracle database and components
Use Enterprise Manager (EM)
Access a database with SQL*Plus and iSQL*Plus
Modify database initialization parameters
Understand the stages of database startup
View the Alert log
Use the Data Dictionary
Managing Database Storage Structures
Describe table data storage (in blocks)
Define the purpose of tablespaces and data files
Understand and utilize Oracle Managed Files (OMF)
Create and manage tablespaces
Obtain tablespace information
Describe the main concepts and functionality of Automatic Storage Management (ASM)
Administering User Security
Create and manage database user accounts
Authenticate users
Assign default storage areas (tablespaces)
Grant and revoke privileges
Create and manage roles
Create and manage profiles
Implement standard password security features
Control resource usage by users
Managing Schema Objects
Define schema objects and data types
Create and modify tables
Define constraints
View the columns and contents of a table
Create indexes, views and sequences
Explain the use of temporary tables
Use the Data Dictionary
Manage data through SQL
Monitor and resolve locking conflicts
Managing Undo Data
Explain DML and undo data generation
Monitor and administer undo
Describe the difference between undo and redo data
Configure undo retention
Guarantee undo retention
Use the undo advisorv
Implementing Oracle Database Security
Describe DBA responsibilities for security
Apply the principal of least privilege
Enable standard database auditing
Specify audit options
Review audit information
Maintain the audit trail
Oracle DBA Training Syllabus – Part 2
Configuring the Oracle Network Environment
Create additional listeners
Create Net Service aliases
Configure connect-time failover
Control the Oracle Net Listener
Test Oracle Net connectivity
Identify when to use shared versus dedicated servers
Backup and Recovery Concepts
Identify the types of failure that may occur in an Oracle Database
Describe ways to tune instance recovery
Identify the importance of checkpoints, redo log files, and archived log files
Configure ARCHIVELOG mode
Performing Database Backups
Create consistent database backups
Back your database up without shutting it down
Create incremental backups
Automate database backups
Monitor the flash recovery area
Performing Database Recovery
Recover from loss of a control file
Recover from loss of a redo log file
Perform complete recovery following the loss of a data file
Performing Flashback
Describe Flashback database
Restore the table content to a specific point in the past with Flashback Table
Recover from a dropped table
View the contents of the database as of any single point in time with Flashback Query
See versions of a row over time with Flashback Versions Query
View the transaction history of a row with the Flashback Transaction Query.
Moving Data
Describe available ways for moving data Create and use directory objects
Use SQL*Loader to load data from a non-Oracle database (or user files)
Explain the general architecture of Data Pump
Use Data Pump Export and Import to move data between Oracle databases
Use external tables to move data via platform-independent files.
Configuring Recovery Manager
Recovery Manager Features and Components
Using a Flash Recovery Area with RMAN
Configuring RMAN
Control File Auto backups
Retention Policies and Channel Allocation
Using Recovery Manager to connect to a target database in default NOCATALOG mode
Displaying the current RMAN configuration settings
Altering the backup retention policy for a database
Using Recovery Manager
RMAN Command Overview
Parallelization of Backup Sets
Compressed Backups
Image Copy
Whole Database and Incremental Backups
LIST and REPORT commands
Enable ARCHIVELOG mode for the database
Use Recovery Manager
Recovering from Non-critical Losses
Recovery of Non-Critical Files
Creating New Temporary Tablespace
Recreating Redo Log Files, Index Tablespaces, and Indexes
Read-Only Tablespace Recovery
Authentication Methods for Database Administrators
Loss of Password Authentication File
Creating a new temporary tablespace
Altering the default temporary tablespace for a database
Incomplete Recovery
Recovery Steps
Server and User Managed Recovery commands
Recovering a Control File Autobackup
Creating a New Control File
Incomplete Recovery Overview
Incomplete Recovery Best Practices
Simplified Recovery Through RESETLOGS
Point-in-time recovery using RMAN
Flashback
Flashback Database Architecture
Configuring and Monitoring Flashback Database
Backing Up the Flash Recovery Area
Using V$FLASH_RECOVERY_AREA_USAGE
Flashback Database Considerations
Using the Flashback Database RMAN interface
Using Flashback Database EM Interface
Managing and monitoring Flashback Database operations
Dealing with Database Corruption
Block Corruption Symptoms: ORA-1578
DBVERIFY Utility and the ANALYZE command
Initialization parameter DB_BLOCK_CHECKING
Segment Metadata Dump and Verification
Using Flashback for Logical Corruption and using DBMS_REPAIR
Block Media Recovery
RMAN BMR Interface
Dumping and Verifying Segment Metadata
Monitoring and Managing Storage I
Database Storage Structures
Space Management Overview
Oracle-Managed Files (OMF)
Row Chaining and Migrating
Proactive Tablespace Monitoring
Managing Resumable Space Allocation
SYSAUX Tablespace
Monitoring table and index space usage
Monitoring and Managing Storage II
Automatic Undo Management
Redo Log Files
Table Types
Partitioned Tables
Index-Organized Tables (IOT)
Managing index space with SQL
Configure optimal redo log file size
View "Automatic Tuning of Undo Retention"
VLDB Support
Creating Bigfile Tablespaces
Packages and data dictionary changes to support VLDB
Creating and maintaining temporary tablespace groups (TTG)
Partitioning and Partitioned Indexes
Skipping unusable indexes
DML Error Logging
Interpreting Bigfile ROWIDs
Automating Tasks with the Scheduler
Scheduler Concepts
Creating a Job Class and a Window
Managing Jobs, Programs, Chains, Events, Schedules, priority
Viewing and Purging Job Logs
Creating a program and a schedule
Creating a job that uses a program and a schedule
Altering the program and schedule for the job and observing the behavior change of the job
Monitoring job runs
Workshop
Workshop Methodology, requirements, and setup
Scenario 1: Database performance
Scenario 2: Finding and Tuning Inefficient SQL
Scenario 3: SGA Management – REDO
Scenario 4: Running out of Undo Space
Scenario 5: Missing datafile
Scenario 6: Managing space in a tablespace – REDO
Scenario 7: Missing TEMP data file
Are you Looking for Customized Syllabus
We are also providing customized syllabus to the students according to their needs and projects requirements for the cons
Request a Call
Program Features
IT Professionals as Trainers
Learning a technology with a professional who is well expertise in that solve 60% of your needs.
Fully Hands-on Training
We support any training should be more practical apart from theoretical classes. So, we always gives you hands-on training.
Affordable Fees
We are dead cheap in fees. We are having options to make the payment in instalments as well if needed.
10000+ old students to believe
We satisfied 10000+ students from the day we started GangBoard. Take a look of our old student's video reviews and it says all.
Counselling by Experts
If you are in dilemma to choose a course, we are having experts in counselling team to help you with perfect projection of your career.
Own Course Materials
We have every course material to understand which is prepared by our trainers and we will share with you after session completes.
FAQ
How I can practise?
Detailed installation of required software will be displayed in your LMS. Our support team will help you to setup software if you need assistance. Hardware requirements need to be fulfilled by participants.
What is I miss one (or) more class?
No worries. It might happen. We will reschedule the classes as per your convenience within the stipulated course duration with all such possibilities. And if required you can even attend that topic if any other live batches.
Who is my instructor?
Top-notch professionals in that field who understands how to convey things in technical as well as subject matter experts.
What are the modes of training offered for this course?
We offer this course in "Live Instructor-Led Online Training" mode. Through this way you won't mess anything in your real-life schedule. You will be shared with live meeting access while your session starts.
Can I attend a demo session?
You can get a sample class recording to ensure you are in right place. We ensure you will be getting complete worth of your money by assigning a best instructor in that technology.
How about group dicounts (or) corporate training for our team?
We are absolutely loved to talk in-person about group training (or) corporate training. So, please get in touch with our team through "Quick Enquiry", "Live Chat" or "Request Call-back" channels.
What are the payment options?
Payments can be made using any of the following options and a receipt of the same will be issued to you automatically via email. Debit Card / Credit Card, American Express, Master Card, or PayPal.
I have more queries?
You can reach us through +91-9707240250. Or you can share your queries through enq@gangboard.com. Estimated turnaround time will be 24 hours for emails.
Request more information
Our Advisor will get in touch with you in the next 24 Hours
Oracle DBA Certification Online Training
GangBoard Certification is Accredited by all major Global Companies around the world. We provide after completion of the theoretical and practical sessions to fresher's as well as corporate trainees.
Our certification at GangBoard is accredited worldwide. It increases the value of your resume and you can attain leading job posts with the help of this certification in leading MNC's of the world. The certification is only provided after successful completion of our training and practical based projects.
5000
Total Number of Reviews
4.57
Aggregate Review Score
97%
Course Completion Rate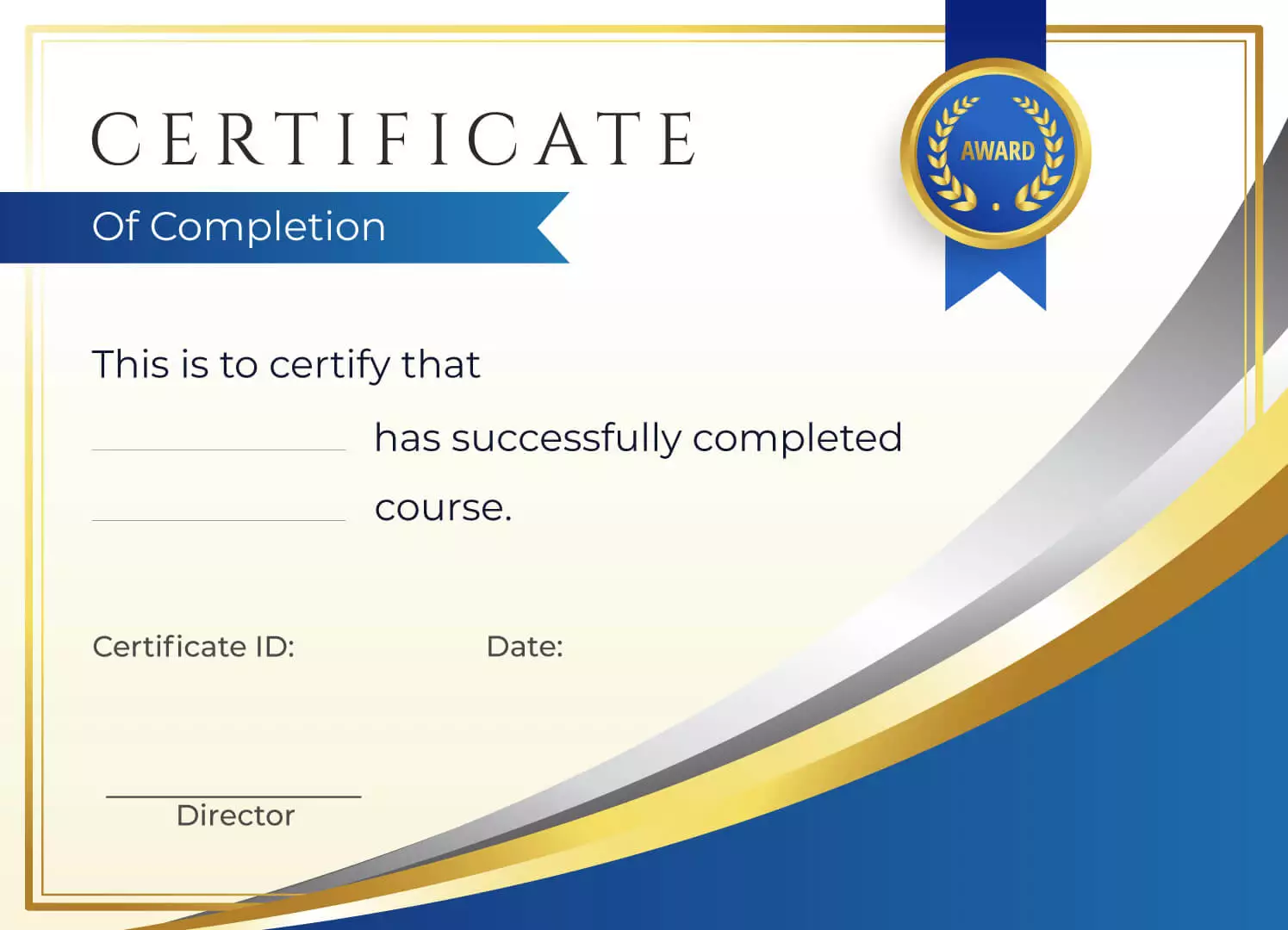 (Click to Zoom)
At the end of our course, you will be able to deploy full-fledged standalone Oracle databases. Once you completed the course we will issue our own certification, also if you are preparing for Oracle Certifications we will help you with the steps. We will help you to Clear Oracle OCA, OCP and OCM Certifications.
From this Oracle DBA Certification Training you will earn a valid and life time Oracle Certificate (OCA) which once is Shareable to employers. Also you will receive the Course Completion Certification by GangBoard at the end of this course and assignment works.
Register for Oracle DBA Training Course Online and get placed in Top MNC like TCS, Infosys, Cognizant and Bank of America with an average Salary of $100000.
Oracle DBA Training Reviews
Average Ratings
Activity from April 2018
4.8

Course Reviews
Activity from Last Year
1596
Reviews
Average Ratings
GangBoard Total Reviews in all Medium
21,596
Reviews
Manish
Software Engineer
Hi everyone, this is Manish from Chennai. I did Oracle DBA Training at Gangboard. The quality of the training was really very good and my trainer taught me very well. Finally, I had a good experience with Gangboard. Thanks to my trainer and Gangboard.
Rajesh
Associate
Hi, this is Rajesh, first I would like to say thanks to my trainer. Because I learned a lot from my trainer also I impressed with his teaching. They taught me every single concept with real-time examples. Now am very happy with my course. Thank you so much.
Harish
Software Engineer
I did Oracle DBA training at Gangboard. I think it's one of the best institutes for learning Oracle dba training because the training was fully practical oriented. The trainer spoke with students in a friendly manner. Overall the Gangboard team guided me very well. Thank you, guys.
Madhan
Software Engineer
I had a nice experience with Gangboard. I had done Oracle DBA Training at Gangboard. I was satisfied with my course content. Their course content is fully based on industry standards. My trainer taught me the basics of all advanced topics. Thanks to the Gangboard team.
Shreya
Tech Associate
I have completed Oracle DBA Online Training in Gangboard. Really I got a nice experience with my trainer. The trainer teaches me a friendly manner. I learned more technical about oracle dba from my trainer. The training was excellent and 100% practical sessions.
GangBoard Training in India
Oracle DBA Online Training

Job Opportunity for Oracle  DBA Online Training

Oracle databases are used almost everywhere in the Software industry where data should be stored and retrieved. It is an evergreen technology because the database is inevitable for most of the applications. An Oracle DBA will always have opportunities both locally and abroad and is a highly respected designation and are always in demand.

Best Career Options after Doing Oracle DBA Online Training

After the completion of your Oracle PL/SQL online course, you will be to working on databases. Some possible job opportunities after doing Oracle DBA online course are

Database Administrator (DBA)
Associate Software Engineer
Oracle Developer
Information Technology (IT) Consultant
Project Leader
Oracle Admin
Senior Technical Consultant
Senior Database Administrator (DBA)
Senior Software Engineer.