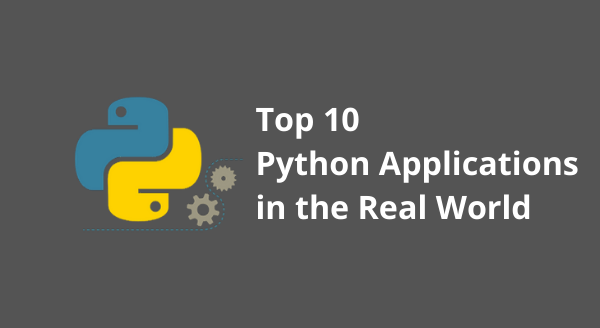 Top 10 Python Applications in the Real World
What is Python?
Before we get to know the Top 10 Python Applications in the Real World, lets us see in short on what is Python. Python is an easy to learn object-oriented programming application software and a high-level language which is an open source too. The primary features of Python are it can be applied on intricate software development processes, permits building of multiple programming, implement automation testing process, create simple and understandable code etc. There are Python libraries for unit-testing, image manipulation, threading etc.
In the current days, Python is one of the most widespread programming languages all over the world. There are many start-ups making use of Python just because of its low budget and simplicity, whereas even many giants' companies like Spotify or Instagram uses Python framework to generate coolest working experiences. Python facilitates the developers to mainly concentrate on writing their apps rather than reinventing the wheel. We are done with the introduction of Python and now it is time to dive into the topic "Top 10 Python applications in the real world".
Top 10 Python Applications in the real world
So what makes Python a more efficient and pliable one? This sounds like an interesting question. Python is said to be a server-side programming language and good to go-ahead with web development. Different applications are running with Python like Data Science, Desktop GUI, Artificial Intelligence, Game development, Video & audio applications, Machine Learning, Data Visualization etc. Python is used by many developers as a core programming language. Below are rated as the Top 10 Python Applications in the real world. 
1. Business Applications
Though we do number of personal, standard, or normal website and applications, Business Applications plays a major role as it covers important domains like ERP, e-commerce and so on. Business Applications should always be extensible, accessible, and easily understandable. Hence, the developers use Python as it can provide all these features straightaway. Business Applications are the ones that purely fits into the organization needs when compared to an individual client. These applications developed by Python are always probable to integrate with heritage systems.
2. Machine Learning and Artificial Intelligence
The talk of the town is always Machine Learning and Artificial Intelligence in the current days and there are many auspicious careers for the youngsters and professionals. Computers learn depending on various experiences with the available data and build efficient algorithms that enable the computer to learn in their own. Do you know the name of programming language chosen by the developers to make this possible? Yes, it is Python. Python support Machine Learning and Artificial Intelligence domains as it contains various libraries like NumPy, SciPy, Scikit-Learn, TensorFlow, Pandas, and few more. When compared to traditional software models, AI and ML models are fundamentally different and hence the technologies and tools used are completely different from those used in the development of conventional software projects. As Machine Learning and Artificial Intelligence applications need a secured, stable and flexible programming language, Python is used. Most of the Data Scientists are adopting Python for their projects.
3. Game Development
For the interactive game development, developers can use Python as it has a wonderful library for 3D game, which is called PySoy. PySoy is a game engine for 3D Games. In addition to game development, Python is also useful to develop tools in order to shorten detailed actions like dialog tree creation, and those tools can be used to distribute those jobs in different formats which is useful for the primary game engine. Most of the game engines are using Python as a scripting language.
4. Web Development
There are many web applications built through Python in a quick speed. The framework used by Python to develop a web application is very powerful and rapid. Numerous libraries are available in Python to integrate protocols like SSL, HTTPS, FTP and few more. You can also process XML, JSON, POP, IMAP and Email using Python. Python has superior features like scalability, security and handiness while developing an application from the scratch and hence most of the game's application are handled with Python. In addition, Python's Package Index is packed with some useful libraries like Paramiko, Requests, Paramiko, BeautifulSoup, Feedparser, and Twisted Python.
5. CAD Applications
Computer-Aided Designing (CAD) is an application which is really complicated when compared to other applications as there are many things to be handled by the developers. Python is the one to make CAD application development simple. CAD applications are useful to store drawings copies, blueprints, data, and so on. The other factors covered by CAD application are interior design, mechanics, engineering, electronics, architecture, animation and modelling. There are many new approaches targeted by CAD application in the recent days. Specialists are using this type of application to build their imagination along with 2D and 3D effects to just look like a real one.
6. Audio and Video Applications
Multi-tasking applications and media related applications can be built using Python. Python libraries are highly playing their role in creating audio and video application. If you are using Python to develop an audio or video application, then you can surely afford a healthier performance and constancy when compared to other media stages. Developers can create and condense a wholly tailored video with text, animations, and vectors with the help of Python's Moviepy.
7. Data Science and Visualization
Every individual must know the process of extracting the relevant information which would be a great help to calculate the risks and profits. To study the available data, perform operations and pull out the required information, we need some powerful and effective libraries like NumPy, Panda, SciPy etc which are available in Python. To visualize the data in the application, make use of the  Python libraries and you will be benefitted in plotting graphs and many more. By perform this process and utilizing the Python libraries in the right place, you can easily become a Data Scientist.
8. Embedded Applications
For Embedded Applications, Python can be used to produce Embedded C software. On a smaller device, you can create higher-level applications. Python contains a lot of strengths and hence this is a great programming language for developing embedded applications. Previously, C or C++ were used to create Embedded applications, but now the trend has been changed to Python as the developers need a readable and reduced error programming languages.
9. Web Scraping Applications
More people are wondering to pull out a huge amount of data from the websites and use in the real world. In such scenarios, people are using Python to retrieve the data and utilize in the real-world courses like research, price comparison, research & development and job listings. BeautifulSoup is one of the best libraries available in Python to drag the data and later use it for various purposes.
10. Desktop GUI
Are you ready to develop Desktop application? Then you need to use Python as it provides a library called Tkinter to develop user interfaces. We can get a wide range of options in GUI if using Python programming languages and develop a secured and simple applications. The process of creating a cross-platform GUI with Python is not a complicated task. Into your Python code, just import the produced GUI builder files in order to quicken the development duration.
Python Frameworks for different applications
Below are some of the examples of top 10 applications using Python
| | | |
| --- | --- | --- |
| S. No | Python Application | Python Applications and Libraries |
| 1. | Business Applications | For Business Applications, the Python frameworks used are Django, CheeryPy, Pyramid, Grok, TurboGears, Web2Py, Flask, Bottle, Tornado, BlueBream, and Quixote |
| 2. | Machine Learning and Artificial Intelligence | PyTorch is the primary Python framework used for Machine Learning. The other Python frameworks are Theano, Torch, Pandas, Keras, and TensorFlow |
| 3. | Game Development | Pygame, Cocos2d, Panda3D, PyOpenGL are some of the Python Libraries used for Game applications. Disney's Toontown, Battlefield 2, Vega Strike, World of Tanks are the examples of game applications built using Python |
| 4. | Web Development | Pyramid, Django, and Flask are the major Python libraries used to build Wed applications. Few examples of Web applications are Spotify, Reddit, Yelp, and Mozilla. |
| 5. | CAD Applications | Fandango is the famous CAD application built by Python. SciPy, Pandas, Natural Language Toolkit are some of the Python libraries used to build CAD applications. |
| 6. | Audio and Video Applications | MoviePy plays the major role in building an audio and video applications. Also, PyDub and OpenCV helps for the same purpose. Netflix, and YouTube are the examples of Audio and Video applications |
| 7. | Data Science and Visualization | NumPy and Pandas are the main set of libraries used in Data Science and Visualization. Other than these two, you can also use Matplotlib and Seaborn |
| 8. | Embedded Applications | Raspberry Pi is the one of the top Embedded application built using Python |
| 9. | Web Scraping Applications | Selenium, MechanicalSoup, Urllib, and BeautifulSoup are the top-rated Web scraping applications developed using Python |
| 10. | Desktop GUI | You can use Python libraries like PyGUI, Tkinter, PyQT, Kivy and PySide to build Desktop applications. To-Do apps and calculators are the examples of Desktop GUI developed using Python |
By now, you will be familiar with the top 10 applications developed by Python. It is good to develop applications using Python to have a better experience in a simple way and for sure, there is a promising opportunity for every individual in the current market. Data Science, Artificial Intelligence and Machine Learning are ruling the world. Python plays its unique role in all these fields and hence the scope is high on these areas. If you are looking for an easy and simple programming language to build any type of personal or business-based applications, just go-ahead to opt Python and keep rocking in this real world.
Related Blogs