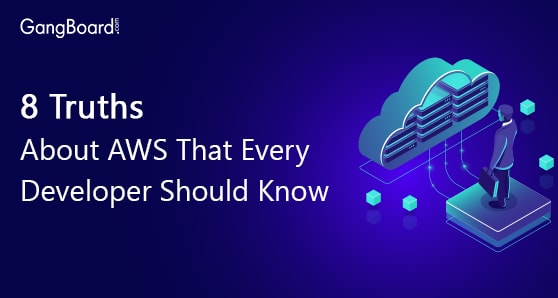 8 Truths About AWS That Every Developer Should Know
In year 2006, when Amazon started offering its web services to IT sector not many gave it a chance. However after 10 years now it is the most 'in-thing' in the IT sector today. Not only it has raised its stocks in the market but has changed the way IT sector works. Developers working with AWS are reaping in high positions and salaries and this trend is bound to get stronger in coming days. For anyone who is eyeing a career in this field it is a right time to get an AWS Training and join the brigade which is growing strong every year.

In this post we will cover 8 absolute truths that every AWS developers should know and understand. So, here they are:
Massive Storage Space: In year 2006, when it started, it started with just 2 basic services one of which was renting a storage space for an hour. In next 10 years, AWS has added more than 70 web services that include: Analytics, database, networking and more. AWS network is expanding and expanding like never before. Today, such is its efficiency that it can hold more than trillions of objects. Customer base of people using AWS is also massive. More than 143 million hours of services is used every month by its customers.
Massive Market Share: For those who are only impressed by big numbers this fact is for you. Today AWS is bigger than any of its competitors rather it is bigger than all four of its competitors combined. It has more than 13 data centres that spread all across the world and it doesn't stop here. In coming few years they are planning to add some more data centres to expand their horizon and reach. Today they are leaders in Cloud computing with impressive profits margins.
Aura of Aurora: Amazon Aurora is a relational database engine of Amazon, which is growing tremendously. Such is its growth that it has now become the fastest growing AWS service. If you are doing an AWS Training Online, you can surely eye some handsome rewards in this field.
AWS is Quickly Making its Way into all Big Companies: As mentioned above the reach of this service is spreading everywhere. Today many big companies are using and are benefiting from these services. Some of its prominent users are Foursquare, Quora, Netflix, Airbnb and reddit. This list is growing and is getting stronger every year. The speed at which AWS is adding companies to its network is exhilarating. It has not only notched up its market share but has left its competitors far behind.
High on Security: AWS takes its data security very seriously. It possesses one of the toughest and securest API's that is hard to break in. Moreover it has in place strong data monitoring centres that keeps a close watch on everything 24*7. These services comprise of multiple security layers that are not easy to break in. To put in simpler words when it comes to security AWS layers are hard to break in.
These Services can be used by any Business: There was big misconception about these services that they are useful for big businesses only. However, this myth has been proven wrong with the growing AWS services in the market. Today, businesses of all sizes and scales are successfully using these services and are largely benefiting from it. This is another reason why that AWS Training should be pursued sincerely.
Barrage of New Services and Features: If you think that growth is measured in terms of addition of services and features than have a look at this. AWS has successfully added 722 new features in span of 12 months (2014-2015). This just shows the scope and growth in this field. AWS is growing and is growing fast every year.
Huge Customer Base: AWS customer base is spread all across the globe. As per the estimate in 2016, a total of 190 countries use these services. This huge customer base is divided between 17,500 non-profit organizations, 2,000 government agencies and 5,000 educational institutes.