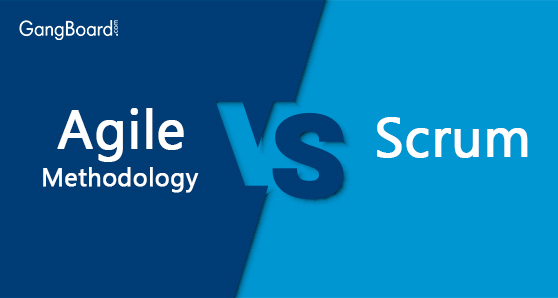 Agile Methodology Vs Scrum
Agile Methodology Vs Scrum
Do you want to complete your projects on time and in an efficient manner? Are you stuck in a difficult project? Are you moving around in a fast paced and ever changing environment? If so, then it is important for you to get your hands on agile methodology.
In this cutthroat competitive corporate world, whether it's about project requirements, customer demands, support issues or tasks, many companies have got to know that their outdated business processes do not allow them to carry out operations efficiently.
What is Agile Methodology?
Founded in 200, the agile methodology had come into existence. Talk about its meaning, agile methodology is a practice that helps continuous iteration of development and testing. In addition, it helps to break down the product into smaller builds. Unlike other software development methodologies, development and testing activities are concurrent in Agile. The best part is that it helps to encourage teamwork and face-to-face communication. In order to develop a product, business, stakeholders, and developers and clients must work together efficiently.
Popularly known as project-management approach, agile methodologies encourage a set of best practices, allowing the timely delivery of high-quality software while improving a business approach. In addition, all the needs are analyzed properly and documented before actually starting the development cycle.

What are the Benefits of Choosing Agile?
Following are the benefits of choosing Agile.
Customer Benefits:
The agile methodology enables delivery within short cycles. Consequently, it allows the vendors to answer the legitimate queries made by customers.
Visibility:
This methodology has a shared approach that encourages the participation of active users throughout the development of the product. This would ultimately give exceptional and clear visibility of the project's status and product development to the stakeholders.
Budget:
Having a fixed timescale, agile methodology has the requirements subject to fluctuate which might evolve as the project progresses. However, the budget is fixed.
What is Scrum ?
It can be defined as one of the most popular ways to implement agile. It is another iterative approach where there are sprints that allow the team to deliver software more often. Scrum uses a software model that follows a multitude of responsibilities, roles, and meetings.
As a matter of fact, Scrum can be defined as the simple framework that help find out major issues of a project and in turn, deliver a high-value product creatively. Always remember that it is not a technique or a process but a lightweight framework. Here are the attributes of Scrum.
What are the Benefits of Choosing Scrum?
Following are the benefits of choosing Scrum.
Flexibility:
The Scrum wisely uses the stories of the user to describe the functions needed to be developed. There is a tool called Pivotal Tracker that stores these user stories in a backlog.
Communication:
According to the sprint schedule, the communication between business users takes place on a daily/weekly basis in Scrum methodology. This close communication plays an imperative role, promoting the success of the Scrum methodology.
Simplicity:
The development in Scrum is done in sprints, which can be 1, 2, and 3 weeks in length. The Scrum team consists of Product owner, scrum master, and development team.
Conclusion:
Agile methodology is a practice that helps continuous iteration of the development process.
Scrum is the process of agile that allows us to focus on delivering the top quality business value.
In the Agile method, the main objective is to satisfy the customer by providing continuous delivery of valuable software.
The main benefit of Agile is its flexibility as it quickly reacts whenever any change made.
In the Agile process, leadership is the key.
In Scrum, a daily sprint meeting is conducted regularly to review and feedback deciding whether the project is delivering results.
In Scrum, when the team is done with the current sprint activity, the next sprint can be pre-planned which saves time.