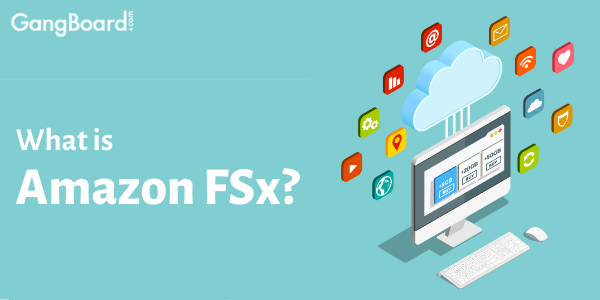 Amazon FSx
Amazon FSx
This article helps you to get exposure to Amazon's FSx. The recent tool introduced in the market by Amazon in order to run windows applications on the cloud is Amazon FSx.
This tool provides network file storage solutions that exquisitely well with the existing windows environments and applications.  File storage and maintenance gained more attention because of its higher challenges in current business demands and performance demands.
Old fashioned methods for document management were getting obsolete and almost all companies show much interest in a quick, flexible and more secure method for document storage.
Amazon FSx is such a quick, flexible and secure tool for file storage which is aimed to provide enhanced user experience, much reduced administrative overhead and inexpensive as well. Still, running a windows application in its native Microsoft Windows file system is challenging. Major challenges in managing the existing windows servers and file storage for applications lie in Hardware Management and Software Management.
How Amazon FSx Works?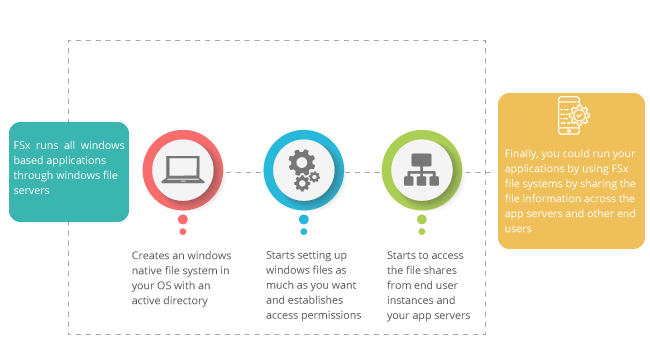 Hardware Management:
In this case, the user has to plan the capacity and other needs and thereby purchase the hardware. Other challenges include identifying and troubleshooting the hardware failures, set up of storage volume/servers, etc.,
Software Management:
In this case, the user has to install and configure the server software, set up and configure the file systems, apply the current windows updates, have to manage the licenses of the software, have to monitor the security and has to manage the data backup.
Basics of File Sharing Services
Before getting started to explore Amazon FSx, let's brush up some basic concepts of Windows File sharing services and what a workload generally need.
To serve file data services, we have various protocols available. In the case of FSx, Common Internet File System(CIFS) and Server Message Block (SMB) was used prevalently. Since CIFS is a technical version of the SMB, we can treat these two protocols interchangeably throughout this article.
Use Cases in FSx
The primary use cases available in Amazon FSx are the following:
Home Directories
Data Analytics applications
Media workflows such as transcode, process and stream
Shift and Lift application workloads
Software Development platforms
Content Management and Web serving Applications
Generally, the basic requirement for all the workloads is to share the data across many clients present in various locations through several devices. But, that must meet the user's demand through its performance such as low latency and high I/O and the data must be available without any disturbance in its arrangement.
AWS finally derived a solution in late 2018 by addressing the problems in the user demand and need for the shared file support for the workloads such as CIFS and SMB through Amazon's FSx. As we already know that FSx is entirely compatible with all windows based applications because it is built on windows, FSx could be integrated with any such workload namely NTFS in Windows, Active Directory and Distributed File System. Still, AD is the only workload that can be accessed through the native AWS directory and without AD, it is not possible to use the service.
Features of FSx
To manage and solve the hardware problems and software management overhead, Amazon provides EBS(Elastic Block Storage)volumes and EC2 (Elastic Compute Cloud) instances. To manage storage hardware and software for windows-based works, Amazon's FSx designed for Windows gives storage as a service to its clients. Amazon FSx for Windows is aimed to provide the best solutions for windows file storage.
FSx has the following features:
FSx is compatible with all windows applications.
FSx provides quick, flexible and durable performance.
FSx fulfills all your application needs and is broadly accessible.
FSx is more secure, reliable, durable and therefore is enterprise-ready.
FSx supports a wide range of operating systems and computing such as Amazon's workspace, EC2, App stream 2.0, VM ware cloud on AWS, Microsoft Windows 7 or higher, Windows 2008 or higher and Linux OS.
FSx allows users to pay for the cloud according to their usage. Depending on the storage capacity, throughput capacity and the amount of storage backup, users were charged.
With Amazon FSx 2GB/Sec throughput and the enterprise-grade performance were possible. The shared storage allows global access to concurrently with high accessibility. FSx aims to provide better support for enterprise users and therefore, it provides data migration features for the existing lift and shift workloads across the cloud with lesser effort.
Yet another important feature of FSx is, user can set the throughput capacity for any individual volume irrespective of how large the volume is. Amazon does not charge anything for service setup whereas the user will be charged for the storage, backup data volume stored per month and the amount of throughput. As far as the service capacity is concerned, it is limited to 300 GB to 64 TB currently.
Amazon FSx is loaded with high security to meet user's demand by encrypting the data during transits and at rest intervals. FSx also contains a snapshot feature to create file backups daily. Users can also create these backups manually. These snapshots were incremental and therefore the file storage used for the retention depends on the changes made to the actual(original) data.
FSx uses the DFS (Distributed File system) replication feature so as to maintain the presence in the multi-AZ Setup, but it will increase the overall cost for utilizing this service.
Users can use AWS SDK and AWS CLI developer tools or through AWS Management Console GUI  to deploy Amazon FSX directly.
Benefits of Amazon FSx:
 The setup is quite simple, fast and can be migrated.
Complete File service Management is available.
Easy integration of AD and enhanced support for Windows services such as DFS and NTFS.
Related Blogs: