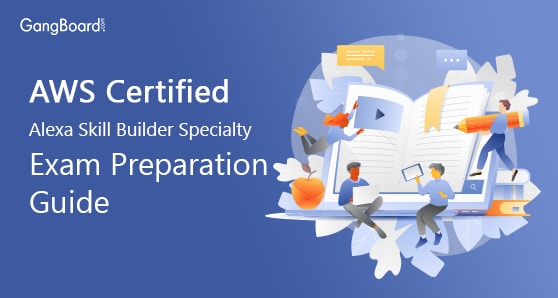 AWS Certified Alexa Skill Builder Specialty Exam Preparation Guide
Do you regularly add new questions in the test bank?
Yes, to validate the knowledge of the students our experts update questions banks on a regular basis. To help the candidates to prepare for the certification exam, GangBoard has been consolidating AWS certificate questions from the past students who had taken and successfully passed the certification examination.
How to Prepare for AWS Alexa Skill Builder Specialty certification?
There are mainly two ways to prepare for the AWS Alexa Skill Builder Specialty examination one is self-preparation where you need to prepare everything at your own. The second option is to attend the AWS Alexa Skill Builder training and examination course at GangBaord. The platform has a team of certified and experienced trainers who put together, high-quality course material, hands-on training, end chapter quizzes and scenario-based questions to help students to prepare the best to pass the certification exam. Visit the website to reserve your limited seat today!
To Become an AWS Certified Alexa Skill Builder Specialty in 25 Hours
How many questions are there in the trial test?
Those who have successfully completed the AWS Alexa Skill Builder Specialty training at GangBoard can take a free test to find out their level of expertise. Our free test bank contains 15 different scenario-based questions to test the knowledge and expertise of the students who are willing to appear in the certification exam.
Can I directly book the AWS exam through your website?
No, as a reputed company we do not offer exam voucher. To schedule your certification exam, you need to visit the official website of the AWS and follow the step-by-step process to book your exam. The AWS Alexa Skill Builder Specialty will cost you around 300 USD which is non-refundable if you choose to cancel in the near future!
Does your Exam test copy come with guaranteed refund?
As a renowned IT certification provider, we offer a guaranteed refund on our exam simulator. If you fail to clear the examination due to any listed reason, then you are bound to receive the refund. However, please note down that GangBoard only offers a refund on the products which you have directly purchased from our website, not on the AWS cost.
Read this blog – What is AWS Certification?
Apart from certification questions and tests what other assistance I am eligible to receive from experts?
Yes, our 24/7 support team is always here to provide around the clock assistance to candidates who are preparing for the AWS Alexa Skill Builder Specialty exam.  Each and every query and doubt of the students will be answered by the certified and experienced trainers available at the platform and immediate suggestion or answer will be provided.
Do you provide any exam preparation guide for the certification exam?
Yes, our professional trainers provide preparation guidance to students who are about to appear in the next AWS Alexa Skill Builder Specialty exam. You can always to learn more about the AWS certification exam through our daily and weekly guest posts.
Click Here -> To Get AWS Certified Alexa Skill Builder Specialty Certification
 Can I take the free test before enrolling into a training course?
Yes, if you want to test the level of knowledge and skills you possess even before enrolling into the training course, then you can test the free test available at our website. All questions designed to test the ability of the candidates.
Do you provide a discount on bulk course purchases?
Yes, we provide more than 30 % discount on purchasing 10 training courses on our website. To order, you can directly get in touch with the staff through 91-996 252 8294. They will surely get back to you for more details.
What is the validity of the membership?
All the course material and license at GangBoard comes with lifetime validity. Through the license, you can easily access your study materials anytime from anywhere around the globe. Consult with our experts to learn more!
Related Blogs