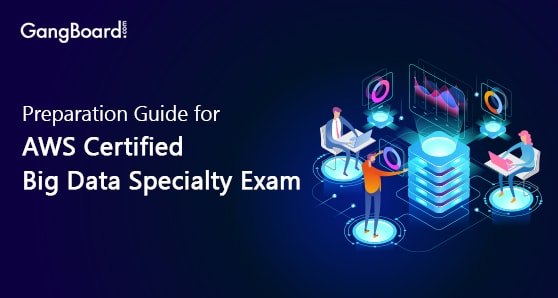 Preparation Guide for AWS Certified Big Data Specialty Exam
One of the most sought after and interesting certifications today in the IT sector is AWS certifications. There is a larger number of companies increasing day by day-small or big and with the growth of these companies and their movement towards the cloud, the market for AWS Certified Cloud Practitioner Certification is growing. There are a number of certifications that range from the level of Associate to Speciality since both the certifications- AWS and Big Data are most regraded skills as a thought in the IT sector. If you take up the AWS certification and go for its exam, it will be a new turning point and an achievement to your career. Your career will rise to newer heights.
For recruiters, having more than one certificate knowledge is a boon. If you are equipped with both AWS as well as Big Data Analytics, you are at your best since recruiters look for certain talents. With AWS Certified Cloud Practitioner Certification Exam, you will be able to achieve greater knowledge and your salary will be the more than you expect. Here is a detailed guide as in how you can prepare for the Big Data examination and become a qualified developer in the IT market.
An overview of AWS certified Big Data Speciality Exam
A candidate's skills in technical knowledge, in designing and in implementation of services of AWS is validated through AWS Certified Big Data Speciality Exam. It gives him/her proper value from a set of proper data. It helps in measuring a candidate's skills to execute AWS Data Services according to practices in architecture. This is a Speciality level exam which needs acute knowledge in concepts of data analytics.
Here are the specifications of the AWS certification exam. The exact name is AWS Certified Bid Data-Speciality. The pattern of exam is that you will get multiple choice questions where you have to tick mark the one correct answer amongst four or five given options. There are multiple response questions too which has two or more than two correct answers amongst all five options. Exam duration is almost three hours without any break. Number if questions are not specified. There are absolutely minimal exam fees one has to bear.
Want to learn AWS Certification read this blog – What is AWS Certification?
What are the requirements for this exam?
There are certain requirements for this exam one has to follow:
You need to have an experience of minimum two to there year in the handling of Technologies and data in AWS.
You need to be a proof at least five to six years in analytics of big data.
Perfect knowledge in services of AWS as well as the architecture of the same and how one can easily integrate them along with one another should be known.
One has to have huge enough knowledge as well as experience in working with security of AWS and have knowledge of their practices as well.
One has to know the tips to access and control data so as to secure it.
The ability to design a proper cost-effective architecture that is scalable is required to process data properly.
Guide to prepare for the AWS Certified Big Data Specialty exam
We all know that preparation is the key to success and if you follow it by heart you will surely face success. It is necessary to be prepared with this exam and only good preparation will help you to gain good results. The below article is a step by step guidance to students on how can they well prepare for AWS Speciality exam. The topics you need to cover here and the ways to write answers and how to meet assignments-all are given here.
Click Here-> Get AWS Certification Training
Step1: Begin with the official guide to exam
As soon as you start preparing for an exam, it is necessary for you to understand and believe its objectives. An official exam guide will help you to begin afresh for the preparation of this exam. This guide gives a vivid and clear idea about the exam as in- Exam overview, Exam requirements, resources used in training, whitepapers, the blueprint of the exam, etc. before you visit AWS official website, it is required to start doing initial preparations.
The blueprint of exam throws light on the specific subject areas that are covered in the exam and marks their weightage too. AWS Certification Questions and Dumps are also given here which is the best way to understand what questions and answers will you have to attempt. This blueprint is the best path to know about the topics that one needs to focus onto as you prepare for the exam. Here is a rough picture as in how the blueprint of this AWS Certified Big Data Speciality Exam looks like:
Domain- 17%
Collection- 17%
Storage – 17%
Processing- 17%
Analysis- 17%
Visualization-12%
Data security- 20%
Total- 100%
Step2: Going through various official resources
Apart from AWS Certification Questions and Dumps, the Amazon AWS provides a numerous number of resources which will help in the preparation of AWS Big Data Certification. It is required of you to visit the official resources onetime before you move onto others. Documentation, Whitepapers and Sample questions are all provided that one needs to prepare during exams.
Step3: Documentation
A proper set of information, Amazon Web Services is a type of paperwork that gives you guidance about its services from the introductory towards the advanced level. If you love to be a self-learner, AWS Certification Material from Web Services is the best one for you to prepare for your exams.
Step4: Whitepapers
Recommended by AWS, these white papers are a wonderful source of knowledge for one. You need to go through them thoroughly and make proper usage of it by taking notes while you study it thoroughly. It will surely help you run a long way as you begin pre-examination preparations. Here are some of the advised whitepapers:
Options of Big Data Analytics on the AWS.
Data solution streaming over AWS with the help of Amazon Kinesis system.
Migration of AWS Database service used for best practice.
Proper migrating of Applications towards AWS-The best guidance and practices.
Step5: Sample Questions
The whole system of AWS is aimed to train you thoroughly for the exam certification and so it offers you a set of ten to twenty sample questions. Through this AWS CLF-C01 Practice Test Questions, you will be able to understand what type of question you will get in the exam. There are a smaller number of questions though, still, it is advised for you to have a proper look over these to have an idea.
Practical experience- A real-life practical experience is the best one you can have. In AWS Certification Practice exams there are a lot of questions that are related to practical life. Thus, it is required for you to have real-life knowledge. It is recommended for you to tie up with Amazon Web services and have their free tier account. You will easily have access to all these services for over a year without even bearing any cost.
Step6: Training courses Online
If you find it difficult to read whitepapers or documentations, this is a wonderful step that will be of immense help. Through CLF-C01 Mock Test and training, you will understand these topics better as you are preparing for the exam. You can easily take the help of internets which has a library of documentation to help you. There are lots of training videos on the AWS website. This training will help you in maintaining a strong hold as you start the preparations. Also, there is an immense number of training providers of the certificate, you need to choose the one best suited for you.
Step7: Read Proper recommended books
Books are the best friends when speaking of exams. The more thoroughly you read the book, the more confident you become while preparing for exams. Here are some references:
Guide to getting started by analyzing Big Data system with AWS- You can get this book in Amazon Web Services which will give you complete guidance on AWS Certified Big Data Speciality exam. By reading this book, you will be able to know about Amazon storage services as you store Big Data, Amazon Elastic Compute which reflects on situations that help in processing Big Data, Amazon Map-reduce that helps in managing storage space and monitoring clustering configuration and analyzing as well.
Another wonderful book is A Handbook of technologies in Big Data- Since this exam focuses on in-depth knowledge of analytics in Big Data, this book is worthy. It gives us an insight towards total value and total potential strength of resources in big data, a wonderful examination of technologies in big data, aspects of practice as well as theoretical knowledge over Big Data platforms, describing the analysis of big data in the cloud.
Understanding of Cloud- This is an eBook that vividly describes Cloud, IoT and analyzing Big data along with CLF-C01 Practice Exams Questions. It gives tricks on how you can practice complex questions and answers on the platform of AWS. This book is strongly recommended by professionals in IT and technology. You will have complete knowledge of Architecture that is service-oriented, the architecture of data center, techniques in Virtualization and proposition of business in Cloud computing.
Must Read:  AWS Certification Cost in India
Step8: Exam Simulators and Practise tests
The more you gain practical knowledge, the more it is best for you. There is an immense number of AWS Certification exam dumps free online. In order to crack the exam, it is recommended for you to have knowledge of CLF-C01 Exam Crack by having these tests done from best providers. A real-life experience of how the questions will be will support you in further reading. There are also free tests but it is recommended for you to take up the paid versions since they are equipped with wonderful explanation with answers.
What are the topics you will focus upon mainly?
Stream of Kinesis and Firehose of Kinesis- These are new to you since they are large terms in data which are attached to streaming of practical data along with destination such as Es, S3, and spunks. It is recommended for you to know the importance of kinesis and its addition with Lambda. Also, Kinesis ingestion and features offered by them are equally important.
S3 system- It is the proper internet storage system through which one can store as well as retrieve any data from anywhere and anytime. It is a simple form of the interface of web service. You will have to know how to use a bucket of S3 a when standards of S3 shall be used.
DynamoDB- It is another AWS CLF-C01 Certification Dumps and services that are needed for applications consistently. you will be able to study the design of Local secondary Index systems and Global secondary system index. The right use of DynamoDB and its key optimization is also learned here.
Quicksights- It is another fastest cloud strengthened analytics in business services that gives you virtual representation along with Quicksights.
Redshifting- A total managed the best warehouse of data, redshift is a system that helps in analyzing your data and use SQL or systems of BI. For this, the overall system architecture and data loading shall be known. It is an important topic of knowledge that will help you gain knowledge on copy commanding, leadership, slices of nodes and compute nodes. Data migration using the command of UNLOAD is also used here.
IoT system- Apart from AWS Certification Dumps it helps you with topics such as DynamoDB and stream of kinesis. One has to have the knowledge of Rules and regulations of IoT, Registry of the device, Gateway of Device, Shadow of Device, etc.
Learning through the machine- It is important to select the correct model for certain business purposes and certain scenarios that are needed. It is also needed to know the various kinds of models that are used in machines of AWS learning.
Security system- Security is learned through roles in IAM, encryption in data, DynamoDB and Redshifting.
Want to learn DynamoDB read this blog –  What is Amazon DynamoDB?
Additional topics to be remembered while preparing for the AWS Certified Big Data Exam
DynamoDB system, RCU as well as WCU system, performance, and control in the viewpoint of RCU and WCU.
Performance affecting the key choice to be understood.
Understanding the proper use of KCL and have knowledge of its features.
Understanding of spark and streaming concepts of spark through AWS CLF-C01 Certification Dumps.
Proper integration of Kinesis and Redshift.
Proper in-depth knowledge of DynamoDB, Workload management in AWS redshift and management of queues.
Questions asked on certain topics
Fewer questions on networking are asked in AWS Certification Exams.
Lesser questions on ELB and grouping in auto-scaling is asked.
No questions will come on Cloud Formation and Works in OOPS.
No questions on bean stock.
Very limited question on SNS and SQS.
Special tips and tricks in AWS exam
It is necessary to have hands-on experience for you to face practical questions.
Practise test and training is very much needed so as to get prepared for this exam.
Use social media platform to get CLF-C01 Exam dumps Free. People who are experienced with this exam will be able to guide you too with their feedback. It is necessary to clear your doubts earlier to avoid any last-minute rush.
Signing up for groups in user and forums of discussion will help you gain knowledge too.
Watch the YouTube channel of AWS where there are experienced people talking about technology and its gains.
Proper experience on Big data will help your career to shape in the right way. Only having CLF-C01 Dumps will never help. It is a higher range of examination that requires you to be a pro in this subject.
Salary structure of AWS certified professional
It is generally the subject experience and knowledge of the same upon which salaries depend. You will be a lucky one to get a wonderful combination of AWS and Big Data which is a high demanding system in the IT industry today. Clearing this exam through Free AWS dumps and CLF-C01 Exam Dumps will help though you need to have in-depth knowledge too. With years of experience and quality knowledge within you, it is easier to get high salaried jobs within your country or outside it too. Only thing is that you need to be very serious with the certification course.
Final words
Although it is tough to crack this exam, it is not impossible too. These days, without having a proper certification course will not lead you anywhere. This AWS exam is tough and requires you to have knowledge and experience earlier so that you are able to face tougher situations in the exam and while training. It is also said that you take guidance from an expert who is knowledgeable and belongs to this field of knowledge. He is the perfect person to guide you through this. Also, if you need to, get enrolled it renowned institute or taring center that provides students with in-depth knowledge of AWS. It is better to be prepared beforehand than face a tough situation later. Sit for the exam only when you feel that you are confident enough. Wishing you a very best of luck for the exams!!
Enroll Now -> To Get AWS Solution Architect Professional Certification