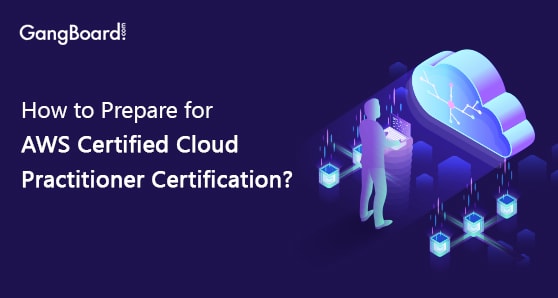 How to Prepare for AWS Certified Cloud Practitioner Certification?
Preparation Guide for AWS Cloud Practitioner Certification
AWS or Amazon Web Service is the best cloud Computing Platform in the recent history of the Information Technology field. By its name, we can easily understand that Amazon has developed this entire technology for cloud computation program. Since 2017 it has been maintaining its position as number 1 in cloud computing. The AWS market share has risen to its peak since 2017. This is the reason for the growing demand for AWS Certification.
Due to its growing demand, more and more IT professionals are moving to the field of AWS. The demand for certification has not only risen but also created a storm into the cloud computing market. Depending upon interest and expertise of IT employees Amazon has designed a few Certification Courses. Today we are going to help you to prepare for the AWS Cloud Practitioner Certification Exam.
To Become an AWS Certified Cloud Practitioner Certification in 25 Hours
What is the AWS Cloud Practitioner Certification?
This is the first basic certification course of cloud computing in AWS. Just for the information protocol, Amazon has designed and developed 11 certification course including this one.
There is a hierarchical orchestration in the certification levels. We are listing it below for a better understanding of the chosen AWS Certification.
Foundational AWS Certification (Certified Cloud practitioner)
Associate AWS Certifications
Professional AWS Certifications
Specialty AWS Certifications
Machine Learning – Specialty
To opt for the right level of certification for AWS Cloud computing GangBoard is well versed with the online guide program.
Who should opt for AWS Cloud Practitioner Certification?
This is the basic certification of Cloud Computing. This is fairly a new Certification which Amazon has recently included in its certifications model and hierarchy. The reason for including it to make all the certified AWS professional must have a basic Cloud computing certification delivered by Amazon.
Skipping this certification won't give you an advantage over the associate level of certification designed by Amazon. It is the fundamental course for which you don't need any prerequisites. Though we recommend having a few instructional options, which might help you to understand the Certification level a bit more effectively.
We are listing it below.
A bachelor's degree in Science.
You need to work at least 6 months in the AWS Cloud. Roles can be effectively any including managerial, technical, purchase, sales or financial.
You need to have a basic understanding of IT services and how AWS is involved with each service.
People who are looking for building their IT career in cloud computing, as this is the future of each IT technology, must have AWS Cloud Practitioner Certification by Amazon.
General Overview of AWS Cloud Practitioner Certification exam and its preparation:
AWS Cloud Practitioner Certification is one of the most important certifications of AWS. To clear this certification exam you need to focus and study the basics of cloud computing.
This certification exam is the easiest among all the other Certifications we have listed.
Want to learn AWS Certification read this blog – What is AWS Certification?
More information about the Certification Exam:
AWS Cloud Practitioner Certification is a validation program developed by Amazon. For this level of expertise, you need an overall understanding of the cloud computing segment for the industry-standard credential.

AWS Certified Cloud Practitioner Certification Examination Information
Examination Name
AWS Certified Cloud Practitioner
Examination QNA Pattern
Multiple Choice and Multiple Response  
Prerequisite for AWS Cloud Practitioner Certification
No prerequisite as such, other than a bachelor or equivalent degree in science.
Examination Duration
1 hour and 30minutes(90minutes)
Examination Type
Foundational
Examination Cost
100 US$
Examination Language
English, Japanese, Korean, and Simplified Chinese
Examination Passing Score
65%
Certification Renewal
Every 2 years
Programming Language Knowledge Necessity
None
Preparation and Understanding for AWS Cloud Practitioner Certification:
AWS Cloud Practitioner Certification exam is probably the easiest exam to clear, as said earlier. Though we always recommend that you should focus on the overall understanding of the Certification motto and practice every day.
We will guide you here for an overall understanding of the certification. We will tell you to step by step strategies through which you can easily crack the certification exam. Follow the steps given below and pass the exam in no time.
Step 1: Free Tire Registration
Registering with AWS Free tire is one-time registration you need to register for. If you are already registered with AWS Free Tire, then you don't need to register again with it.
It will give you all over access to the AWS Console to understand about the cloud computation criteria. It is the best practice for you to explore all the sections and get familiar with the console and its functionality to get yourself prepared for the final exam.
Step 2: Exam Guide
Download and read the Exam guide which is uploaded by Amazon on their AWS Certification Site. It is kind of a Blue Print to pass the exam.
Read every section of it for the know-how about the guidance of the Final Exam. Reading clarification will give you a brief about exam objectives. You can use the Exam guide as a reference as well, to prepare for the final exam.
Step 3: Familiarity with Subject areas and topics
Knowing your subject areas and the topics are very important before scheduling your final exam. We will state the objective of the AWS Certified Cloud Practitioner examination in the next segment. Kindly read it thoroughly to understand the exam better to clear it.
Step 4: Reading the white Papers
Amazon always recommends and posts white papers on their AWS segment of the site. All these White Papers are important to read to explore and understand the vastness of the chosen technology.
This is a very good source of information for understanding the topics you are going to cover. It is the best way to cover security, architecture, and economics about the cloud platform, especially related to AWS.
A few Aws White Papers are given below, from which you can choose to read for preparing for the final exam.
Overview of AWS
AWS Security Best Practices
The Business Value of AWS: Succeeding at Twenty-First Century Business Infrastructure
How AWS Pricing Works
An Overview of the AWS Cloud Adoption Framework.
Step 5: Self ETA Study
Reading for yourself and study with proper focus will lead you to clear the examination in one go. AWS Certified Cloud Practitioner exam covers all the basic cloud computing fundamentally related to AWS and prepares you to be ready for the associate level of examination.
Self-estimated time will only be achieved if you are following our guide and studying regularly and systematically.
Step 6: Sample Questions & FAQ
Sample questions are uploaded by Amazon to make you exam-ready. You need to download the sample questions and go through every other detail to understand the questionnaire pattern and relevant answers type.
FAQ, the frequently asked questions are the common questions asked by the candidates. It will help you to clear the common doubts while preparing for the final exam.
Step 7: Online Training and Mock tests
The online training program is the vital contraption to evaluate yourself for being ready for the final exam. Learning through every site and online study will prepare you 60% for the Final Exam. But for 100% readiness, you need to opt for the best online training program.
Choosing the best online training guide is very crucial to do well for the final exam. GangBoard is providing the best online training course after AWS itself to prepare yourself best for the Final Exam.
We have our course designed in a way so that you can, not only get the online training but also check yourself with the number of mock tests come under the packages.
 Step 8: Scheduling Final Exam
Self-evaluation through all these mock tests are very essential before you enroll yourself for the final exam. Once you are confident and coining fewer errors after mock tests with GangBoard, schedule your AWS Certified Cloud Practitioner Exam.
Enroll yourself, choose the nearest location for the AWS test center for the Final Exam. I hope you have followed the steps we have guided you to cover and you are completely ready to sit for the exam. Wish you all the best for the finals.
Click Here-> Get AWS Certification Training
AWS Cloud Practitioner Certification program guide and Subjects to cover:
We will list and guide you about the programs and topics that you need to cover before you sit for the final exam.
Before we do that let's see what is the weightage ratio and percentage distribution of the topics that you need to cover for the certification.
Weightage Distribution of AWS Cloud Practitioner Certification Exam:
| | |
| --- | --- |
| Domains | % of examination questions |
| Cloud Concepts | 28% |
| Security | 24% |
| Technology | 36% |
| Billing & Pricing | 12% |
| Total | 100% |
Cloud Concepts:
Cloud Concepts is the basic understanding of the Cloud and its fundamental functionality. To adhere to some knowledge we are listing a few topics that you need to cover for the preparation of AWS Cloud Practitioner Certification.
Elasticity
Fault Tolerance
High availability
Scalability
28% of questions will cover these topics listed above. Prepare with these accordingly.
Want to learn AWS Vs Google Cloud Platform read this blog – AWS Vs Google Cloud Platform
Security:
Security is an important topic to cover for AWS, even if you are not at all going to work with AWS infrastructure.
Why it is important? Cause if you know it or not; every other infrastructure of any IT technology is now only a "hit" if the security model is very compact and encrypted by the developers.
If any Infrastructure is somehow clicked for its usability, it is only a threat away by the hackers to cultivate the same model themselves and steal all the data of the users. It might be used for some classified content, though, which might not be secured if the security is not compact.
A few topics are given below from this domain, which will enlarge your vision for the security domain.
Shared Security Model
User Management, Password Policies, and MFA
Cloud Logs
DDoS Protection
It serves 24% of the total questionnaire of the certification.
Technology:
Technology is another important domain to cover. AWS works as IaaS (Infrastructure as a Service). So to know the functionality of core AWS which makes it work as a platform is where its versatility lies.
A few services it covers for the entire infrastructure is given below
EC2
SNS
Lambda
S3
RDS
Route 53
ELB
This domain covers most of the vast syllabus. It covers 36%. So preparation for this section with extra precaution is necessary.
Also Read:
Billing & Pricing:
Why billing is included in the syllabus? It is very simple to explain. This covers the generalized idea of the business side of the AWS technology, which serves the technicality of any proven demand for the infrastructure. It gives you a general idea about billing information, account information, and AWS support.
The pricing part of the domain gives you a brief about how the certain services of AWS are billed and how much are the costs. Though certain aspects of knowledge if it is cost-effective or not from the organizational point of view, are explained in the later certification courses designed for either Professional-level or maybe for Specialty.
This is the last domain and the least number of questions it covers from the entire syllabus, almost about 12%. All these topics are guided on our website of GangBoard and it's Online Training for preparation of the AWS Could Practitioner. To know more about the online training program, derived in this article, kindly visit our website.
Must Read:  AWS Certification Cost in India
Books for Reference:
A few books which we can suggest for the reference, which might help you to prepare for the AWS Cloud Practitioner Certification exam.
Building Applications in the Cloud: Concepts, Patterns, and Projects- by Christopher Moyer.
Cloud Computing, A Practical Approach- by Velte Toby.
Learning AWS: Design, build and deploy responsive applications using AWS Cloud components, 2nd Edition- by Aurobindo Sarkar and Amit Shah.
Cloud Computing- by Pearson
AWS: The Beginners Guide to Amazon Web Services-by Dennis Hutten
AWS Basics: Beginner's Guide-by Gordon Wong
Amazon Web Services for Dummies-by Bernard Golden
Amazon Web Services in Action-by Andreas Wittig and Michael Wittig
All these books are well written and will suffice to prepare for the AWS Cloud Practitioner Certification, though we believe this technology to be very versatile and changing every day with new updates even in the scratch level.
So to prepare yourself for the Final exam will be highly dependable on how you are updating yourself about the technology and how thoroughly you are making practice with the Online training program by GangBoard if you are choosing us.
Average Salary of an AWS Certified Cloud Practitioner:
AWS Certification certainly is a versatile course to be qualified for. Successful completion of the certification will provide one IT employee with a decent amount of salary and job satisfaction.
The Average Salary of an AWS Certified Cloud Practitioner is almost $115000 annually in the USA market. Though in India you can earn up to 20Lakh/annum, depending on your ability to perform, your interest, the relevant experience, and the hierarchy of your current organization.
How will AWS Certified Cloud Practitioner tag boost your career?
It is easy to describe. As with the growing field of AWS technology, more people are getting interested in it. They are working more to get qualified. But actual validation comes when you are getting certified by Amazon.
Companies are targeting all those employees who are certified only by AWS, to refine the number of people among all the employees working on the same project/demand. So to get sustained, satisfied, and sound knowledge, which would work for you, only if you get the Certification.
It will give you wings to discover your future in the next era of Technology depending on cloud-based programs.
Must Read: How will be AWS in next few years?
What are AWS certifications?
Before summing up a few sentences to import:
GangBoard is the number 1 IT Skill Development Institute in India. It is buzzing and in the promotion to upheld your career on the right track by offering a lot of unconventional methods to teach you about the skills you are opting for.
We believe in practical and hands-on training. The morality of offering new courses, on providing you teaching by the best practitioner in the market. The USP we are working for the last 10 years we are unconditionally and upscaling all those candidates seeking the right path to discover for their IT career.
AWS Cloud Practitioner's online program is another skillset of technology, where GangBoard is giving the right guidance and best practice since it has captured the IT market. More than One Lakh people got satisfied with our online program and Mock self-judgment tests.
Enroll Now -> To Get AWS Certified Cloud Practitioner Certification