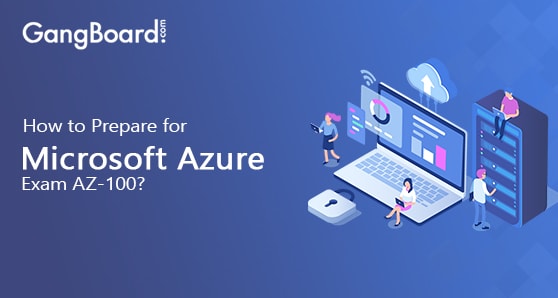 How to Prepare for Microsoft Azure Exam AZ-100?
Preparation tips for Microsoft Azure Exam AZ-100?
Acquisition of Certification in Microsoft Azure AZ-100 i.e. Infrastructure and Deployment is an asset for software professionals and those looking for an escalation in their IT career. Microsoft Azure skills are very much in-demand skills. For an aspiring person, GangBoard is the best option for gaining AZ-100 exam preparation training.
GangBoard's Guide for preparation for Microsoft AZ-100 Exam is striking and vibrant step for aspirants. GangBoard helps you to become Azure administrator by helping you crack the exam with the accurate study resources.
Why should you Pick Microsoft Azure AZ-100 Exam Certification?
If you aspire to become a competent Azure administrator associate, AZ-100 and AZ-101 are the requirements. To pass AZ-101, AZ-100 is the first step. Moreover, Microsoft Azure makes use of cloud services like storage, security, networking, computing etc. If you want to learn about cloud services, you should take this exam. Microsoft leveraged continuously increasing universal net of data centers to generate Azure as a cloud platform to build, install and manage different services everywhere. Microsoft upholds a rising directory of Azure facilities, and more is being added altogether all times. The entire rudiments essential to create a virtual network, provide services and work on applications for a worldwide audience are obtainable. Some of these are: Virtual machines created in just a few minutes from an extensive selection of market templates or your own routine machine images. Cloud-based VMs like this host your applications as if they exist in in your individual data center. Top notch companies are always eyeing on Azure Certification.
Following are some more reasons for the same:
There is a vast talent gap for the professionals of cloud computing.
Hard rivalry between Azure and AWS. This places more heaviness on Azure for creating a certification more valuable than AWS.
Cloud computing has reached the promising period. These are indications of great possibilities.
As the second prime cloud provider, Azure is developing in the quicker period.
What are some important Prerequisites for AZ-100 Exam Training?
Having some past knowledge on certain elementary tech ideas would not hurt and help you in the preparation for this exam. You should also have the uncomplicated aptitude in Windows PowerShell in addition to understanding of Azure portal, some operating system ideas, as well as networking concepts. And this is where GangBoard experts will also help you. You can have a look at the 8 elementary concepts, whereas some of these would be optional: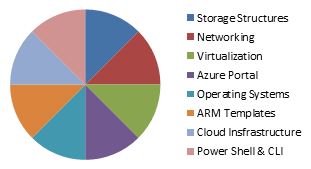 What are Azure AZ-100 Certification Exam Objectives?
GangBoard has defined the objectives for this exam as per the weightage of questions asked from different sections. The future is completely based on cloud and it will be an upgrading for professionals if they have certification in Azure. Microsoft Azure ensures that the innovativeness is up to date. And creation, deployment and management of the applications are done in a lucrative manner by making use of the data centers throughout the globe.
What is more, certification from Microsoft will create a considerable transformation in your resume and the way it is preserved in IT job fair. All these put emphasis on the significance of a correct, suitable and apt AZ-100 exam preparation plan. And GangBoard is all set to help you have that plan. Begin your AZ-100 exam groundwork training today with GangBoard to grow into certified Azure Administrator! You will experience difficulty in accomplishment of a related job without certification. And that certification becomes easy to have with GangBoard training in that foundation. Enrol for the Azure course now to get basic knowledge and move to advanced concepts one step at a time. Training and preparation from right place will help you a lot for Certification exam.
Must Read: Azure Certification
Following are some of the objectives explained along with the division of questions from each part:
Resource Utilization and Subscriptions Management
Managing Azure subscriptions
Evaluating resource utilization
Handling resource clusters.
Azure Accounts and Backup management.
Configuration of Azure files
Implementation of Azure backup
Creation of Azure accounts
Data import/export
Creation of Virtual Machines
Configuring VM for different platforms.
VM deployment Automation
VM backups management
Virtual Network Management
Connectivity creation between VNs
VN implementation
Name Resolution Configuration
NSG or Network Security Groups
NSGs configuration
Azure Active Directories
Management of AD object
AD users, devices and groups
Hybrid identities management

Distribution of Above Sections
| | |
| --- | --- |
| Section | Weightage in Percentage |
| Resource Utilization and Subscriptions Management | 15-20% |
| Azure Accounts and Backup management | 20-25% |
| Creation of Virtual Machines | 15-20% |
| Virtual Network Management | 20-25% |
| Azure Active Directories | 20-25% |
Click Here: How to prepare for Microsoft Azure Exam AZ 301?
General Outline of Azure AZ-100 Exam
Understanding of the general pattern and exam format helps a lot in preparation of any exam. So is true for the certification exam of Azure AZ-100too. Following are the exam details for Azure AZ-100 certification:
1. Number of Questions
General Idea:
Generally, questions for Azure AZ-100 exam rage between 40 to 60. It's not limited to AZ-100 only. Almost all of the related Azure certification exams chart this outline. Besides, every time you take the exam, number of questions could be different. The only assured thing is, the range of questions that is 40-60.
Specifics:
Describe your involvement with Azure networking would be the first question, in the exam, you would answer. Three options will be given as beginner, intermediate/medium and proficient/expert. Nonetheless, these options do not serve for choosing the difficulty level of your exam questions. Instead, Microsoft even-handed wants to know at what time you're truly taking the exam. That would mean the options are for merely measuring purpose.
2. Time Frame of the Exam
General Idea:
Coarsely, the exam will take around 180 minutes. You will get 150 minutes for technical side. As you go through all the questions, you can answer the ones you are sure about. You can flag the questions where you have some doubt and attempt them later.
Specifics:
Multiple choice questions will be the main norm where different formats will be available. Some of these formats are building, active screen, drag and drop etc. Microsoft Azure offers a bunch of certifications in the marketplace for an aspirant to obtain. Hereafter, companies are on the lookout for a practiced person who is having a decent technical understanding of Azure.
With new-fangled technologies being presented daily, the cloud is attractive more than before. Machine learning has been done on Microsoft Azure now, multiple virtual machines are built all over the globe using numerous cloud providers who also store and process the data. Questions will be based on this kind of knowledge along with concepts of Azure.
Tip:
Read every question wisely before answering them. Because at times you may have to choose multiple answers for a single question.  However most of the time just one answer needs to be selected.
3. Integrating with a Case Study
General Idea:
Give more emphasis and consideration to this portion when you begin your AZ-100 Exam Preparation. The elementary feature of a cloud computing platform is to confirm that the data is united and stored and shared in the cloud. It should be available from almost everywhere in the domain, with the use of a normal internet connection.
As more and more people are focused on cloud services and using the basics of cloud to store, share and access data, this technology has become popular. And measures are taken to keep it cost-effective and easy to access and use.
Specifics:
In this part, you'll get situations across numerous screens where you've to describe each situation with business & technical viewpoints equally. It's the actual inspection of testing your understanding on how you can efficiently manage & deploy things. Many questions about a particular case study will be given.
Thinking that only businesses are utilizing Azure services would be very wrong. As a matter of fact, there are 10 million administration users of Microsoft Azure in today's time. Once you get the certification of Azure, you are eligible for applying in government organization of your choice. Not to mention, you can always go for the MNC you desire. Microsoft Azure is cloud service providing users, businesses, developers the provisions to maximize the competence of their progressions and profit from its use.
Tip:
If you miss out on a case study, you can't access it again.
4. Exam Scores
General Idea:
If you score 700 marks, you will pass the exam.
Specifics:
Getting 700 out of 1000 will not guarantee your 70%. Because the 700 score is ascendable. Which means attempting short question may not give you 25 points and attempting fairly long descriptive question may not give you 50 marks.
Microsoft's algorithm determines the intricacy and complexity level of each query. All the queries are arbitrarily produced once you begin the exam.

AZ-100 Exam Preparation Steps
For effortless learning of Microsoft Azure-100, GangBoard has included certain key steps for you to follow. These simple steps will help in your hassle-free learning to pass the exam:
Authorized Microsoft Learning Page
If you visit Microsoft Learning Page, you'll find the best reliable and latest information on all exams from Microsoft. You can see the eligibility standards, skills and prerequisites to pass any exam, preparation and scheduling choices for the exam, thorough pricing information, and outline of the exam and lastly any pertinent informs to exam structure.
Exam Modules
There is no sectional cut-off for this exam.  Division of various sections and weightage of each portion has already been discussed.
Online Training and Various Exercises
GangBoard provides you the opportunity to go for Instructor-led Training. This is provided from Microsoft classroom training associates across country. For every module of AZ-100, you can discover exact options from Microsoft training partners. If you want you can check many other training providers for online certification. GangBoard will assist to carry out any method.
Microsoft is also providing practice exercises for AZ-100 exam. You can see the links for that in the similar AZ-100 page in Microsoft learning.
Books & Learning Material
AZ-100 is the latest and newest trend in market. That is one of the reasons, you will not find many learning materials on the subject. That is where GangBoard staff helps you and assists you with learning material of right kind. To start with, you can also refer to "Exam Ref Az-100 Microsoft Azure Infrastructure and Deployment" by Michael Washam. This book is also dependable AZ-100 exam study material to help you enhance your exam and take professional approach in studying.
Azure Forums & Group Discussions
Azure Forums compromise of wonderful opportunities to help your AZ-100 exam training by letting you talk about your doubts about the exam and to resolve them. In such forums, you will find people having same doubts as you have, having queries you can answer and knowing a lot you don't know about the tech topics. Discussing the topics with them give you in-depth knowledge about different sections.
Frequently Asked Questions About Preparation of Microsoft Azure AZ-100 Exam
1. What's the genuine fee for this exam?
For United States natives, the exam cost comes around 165 dollars. If you're native of the United Kingdom, cost will be 113 GBP.
On the official page of Microsoft Azure, you can see the cost plan for different countries. The pricing will not be even but it has been kept as 165 USD. Still it can vary from place to place.
2. I want to take AZ-100 exam. I've already completed 70-533 exam. What is the best option?
Microsoft Azure 70-533 is intended for applying Azure infrastructure solutions.  If you check Microsoft's latest update, this exam retired in effect from December 31, 2018. The subjects covered in this test will be covered by AZ-100 and AZ-101 exams which are at present available. Furthermore, these exams cover a comprehensive range of subjects appropriate for Azure administrator role. Same is not true for 70-533.  The cloud services are not only assisting corporations, it also offers individual inventors and coders the liberty and tools they need to finish complex tasks. Conversely, if you have no experience with cloud services, it is better to get Azure training first and become a specialized expert.
Microsoft Azure certification helps you become an effective developer earning a handsome income. The request for these professionals is on the rise as many top industries are moving over to cloud.
As you've done the 70-533, there is no need for you to take AZ-100 or AZ-101. In its place, you can take a Microsoft Azure AZ-102 exam or Administrator Certification Transition exam.
3. What is known as Brain Dump? Should it be avoided while preparing for Azure certification exam?
In an IT certification setup, the word brain dump can be purely defined as remembering questions or moving it into an automated media so as to duplicate these questions for unlawful supply. Like countless other salespersons, Microsoft establishments won't encourage brain dump in preparation for AZ-100 exam. Conferring to them, no actual learning occurs if you work with this technique for your preparation of AZ-100 exam.
You should know that this kind of certification exam is the actual valuation of your expertise and skills in the field, just learning to answer a few queries of the exam will not serve the purpose established for this exam. This likewise emphasizes the worth of a sincere AZ-100 exam study conduct for AZ-100 exam preparation.
For further clarification, reflect on a real-life scenario. Let us say, you are the only AZ-100 certified professional in your company. Your part as AZ-100 professional is to install Azure virtual machines. Envision this state as you are not able to install set up on machines and yet you're certified in Azure-100. Quite embarrassing? To tackle such a condition, it's essential to properly become accustomed to your AZ-100 skills and that can only be done if you take the exam with full on preparation following Azure guidelines.
The demands for specific certifications would increase and decrease over time. This is because demand for a specific technology is changing with needs of time. Only proper understanding will help you to keep up with the changing demands and achieve growth in your profession. If you merely pass certification and do not have any thorough knowledge on the models, then it's valueless. Never ever go for the brain dumps to crack the exam. That would in no way assist you in career development.
Conclusion
Certification of AZ-100 can improve the worth of a job contender as a capable Azure administrator. HR recruiter will have no thought process or brainstorming to assess your calibre as your certification will keep them away from fake requests. In this kind of situation, the significance of a quality AZ-100 exam study material becomes tremendously important. GangBoard brings latest-in-industry Azure Exam AZ-100 online course with AZ-100 practice tests with unique questions for you to practice. GangBoard team is there for you to assist you in your exam preparation for AZ-100 Certification.
It is suggested that you capitalize your precious time plus energy in obtaining a certification of this technology to update your business manoeuvres and experience new heights of victory.


Related Blog: How to prepare for Microsoft Azure Exam AZ 102?