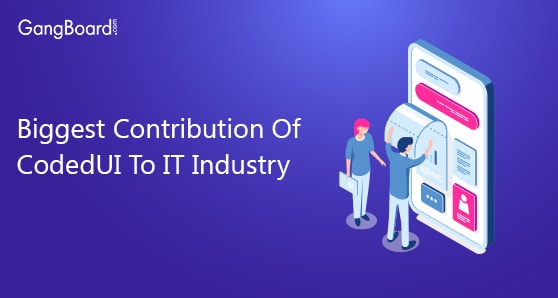 Biggest Contribution Of CodedUI To IT Industry
CodedUI Test is actually an automation tool that is supported by certain high-level programming languages like Visual Basic, .NET, and C#. For every kind of test automation Coded UI is the best choice. Owing to many advantages of CodedUI, many big companies are concentrating on imparting CodedUI Online Training to the employees. And, what could be the best institute to learn management of automation tests than Gangboard?
At Gangboard…
Gangboard is an institute where the professionals can get the best CodedUI Online Training by Test automation experts. With proper training and hands-on experience the professionals will be able to handle automation independently on both desktop and on the web. It supports two scripting languages – VB and #. Coded UI is a licensing tool. However, if the application you are testing has been developed in .Net framework, then Coded UI can be directly used without any license. The automated scripts available will also be able to configure with TFS for integration.
Gangboard is truly the biggest contributor of CodedUI to the IT industry
If you enroll for CodedUI online training with Gangboard, you will definitely achieve a thorough knowledge of the basic concepts of CodedUI as well as all the versions of Visual Studio including 2013, 2012, 2011, and 2010. You will also learn the ways to develop customized framework based on your project.
What will you learn with online training on Coded UI?
Almost all the concepts of Coded UI are taught in Gangboard. With the course from this institute you will learn the following:
Complete understanding of the Test Automation concept and how it happens with Coded UI
Confidence to handle any kind of automation project
Capable of building test automation suit in Visual Studio
Complete understanding of the End to End framework.
Are you eligible for CodedUI online training?
If you aspire to be a tester in the IT industry it is recommended that you opt for CodedUI training. Even if you have testing experiences (whether with or without knowledge of the code), a training course will be beneficial for you to hone your skills.
If you are a manual tester and want to learn automated testing, you are getting a golden opportunity to learn it through this training course in CodedUI.
Even if you are in the development sector and would like to move to a testing career, you need such a testing program to learn automated testing. Such training would help you to build a successful career as a tester.
Before choosing a learning center
When choosing an institute for learning CodedUI, it is important that you research well. Not all institutes have a full-proof curriculum like Gangboard. Remember, what you learn at the institute will help to fetch a job in future. That is the reason it is important that you choose an institute carefully. Do the following before finalizing on an institute for CodedUI Online Training:
Compare the cost of training at two or more institutes. Choose the one that quotes a reasonable rate for such training
You should check the licenses and accreditation of the institute before enrolling.
Check the duration of the training program