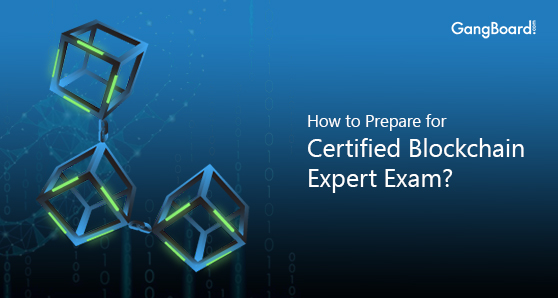 How to Prepare for Certified Blockchain Expert Exam?
How to Prepare for Certified Blockchain Expert Exam
What is blockchain?
Blockchain has been an emergent and evolving technology from the past few years. Blockchain involves blocks which are used to store information of various forms such as payments, personal information, transactions and many more. Here, the 'chain' represents databases that link all those blocks of information together. Once a transaction is stored on a block, it cannot be altered or removed even if all the administrators give permission. Every bit of data stored in the blockchain is permanent. By hashing, all the data stored in the blockchain is converted to a series of encrypted letters and numbers which greatly reduces the chances of fraudulent activity. Multiple copies of all the data are kept on various devices. If anyone manages to modify data somehow, the original data that is still present on various devices will make the altered data useless. This is how blockchain ensures high-end security.
Blockchain certifications:
With the whole world online, the security of a user's data poses a major threat and acts as a weak spot for potential hackers. With a blockchain certification, you will constantly learn and implement blockchain technologies wherever necessary. Blockchain offers numerous certifications one can gain and you can find them below:
Certified Blockchain Expert
Certified Blockchain Architect
Certified Blockchain Developer
Certified Cryptocurrency Expert
Certified Cryptocurrency Trader
Certified Bitcoin Expert
Certified Corda Expert
Certified Quorum Developer
Certified Hyperledger Expert and many more.
If you want to take a look at all the other certifications as well, check out the official blockchain website (https://www.blockchain-council.org/blockchain-certification/).
In this article, we're going to talk particularly about how you can obtain a blockchain expert certification.
What is Blockchain Expert Certification?
Blockchain is credited for playing a major role in the rise of digital currencies like cryptocurrency. Although blockchain has various other areas of application, the world only seems to know it because of how popular Bitcoin became. With the continuous rise of blockchain from the past couple of years, it seems as if there is no downfall anywhere in the near future. Anyone who is a certified blockchain expert is proven to have profound knowledge in developing applications using blockchain technology. A blockchain certification also attests one's ability to develop blockchain applications and attain in-depth knowledge in implementing blockchain. A certified blockchain expert can make immense contributions to keeping the digital world a safer place. In order to obtain a certification, one must pass the blockchain expert certification exam.

Benefits of the blockchain expert certification:
As a certified blockchain expert, you can build an effective blockchain enterprise.
You stand ahead of other potential employees who aren't blockchain certified.
This certificate is recognized globally, which means your work is valued anywhere around the world.
Due to the lack of certified blockchain experts, a certification will increase your chances of being employed with very high pay.
Blockchain is an emerging technology that makes for more jobs in the future as well.
If you aren't into building an enterprise, you can showcase your skills in developing blockchain-based applications as well.
With knowledge about blockchain, there are chances for you to earn by cryptocurrency mining.
Who is this exam for?
Anyone who's enthusiastic about learning the world's fastest-growing blockchain technology can apply for the exam. Although experience in the blockchain isn't necessary, a background in computer science could be an added bonus. To name a few, engineering students, professors, application architects, security professionals and administrators, programmers, cryptocurrency enthusiasts are some categories of people who mostly give the blockchain expert certification exam.
Certified blockchain expert exam overview:
The blockchain expert certification exam is issued by the 'Blockchain Council'. It comprises of multiple-choice questions which are to be attempted in a total time of 60 minutes. Before you attempt the exam, online training for about 2-8 hours will be given. This training is compulsory and only after this, you are allowed to attempt the exam. The time taken for this online training will be depending on your own pace. The certification exam will be of 100 marks. In order to pass the exam, you need to score more than 60 marks. This exam costs 9,999 rupees. A blockchain expert certification once obtained, is valid for a lifetime.

Certified Blockchain Expert Exam Overview

Question type

Multiple Choice Questions

Training Mode

Online

Training Time

2-8 hours (self-paced)

Exam Time

60 Minutes

Maximum Marks

100

Pass Criteria

Above 60 Marks

Validity

Lifetime

Retests

No more than 3

Exam Fee

9,999 Rupees
Important points to keep in mind before registering for the blockchain expert certification exam:
A retest can be given 1 day after an unsuccessful attempt.
You can give a retest for a maximum of 3 times after which you will have to contact the blockchain council team for manual assistance in clearing the test.
Those who are already members of the blockchain council can avail an additional 30% discount on the certified blockchain expert exam.
Registering for the Google Professional Cloud Architect certification exam:
Registering for the certified blockchain expert exam is rather easy. Firstly, go on the official blockchain council website (https://www.blockchain-council.org/).
Next, hover over the certifications panel and first on the list would be blockchain.
Select 'Certified Blockchain Expert'. You will now be taken to this link (https://www.blockchain-council.org/certifications/certified-blockchain-professional-expert/).
Right at the beginning, you can click on 'Buy Now' after which you will have to submit your name and email.
After following these instructions and those of the website, you can pay money and will be eligible for online training as well as the certification exam.
Preparing for the blockchain expert certification exam:
The certified blockchain expert exam won't be as easy as you think. But don't worry, we've got you covered! You will need a good amount of practice along with knowledge of additional things that somehow might be related to blockchain. First of all, let's take a look at the syllabus. The modules you will be reading here are as mentioned in the official blockchain website (https://www.blockchain-council.org/certifications/certified-blockchain-professional-expert/).
Modules:
Introduction to Certified Blockchain Expert
Blockchain Basics
Blockchain Intermediate
Blockchain Advanced
Blockchain Use Cases
After you've completed training on the modules above, you will be eligible to appear for the exam which will also be online. Below, we've mentioned a few ways in which you can begin practicing intensively and effectively:
Blockchain expert certification online training:
With experienced professional trainers who also happen to be seniors in the field of blockchain, 'Gangboard' offers the best online training in every aspect. Blockchain online training is equipped with all the modules in detail and also helps to prepare for almost all of the blockchain certification exams one might want to appear for. You can enroll in the training program in the link given here (https://www.gangboard.com/blockchain-online-training).
Blockchain official website:
Nothing could be better than getting the most out of those who came up with this exam. That's why it's important to take a look at the official blockchain council website (https://www.blockchain-council.org/certifications/certified-blockchain-professional-expert/). The website will mandatorily be updated at any cost as it is official. One such huge update was the level of the blockchain expert certification exam. They've upgraded the level from V1 to V2. Updates like these are essential when preparing for an exam as paramount as this.
Infographics:
These infographics are like fact sheets. They contain bullet pointers about blockchain technology that can be read quickly and easily. These infographics might be of importance because they wouldn't be on the website otherwise. You can find them here (https://www.blockchain-council.org/category/infographics/). Other than these, you can directly google 'blockchain infographics'. With this, you will find countless single or two liners about blockchain and its related technologies.

Podcasts:
If you ever get tired of reading about blockchain, why not listen? While listening to these, you can jot down important points. These podcasts will almost be the same as listening to a trainer in an institute. Listen to them here (https://www.blockchain-council.org/category/podcasts/). Podcasts are a major go-to when you have spare time.
Blockchain articles:
Blockchain articles are readily available on the official blockchain council website under the 'resources' tab. With experts updating new articles time-to-time, it will almost be impossible to miss out on reading about any new features or developments. Read the articles here (https://www.blockchain-council.org/category/blockchain/).
Use cases:
You might know about blockchain, but what about its practical implementation? These use cases are filled with information on how blockchain can help shape major areas of development and how it contributes to growth. Study the use cases here (https://www.blockchain-council.org/category/use-cases/). Practical implementation plays a vital part in learning any technology. The same goes for blockchain as well. Without learning how it will be implemented, it would be difficult for one to understand a huge part of that technology.
Instructor-led training:
This instructor-led training is offered by the official blockchain council. Instead of self-paced training, one can opt for this. It is held for a total time period of 2 days with 6 hours of training each day. After this training, one can attempt the exam online after which he can obtain a certification. One drawback to this is that you cannot select the dates of the training according to your convenience. The fee for this blockchain instructor-led training is 199 USD.
Unlimited training subscription:
If you're a blockchain enthusiast, then you can go for the blockchain unlimited subscription. This gives you access to all the blockchain technology course content, e-books, and podcasts. In addition to this, you will also be given access to a members-only community. There are monthly and yearly plans available with the monthly plan costing 49 USD/month and the yearly unlimited plan costing 299 USD/year. With any of these subscriptions, any blockchain certification exam costs only 59 USD. This is a great subscription for anyone wanting to get certified in more than one blockchain technology.
Practice exams:
Practice exams are like your confidence boosters. You'll feel better about your preparation and get to know about the areas in which you still have to improve. During your online training, try to attempt as many blockchain practice tests as possible. You can attempt some multiple-choice questions here (http://www.objectivequiz.com/objective-questions/computer-science/blockchain). There are numerous blockchain expert certification questions online to which they've included in detail description of the answers as well. Take a look at those too.
Interview questions:
Although a blockchain expert certification places you way ahead of so many other employees, preparing for an interview is as vital as preparing for the exam. Below are some interview questions curated by the professionals of GangBoard.
Forums:
With new discussions and news about the latest blockchain technologies every day, you can be sure that you won't miss anything of importance. Any doubt that may arise during your training, it is most probably already there on the forum. Basically, these are life-savers not only for the blockchain expert certification exam but for any exam that you might want to give. Here is a forum to get you started (https://blockchainforums.info/).
What you need to do on the day of the exam:
As this is an online exam, you can attempt it from anywhere you like.
Before taking the test, make sure you're through with all the modules. This will ensure a better score.
Don't let nervousness get the best of you. It's completely okay if you don't get certified on the first try.
Conclusion:
Blockchain is undoubtedly an advanced and captivating technology. The benefits of being a certified blockchain expert are endless. So why not start your journey with GangBoard? With top ratings from our students, you can trust us with your blockchain training. We train students keeping in mind the current and future world of digital possibilities. We also offer carefully curated materials and practice tests to all of our students to ensure that they get the best. Along with intensive care, dedicated support, and senior trainers, anyone who trains with us is sure to crack any certification exam. GangBoard wishes you all the best for your exam!

What is Blockchain Technology | Blockchain Tutorial For Beginners