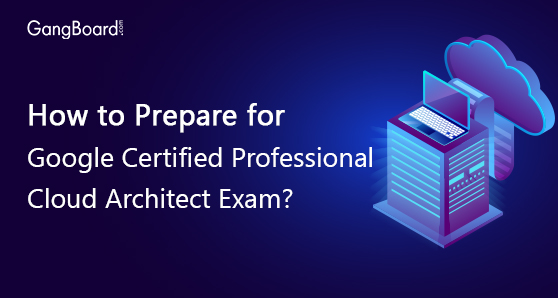 How to Prepare for Google Certified Professional Cloud Architect Exam?
How to Prepare for Google Certified Professional Cloud Architect Exam?
If you happen to work on the Google Cloud Platform or want to pursue a career as a Cloud Architect on Google platform then you should consider taking the exam.
What is the role of a Cloud Architect?
The cloud Architect can design applications, develop them, and manage the extremely scalable applications that are available on the Google Cloud Platform. By scalable we mean that the application can grow to meet the growing needs, database, and resources of a business.
Why take the Google certified professional Cloud Architect Exam?
If you are interested in working with today's sophisticated software systems, then the exam will prepare you for the needful in cloud technology. Big companies as Google, Azure, and AWS are the main providers offering numerous services in cloud computing. Being certified would just mean that you are a qualified and capable cloud Architect professional. Cloud architects manage application architecture and placement in cloud environments.
Why the cloud Platform offered by Google is so much in demand?
The GCP Google Cloud Platform began in 2012. It gained popularity as businesses and individuals began to use its resources and services. Its facilities include Database, Storage and Applications that help businesses better manage their operations fluently and securely. The Google Cloud Platform is scalable to the needs of the end-users, drew more people towards its usage. Also besides being easy to use, it is cost-efficient and developer-friendly. So it is no wonder that GCP is the preferred choice.
Is there a requirement to be certified for the Google Cloud and what is its value in the Market?
Google is gaining popularity and a noticeable increase in market share so the certification in Google Platform is in demand and highly acknowledged in the industry. The certification simply states that the candidate is proficient in designing, developing, managing, and monitoring apps and data solutions for Google technologies on the GCP.
Types of the Google Cloud Certifications
3 certifications validate the skills of Google Cloud professionals at different levels:
You can earn the Associate certificate by Google as a Cloud Engineer, or the Professional certificate that recognizes you as a Data Engineer or the professional certificate that recognizes your abilities to be a cloud architect.
Get Google Cloud Associate Cloud Engineer Certification Training
What are the objectives of the Google Certified Cloud Architect exam?
Understanding the objectives will enable you to better prepare for the exam. The syllabus for the exam has been divided into 3 sections and the resulting subject areas. We have put down the topics for you to help you study in a planned manner and pass the Cloud Architect exam offered and certified by Google.
Planning and Designing Solutions in Cloud Architecture
Every business has its unique infrastructure and needs a technical solution to carry out its day-to-day operations successfully. It would be necessary to compute the resources, design a network solution and plan out the storage to carry on these day-to-day tasks. Additionally, planning and executing migration which includes moving applications, data and other business elements to cloud computing environment or transferring from the local center to the public cloud. Thinking futuristically, the next step is to plan out solutions for improvement in all processes for better faster and smoother results.
Providing Infrastructure Solutions and Managing the Solutions
After studying the infrastructure, the next step would be to configure the topologies of network architecture. The aim would be to reduce inactivity and balance the bandwidth and providing connectivity between any individuals and between servers. You would further be required to configure different systems of data storage on the cloud. You will be able to configure computer systems to provide reliable and secure service for clients located in different geographic areas. The communications would have to be secure and the performance, acceptable.
Designing for Security and Compliance
Criteria as security in communication, transfer, and storage of application, database, and business elements have to be established and maintained. Also, the legality of operations in retrieving, dispensing and usage of information database has to be considered. The possibility of unauthorized access has to be prevented.
Analyzing the Business processes and technical processes and optimizing
Business Process Management through cloud computing is the way most businesses are running efficiently today over the globe. To achieve this purpose technical processes and strategies as SaaS software as a service, PaaS Platform as a Service, and IaaS Infrastructure as a Service are being applied. You would have to analyze and define the business and the complementary technical processes for the end-users. Also, you would have to test and ensure that the procedures being produced are flexible.
Implementing and Managing
After designing solutions for the businesses the candidate would have to work towards its implementation. At this stage, the candidate will be able to provide advice on operations and development of solutions so that the solutions designed are properly and successfully implemented.
For this purpose, the candidate should be able to read languages and also write languages for the development of the application.
Making sure that the solution provided and operations are reliable
The candidate must know how to collect any log files from applications, servers or even devices. You would be required to monitor the status of resources on the cloud using manual and automated tools. This would include keeping an eye on and evaluating the architecture, services, and infrastructure. Idle resources cost money to businesses and more money if they are being used. So monitoring the resources with a solution that alerts when resources go-beyond the usage or budget would save a lot of money for the company.
Knowledge of Release Management and deployment would be tested. In this process, the software is started from the requirements of a business or procedure. It is then developed and tested. Lastly, it is deployed and delivered to the users as a finished product/service.
You would have to be prepared for troubleshooting issues which mostly include security problems, cost management and staying in the budget, lack of expertise or resources, compliance, control or governance, helping in the management of multiple clouds.
You will be required to manage the quality of service. This would include allocating resources to maintain the service level as in performance, reliability, and availability. Also monitor to measure the services given for effective use of resources, billing, or overall analytical planning.
Must Read: AWS Vs Google Cloud
Who all are eligible to take the Google Certified Cloud Architect exam?
If you are an enterprise or Solutions Architect or work in the operations team you are eligible to take the Google Cloud Architect Certification Exam. Even if you are an administrator in the systems or simply a keen graduate interested in pursuing a career as a Cloud Architect.
How does the Google Certified Cloud Architect exam benefit you?
It authenticates your abilities to design solutions, develop them, and manage and administer those using Google Cloud technologies. It gives you an edge over other applicants as you are deemed qualified. The global market opens out its possibilities to the qualified and makes you the eligible choice to work internationally. Better job opportunities knock at your door. Your performance and capabilities improve as a Cloud Architect.
Additionally, you can avail of the free or inexpensive https://cloud.google.com/training/on Google Cloud website.
To register for the exam visit https://www.webassessor.com/googlecloud/
Google certified professional cloud architect exam certification cost
Google certified professional cloud architect exam certification cost and details
Examination Format

Multiple choices and multiple select, taken in person at a test center

https://www.kryteriononline.com/Locate-Test-Center

Registration fee
$200 (plus tax where applicable)
Grading
Pass / Fail
Languages
English, Japanese, Spanish, and Portuguese
Prerequisites:
None
Recommended experience
3+ years of industry experience including 1+ years designing and managing solutions using GCP.
Registration fee
$200 (plus tax where applicable)
Click Here: AWS Vs Azure Vs Google Cloud
Things to know about Cloud Architect certification by Google
JOB Position
Upon completion, you stand head and shoulders above the crowd with the credentials. But at the end of the day, your ability counts much more in getting you the job position.
Certification Renewed every 2 Years
The certification is upgraded after 2 years. You can update yourself and keep up with the new developments in the Cloud architecture field. The curriculum will be adapted to ongoing changing technology and market trends.
MCQ Format
The format of the exam has been kept in Multiple Choice Questions format to check the candidate's general knowledge. It does not evaluate the gravity of the candidate's knowledge. So it is pursuable even though you may not have loads of experience behind you.
Grading System
You are entitled to a passing grade or a failing grade only. Do not expect detailed feedback on your attempt or your strengths and weaknesses in areas of syllabus covered in the exam.
GCP Supports Many Languages
GCP supports programming languages like Java, Node, .Net, Python, PHP, Ruby, etc. Even if you know one of the languages mentioned, as a developer, it will be easy for you to prepare for the exam.
Opportunity to Work and practice on GCP
You can familiarize yourself with the platform by working and practicing on it. You can avail of the opportunity to understand where to go and how to access and implement different functions on GCP.
Forgiving Exam Certification Structure
Google Cloud Architect provides practice exams and also Beta Examinations that periodically show up before the final examinations. These exams are given at discounted prices and help to maintain and evaluate your performance level. You are entitled to certification if you are successful in the Beta exams, and it does not matter if you do not take the final exam. In comparison to the final exams, these examinations are cheaper but longer, which may suit some and not others.
Step By Step Guide For How to Prepare For the Cloud Architect Exam Provided By Google
You can avail of google professional-cloud-architect exam dumps which include both, online and offline facilities provided by Google to prepare for your exam to get certified as Cloud Architect.
Many routes have been opened by Google to help you better prepare yourself. These include:
Exam Guide
Google has made available the exam guide on Cloud to help you study in a planned manner. The Google certified professional cloud architect exam certification study guide is for free. The outline provided helps you to cover all topics in depth. You can make use of all the data present on the net on Cloud Computing and Cloud Architecture. The guide also includes case studies. These case studies frequently appear in the exam. So make use of it.
Online Resources: Get Prepared for Certification
Documentation
The Google Certified Professional Cloud Architect Certification Exam guide focusses on two parts:
The syllabus
Documentation which focusses solely on GCP
The documentation page covers all important components of GCP in depth. It further gives a good idea of what you can achieve out of your Google Cloud Platform. You also become more familiar with computing services, storage, big data, networking, machine learning, and operation running on the platform.
Google Cloud Solutions
Google Cloud Solutions prepare you for the real practical world. You learn who all and how businesses or people benefit from the service besides learning about the services. The solutions help you know how and in what capacity and situation the application of services can benefit your clients or customers. You can also suggest areas requiring improvement that the client may not have thought about. The knowledge gained on the two sides of a problem will help you to create integrated systems in the real world. This is the practical side of learning that will be required in daily operations and not just passing the course.
Training Courses
Not all candidates can self-learn and need training. Google has therefore provided offline classes for training candidates to understand the topics or clear your doubts.
There is no specific agenda on the time or period of the classes. The duration of classes can vary. They may be all day long or week long. You would have to find out about the location and timings. The classes will help you learn on time and know about the finest practices. Plus, you can revise online what you learned in the classes.
Lab Practice
You can retain information better with hands-on practice. The practical experiences help you to get familiar and comfortable with the platform and virtual applications. Google has therefore created laboratory environments for you to explore, practice, and experiment with real-life cloud technologies. You can learn at your comfort and speed in the virtual labs. Plus, you can freely learn and not worry about the mistakes you make, as they don't affect real-life practices.
Codelabs help you through the process of coding. It allows you to take baby-steps into self-learning coding commands and implementing them.
Your Computing Experience
This course is for someone with some prior cloud computing experience. If you don't, no worries! Whatever knowledge of computing you may have gathered will come handy in helping you get to Cloud Architecture. Even if you use computers at work, over the years unknowingly you would have picked up some knowledge that would come handy.
Mock Tests
The help-tests open you up to the exam besides giving you fair feedback on your performance to help you improve. It will also give a fair idea of your speed. So you can work on different aspects and improve your skills by taking mock tests and the Beta tests. These tests will help you take the final exam within the stipulated timeframe for your Google Cloud Architect exam.
Some general tips on Google Cloud Platform certification exams
Soon after you complete the test, your pass/fail result will appear on the computer. Unlike AWS certification exams, there is no overall or section score feedback. Only "Pass" and "Fail"and that's all. If you fail, you'll havearchite to pay the fees again to repeat the test.
To understand the scope of the questions, check the knowledge of the technology being asked. It's always better to attend a Google Cloud Platform certification course before attempting the tests.
You can also read the Google Cloud Platform documentation and the Google Cloud Platform Enterprise Design Guide book to learn about the wide range of services you may not have used before. Instructor-led online Google Cloud Platform certification training will give you many a practice exam. In live classes, mock exams are provided to familiarize you with the Google Cloud Platform certification exams. You may also take steps 2 and 3 of cloud infrastructure training.
You may try for  professional certification when you complete 3 years of industry experience and more than 1 year of GCP design and management solutions.   But some smart software engineers have grabbed these certifications by just attending the instructor-led classes in Google Cloud Platform certification training courses.