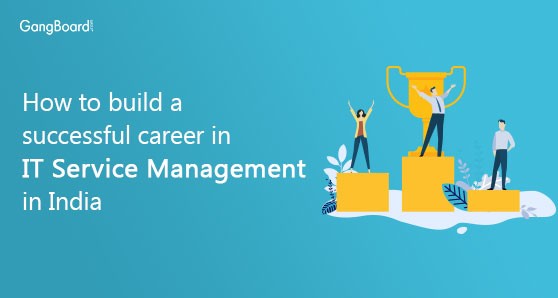 How to Make a Successful Career in the IT Sector?
India is a major player in the world IT sector, mainly due to the Indians' command over the English language, a legacy of the British rule. Now the Indian IT sector is the biggest job generator and it offers oodles of high-paying jobs. It's expected that the annual IT revenue of India will reach $350 billion by 2025. This all indicates the high job opportunities in this sector will be rising unabated. Now the cloud services have appeared on the IT horizon which also offer thousands of jobs.
Which course is best for IT jobs?
What are the IT courses that are in demand?
Having successfully completed an IT course and a certificate will be advantageous to you when you apply for a job. If you want to become an IT engineer but don't know what to study, you may take the challenge to acquire a qualification. You may also take a certification course to make sure already acquired knowledge is correct'
IT training companies offer job-oriented IT courses in almost every major city in India. They include:
Full Stack/MEAN Stack developer, Project management, Software Quality Testing, Automation, HTML, Web UI, CSS, Jquery, AngularJS, Advanced Java Frameworks, UI/UX Development Frameworks, Digital Marketing, Software Testing. Python, Data Science.
If you are new to IT, you can join one of the general IT j courses. If you have one of these qualifications, you can prove skills related to IT knowledge in general and can start your successful voyage in the seamless IT field.
Microsoft Office
This qualification is a private exam that measures the operating skills in Microsoft Office software. There are five types of test subjects: Word, Excel, PowerPoint, Access, and Outlook, and it may take one to three months to obtain certification. It is one of the most popular qualifications, regardless of industry, because it can prove PC skills and administrative skills that can be used in all business situations rather than IT skills.
Network specialist
In this certification course, you'll be taught technologies related to planning, requirement definition, development, operation, and maintenance of information systems. Having this qualification is advantageous in finding employment and changing jobs.
Database specialist
This course deals in technologies related to databases, it plays a central role in planning, requirement definition, development, operation, and maintenance of the optimal information system infrastructure. When this article is written the job site Naukri shows 1294 data specialist job offerings.
Must Read: What are the Database Administrator Responsibilities?
Embedded System Specialist
An embedded system is a system that is built into anything such as mobile phones, smartphones, digital cameras, rice cookers, and air conditioners. It's an advanced IT human resource and uses a wide range of knowledge and skills related to embedded system development to lead the construction of the optimal embedded system development platform and the design, construction, and manufacturing of embedded systems.
System Architect
System architect defines the requirements for the development of information systems and embedded systems and she designs the architecture for realizing them. System architect determines the correct combination of IT components realize a functional goal.
Must Read: Preparation Guide for AWS Certified Solutions Architect
Project Manager
Project managers make decisions for the entire project, have full responsibility for the quality, cost, and delivery time. aim to become a manager who can lead the project to success and grow the project members within the assumptions and constraints. Join a course and get certified in project management. High salary jobs are waiting for you.
Which field is best in IT sector?
These are considered as the most lucrative jobs in the IT sector:
Cloud Solutions Architect
Information Security Analyst
Mobile Application Developer
Mobile Application Developer
Data Scientist
Development Operations (DevOps) Engineer
Computer Systems Analyst
Web Developer
Applications Architect
Web Developer
Information Technology Manager
Software Engineer
Health Information Technician
Technology Manager
Video Game Designer
IT Security Specialist
To get lucrative jobs in the IT sector, you'll need a bachelor's or master's degree, or equivalent IT qualifications. Having work experience is the first condition. You must also have professional certification. If you have experience in business processes, technology, and infrastructure support, or IT project management, you may be the best person to enter the IT parks in Bangalore, Chennai and other cities in India.
How to become a programmer in an IT company in India?
There are no special qualifications to become a programmer. However, if you have the qualification, it may lead to a high evaluation in the interview, or you may get a qualification allowance after joining the company.
Even an arts graduate can become a programmer. In most cases, new graduates are employed even if they are not experienced in programming. Even if you are just a literate person who knows English but has never worked in programming, you can become a programmer if you acquire programming through training and practical work after joining the company. When working in a team, communication and coordination skills within the team are also required However, in learning programming, science graduates often work better in terms of thinking logically and getting used to mathematical formulas.
The programmer's job is mainly to create a program in accordance with the specifications written on the blueprint of the system created by the engineer. This work requires an understanding and proficiency of the language and system to be used. The majority of the programmer's job is to silently program alone. If you work as a programmer, you need the ability to work alone for a long time. This is a job that is not suitable for those who find it hard to work with one thing.
To get a job as a programmer, you need to do the following:
Develop programming skills
It is desirable to acquire programming skills in advance, but if you have technical skills, it is possible to educate overtime after joining the company. There are recommended languages ​​for studying programming skills for job hunting.Programming languages are tools to solve specific problems. There's no "the best programming language." But as demand for AI (artificial intelligence) is increasing rapidly, demand for Python simultaneously increases.
PHP is a very flexible language that makes it easy for beginners to programming. Some companies use WordPress to run their own media, so if you become a programmer for such a company, knowledge of PHP will be useful. If you are interested in the web, then learn Ruby. Learning Ruby well will reduce the difficulty of learning other languages ​​such as Java, so your skills will never become obsolete.HTML / CSS is a language that is easy to understand even for beginners of programming and is often used to create web services and smartphone apps. It's also a good language to learn first. However, you can't create a site using only HTML, so you need to learn together with other languages.
Java is a general-purpose language used in the service development of many companies. However, Java is a language that is more difficult to learn than the languages ​​introduced so far. We recommend that you learn the basics of programming with Ruby or Python. If you learn Java, you can use Unity to develop games. The point of choosing a programming language to learn is to learn a language with high demand that matches the IT trend. Specific examples include Python, Java, JavaScript, PHP, and Go language.
Prepare a portfolio
If you already have programming language skills and have developed web services, smartphone apps, etc. yourself, you should put your achievements into a portfolio. Depending on the content of the exam, you may submit what you actually developed. By presenting results in an easy-to-understand portfolio, not only programming skills but also presentation and communication skills, enthusiasm for employment, etc, are evaluated.
Must Read: Top 10 Highest Paying Tech Jobs in India
Best paying tech jobs in India in 2019
Data warehouse architect (Rs 15 lakh–Rs 25 lakh
Data warehouse architect designs and develops high-performance scalable database models for business intelligence. He satisfies the needs of the client and helps to achieve targets of the company. You must gain experience in application architecture as well as in-network and performance management. After graduation, you have to go for an internship to develop the required skills. Then, gain experience in database design and warehousing. Then you can start working as a data architect. Then you can try for CDMP (Certified Data Management Professional) certification.
Senior technical lead (Rs 12 lakh–Rs 25 lakh)
The senior technical lead is an expert in designing and making complex software solutions. He works with sales and design personnel. He ensures the standard of technical deliverables.
Analytics Manager (Rs 11.5 lakh–Rs 24 lakh)
After graduation, you've to get experience with data analytics. Then get certifications and work as a data manager and then take an advanced qualification. Then you'll be qualified to be an Analytics manager. You'll be developing models for data analysis to assist organizations in decision-making.
 Technical project manager (Rs 10 lakh–Rs 24 lakh)
To become a technical project manager, you've to take a degree (preferably in Computer science or information technology), work for a few months as an IT project manager and advance in the career by obtaining certificates of Project management professional and certified project manager.
Lead developer (Rs 10 lakh–Rs 24 lakh)
He will be looking after software projects. He will also see to it that all the developers in his team conform to the software quality standards prescribed. Lead developer sets the tech agenda for his team members. He ensures the long-term success of his team.
Major trends in IT careers in 2019
Social media
As you know, the Web has entered phase 2.0 and Web 3.0 is just round the corner: online discussion forums, Twitter, Facebook … This development has inevitably pushed the industry to new realities, creating previously non-existent types of employment, as the social media specialist or the web community manager. Soon, all companies will have to hire this kind of specialists.
Cloud computing
Cloud computing provides access to computing resources that are stored on the Internet to free-up space in a computer. This is the trend of the moment in the industry! Companies use this technology a lot since it frees their servers a lot while securing the data in the event of a failure. Several new jobs are associated and techno professionals specialize more and more in this way.
Mobile Technologies
These technologies are booming and, as you know, the use of cell phones far exceeds the simple call. Video games, online sales, websites, TV and many other applications power your smartphone. The arrival on the market of electronic tablets (like the iPad) also increases the craze for mobile technologies. People no longer use their personal computer to browse the Internet, their phone will be enough! This has led to great demand for Android app developers and iPhone developers in Indian IT parks.
Related Blogs: