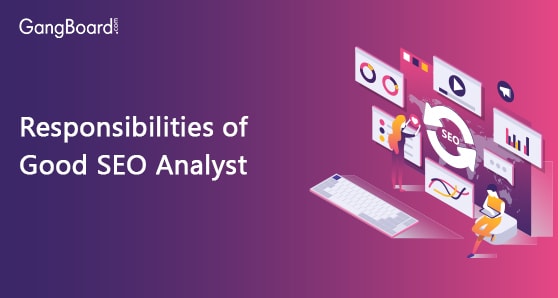 Responsibilities of Good SEO Analyst
Overview
SEO is abbreviated from Search Engine Optimization. Search engine is a program that searches information in a data base for the keyword which is given by the user on World Wide Web. Optimization is a process of increasing the visitors of our website by getting high rank placement from the search engines. (The search engines are like Google, Bing, yahoo)SEO is a process of improving traffic for our site in an organic manner by affecting the user's visibility. If anyone interested to learn SEO Online Training reaches us GangBoard.
Roles and Responsibilities of SEO Analyst
Major responsibility of SEO Analyst is to increase website traffic and improve website rank in search engine result page. For that they are using some techniques which are,
Keyword Analysis
On Page Optimization
Off Page Optimization
Keyword Analysis
Keyword research is one of the major things in SEO. Performing high and competitive keyword research is not an easy task. Because identifying relevant target keyword is the first task to increase your website traffic.
On Page Optimization Techniques
On page optimization is very important role in SEO. By doing all on page optimization techniques properly will helps you to improve your website rank. Some commonly used on page techniques are listed below,
SEO friendly URL must be use
Title tag must contain the target key word
In an article for 100 words we should not dump key word in it
Content must be unique and thick
And the site design must be mobile friendly
Off Page Optimization Techniques
Today's competitive world, if anyone wants to increase website traffic in short span of time, then doing this off page optimization will helps to improve traffic quickly. Some of the important off page techniques are listed below,
Social bookmarking
Search engine submission
Forum participation
Blog commenting
Blog submission
PPT submission
Social Bookmarking
Social bookmarking is a common online service which allows users to add bookmarks of their web pages. Frequently Google visits the social bookmarking sites. By the way
We can improve our site traffic instantly
By doing this we can increase our backlinks much faster
Can increase the links count to our website easily
Forum Participation
A forum is a medium where ideas, thoughts, issues are shared by the peoples. And the forums used to get quality backlinks for our site.
Blog Commenting
Blog commenting containing the same concept as forums. In there we are adding our site by commenting in it. So by this we can improve our backlinks.
Blog Submission
We have to submit a unique and informative blog in a blog submission sites. By this process users will turns to see our site. We have attracted the users by our blog. By this we can increase the traffic of our site.
PPT submission
While seeing the slide sharing people will really get impressed so it leads them to visit the site. This is also helps to increase the traffic of the site organically.