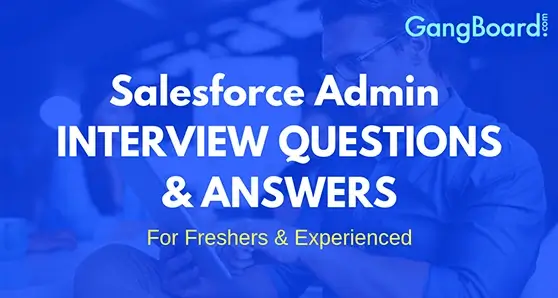 Salesforce Admin Interview Questions and Answers
In case you're searching for Salesforce Admin  Interview Questions and answers for Experienced or Freshers, you are at the correct place. There is parcel of chances from many presumed organizations on the planet. The Salesforce Admin advertise is relied upon to develop to more than $5 billion by 2021, from just $180 million, as per Salesforce Admin industry gauges. In this way, despite everything you have the chance to push forward in your vocation in Salesforce Admin Development. Gangboard offers Advanced Salesforce Admin  Interview Questions and answers that assist you in splitting your Salesforce Admin interview and procure dream vocation as Salesforce Admin Developer.
Best Salesforce Admin Interview Questions and Answers
Do you believe that you have the right stuff to be a section in the advancement of future Salesforce Admin, the GangBoard is here to control you to sustain your vocation. Various fortune 1000 organizations around the world are utilizing the innovation of Salesforce Admin to meet the necessities of their customers. Salesforce Admin is being utilized as a part of numerous businesses. To have a great development in Salesforce Admin work, our page furnishes you with nitty-gritty data as Salesforce Admin prospective employee meeting questions and answers. Salesforce Admin  Interview Questions and answers are prepared by 10+ years experienced industry experts. Salesforce Admin Interview Questions and answers are very useful to the Fresher or Experienced person who is looking for the new challenging job from the reputed company. Our Salesforce Admin Questions and answers are very simple and have more examples for your better understanding.
By this Salesforce Admin Interview Questions and answers, many students are got placed in many reputed companies with high package salary. So utilize our Salesforce Admin Interview Questions and answers to grow in your career.
Q1) What is Salesforce?
Salesforce is the world's #1 Customer Relationship Management (CRM) platform.
A CRM system that allows businesses to manage business relationship & the data with information associated with them.
Q2) What is the difference between Salesforce.com and Force.com?
Salesforce.com is a Customer Relationship Management (CRM) application develop
based on Software as a Service (SaaS). Force.com (PaaS) is a platform that helps developers and business users to build powerful enterprise applications.
Q3) What is App in Sales force?
A Salesforce App is a group of Tabs that makes it easy for users to access a set of related features in the full Salesforce.com browser app.
Q4) What are Tabs?
Tabs helps us in making the views which help user to see the information at a glance.
Q5) What is a profile?
A Profile is a collection of permissions and settings that determines user's functional access (apps, tabs, object-level permissions), how information is displayed to the user.
Q6) What is the difference between the Standard Profile & Custom Profile?
Standard profiles are included with Salesforce that are not fully customizable whereas the Custom Profile are created by the Administrator and fully customizable.
Q7) What is Role?
In salesforce, roles are defined to increase the data visibility a particular user has. Record level sharing can be done by:
Organization-Wide Defaults(OWD)
Role Hierarchy
Sharing Rules.
Q8) What is Sharing Rules?
Sharing Rules in Salesforce makes automatic exceptions to you organization wide default
sharing settings for defines set of users.
Q9) What are the difference between a Role and Profile?
Roles are one of the ways you can control access to records and Profiles determine what the User can do, view or edit on that record.
Q10) Number of standard profiles available in Salesforce.com?
There are six (6) Salesforce standard user profiles in Salesforce. Standard Profiles which mostly used are:
System Administrator
Standard User
Read Only
Solution Manager
Marketing User
Contract Manager
Q11) What is Page Layout and Record Types in Salesforce?
Page Layout is used to organize UI pages for the users based on their user profile.
Record types allow you to associate different business processes to define different sets of picklist values based on their user profile.
Q12) What are Organization Wide Defaults?
Organization-Wide Defaults, or OWDs, are the baseline security you for your Salesforce instance. Organizational Wide Defaults are used to restrict access.
Q13) What is Role Hierarchy?
Similar to an org chart, a role hierarchy represents a level of data access that a user or group of users needs.
Q14) What are the different types of Relationship in Salesforce?
Salesforce provides the following types of relationships that can be established among objects:
Master-detail relationship.
Lookup relationship.
Self-relationship.
External lookup relationship.
Indirect lookup relationship.
Many-to-many relationship (junction object)
Hierarchical relationship.
Q15) What is Field-Level Security?
Field Level Security in Salesforce gives permissions at object level to restrict user's access to view and edit some fields on object. Field Level Security is controlled by Profiles and Permission Set.
Q16) What are the different Data Management tools in Salesforce?
Data Import Wizard.
Data Loader
Q17) What is Data Import Wizard?
Using "Data Import Wizard", We can Load upto 50,000 record at a time. It supports .csv file. It supports for Accounts & Contacts, Leads, Solutions and Campaign Members Standard Object and Custom Object.
Q18) What is Data Loader?
Data Loader is a tool or Application used for salesforce to import and export bulk data.
Q19) What is Export and Export all in Data Loader?
Export button is used to export all records of a particular object in the system to a .csv file(excluding records present in Recycle Bin). Where as in the case of  Export All button, all records(including records present in Recycle Bin) for that particular object are exported to a .csv file.
Q20) What is Formula field in Salesforce?
Formula Field is a read only field that derives its values for the formulla Expression
you define. We cannot Edit Formula Field. When the source field gets changed the
Formula field changes automatically.
Q21) What are Cross Object Formula field?
Cross-Object Formula field displays one object record in other related object by referencing
merge fields on those objects. Cross-object formulas also work with Lookup relationships.
Q22) What is Reports?
A Reports is a set of records displayed in the form of rows and columns.
Reports data can be filtered, grouped, and displayed graphically as a chart. Reports are stored in Folder – which controls who has access.
Q23) What are the different Report Formats?
Tabular Reports, Summary Reports, Matrix Reports, Joined Reports.
Q24) What is Tabular Reports?
It is the simplest and fastest report formats. It displays the rows as records and fields are listed as columns just like a spreadsheet. It supports sorting of records.
Q25) What is Summary Reports?
This report allows the user to group rows of data, summarize the field value which also supports sorting and display subtotals.
Q26) What is Matrix Reports?
In this report, records are summarized in a grid format. It allows the records to be grouped by both columns and rows.
Q27) What is Joined Reports?
In this type of report, User can create multiple report blocks that provide different different views of your data. In this format of report, we organize the data in the form of block. You can add upto 5 blocks in a single report. Each block is defined as a Sub-report(Report Type). It can have its own field, columns, sorting and filtering.
Q28) What is Conditional Highlighting in Salesforce reports?
Conditional Highlighting is a powerful way to show values in report within given
limits. Using Conditional Highlighting, We can specify colours for different ranges of values in reports.
Q29) What is Bucket Fields?
Bucketing lets you quickly categorize report records, without having to create a formula or a custom field.
Q30) Which field type does Bucketing field support?
It supports the field type of Picklist, Number, Text.
Q31) What are Dashboard?
Salesforce Dashboard is the visual representation of snapshots that are generated from Salesforce reports data. Using Salesforce Dashboard components, you can convert business requirements in Graphical representation using Sales force reports. Like reports, Dashboard are also stored in Folders.
Q32) What are the different Dashboard Component?
Scatter Chart, Line Chart, Funnel Chart, Vertical Bar Chart, Donut Chart, Horizontal Bar Chart, Pie Chart, Gauge, Metric, Table, Visual force Pages.
Q33) What is Validation Rules?
Validation rule helps the user to improve the data quality by preventing the users from entering the incorrect data. In simple words, we can say that validation rule validates the user data.
Q34) Who is a User?
User is an individual who have credentials to log into Salesforce and use the application.
Q35) What is Workflow? What are the types of Workflow?
Workflow rules are the automated process used in business process to send Email Alerts, Assign a Task, Update a field on rule criteria or action based criteria requirements.
Types of Workflow:
Task – Assign a Task
Email Alert: Send an Email.
Field update: Update a Field.
Outbound Message: Send an Outbound Message to External System.
Q36) What are Approval Process?
Approval Process are used in the business process to Approve or Reject the record.
It involves Approval or Rejection of records, where one person creates the record and
submits that record for Approval.
Q37) What are Assignment Rules?
Assignment Rules automatically assign incoming Leads & Cases to specific agents so that the right people work on the right leads and cases.
 Q38) What are Queues?
Queues allow the group of users to manage a shared workload more efficiently It prioritize your support team's workload by creating lists from which specific agents can jump in to solve certain types of cases.
Q39) What are Auto-Response Rules?
Auto Response Rules Automatically send personalized email templates for new cases and new leads from your website.
 Q40) What is Escalation Rules?
Escalation Rules ,  Automatically escalate cases to the right people when the cases aren't solved by a certain time.
 Q41.) What is Chatter in Salesforce?
Chatter is a Salesforce real-time collaboration application that lets your users work together, talk to each other, and share information.
 Q42) What is Visualforce?
Visualforce is the component based UI framework that hosted on the Force.com (PaaS) platform that allows to  build sophisticated custom user interface framework includes a tag based markup language similar to HTML.
 Q43) What is Time-dependent Workflow?
The workflow that are scheduled to happen at a later time.
Q44) What is Apex?
Apex is a object-oriented programming language that enables the developers to add the business logic.
 Q45) What is Apex Class?
Apex class is a collection of variables and methods
Q46) What is Apex Triggers?
Triggers are a programmatic event handler that gets executed when a DML operation occurs on an sObject record.
 Q47) What is Static Resources?
Static Resources is a place where you can upload the supporting files and can be
reference in a Visualforce Page.
Q48) What is Custom Components?
Custom Components are the user defined components that can be reused several times in one or more visualforce pages.
Q49) What is MVC Architecture?
When a Custom Object is created in Salesforce and a VF is created to display the details of the record of the custom object using controller. In this scenario, We observer three parts
"Object Creation", "Visualforce Page", "Controller".
   Object Creation is a Part of "Model".
   Visualforce Page is a Part of "View"
    Controller is a Part of "Controller"
 Q50) What is Test Class?
Test class is basically used to test the business functionality by using some dummy data
in the code. It will show you the no. of lines covered.