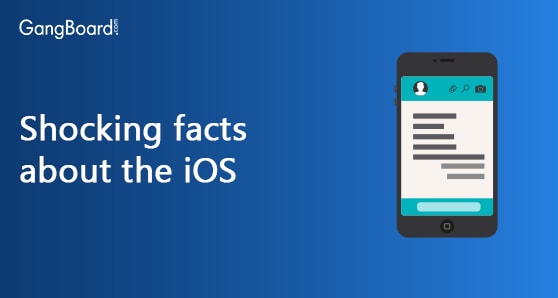 Shocking Facts About The iOS
We all are great fans of Apple Inc. products and probably this is the reason we all get fascinated when we listen about any new product of Apple. Apple iPhones and iPads have an operating system called iOS a there are many fascinating things about this Operating System which you can learn in iOS Online Training. In addition to that, we bring you some facts about the iPhone too. Some of them are as follows:
Apple does not own iOS; itis license under Cisco which has its trademark.This is something which you probably did not know about iOS. In addition to this, Google makes more money from iOS as compared to Android Operating System. In fact, Google makes around 75% of its mobile devices ad revenue from iOS run Apple devices as compared to Google Android devices. Even though there are five Android devices for one iOS device; they bring a lot of profit.
One more interesting fact about iOS is that Apple iOS products do not run Adobe Flash within the iOS web browser because Adobe changed its strategy which enabled Flash content to be delivered as applications which are native using Adobe Integrated Runtime.
Simpsons were credited by Scott Forstall, who was Former Apple iOS SVP for fixing the iPhone's multi-touch keyboard. In addition to this, let us tell you that App Store was the place which allowed customers to download an app legally.
Probably, you did not know this about iPhones that Samsung manufactures the processors which are used in the laptops of Apple. Apple and Samsung may be great rivals in the market, but they still have a business connection between them. The era of texting started with iPhone coming into the market because they made sending SMS easy than calling and that is what around 22% of people believe now. In fact, in the year 2007, it was considered as the invention of Year. They have over more than 200 patents for just one iPhone which was launched in the year 2007.
Conclusion
These are some of the unknown facts about iOS and the products which are using this iPhone. If these facts make you fall in love with this company and now if you are thinking of enrolling in an iOS Online Training, then you should consider learning from the excellent team of Gangboard because they provide you with the quality and standard study material and support. iOS application has a great demand in the market and one can make a lot of money after getting an iOS Online Training done from Gangboard. In addition to this, your skills of making applications will improve with practice and services which you start rendering. An average salary which is earned by an iOS app developer is around 3,47,000 which is an amazing number and this salary increases as you go on providing better and improved services as you gain experience and stability in your work environment. You can also open your own firm which builds applications for clients and you can have your own business too!