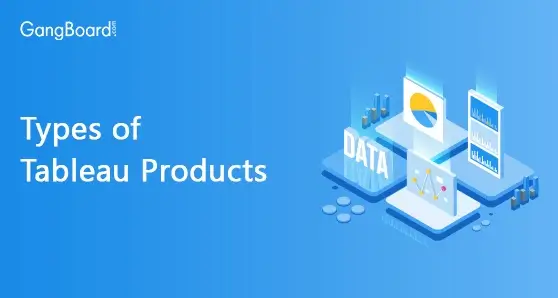 Types of Tableau Products
Types of Tableau Products
Tableau has many products, it is categorized based on the nature of their functionality. The server part, the developer part, the viewer part and data preparation part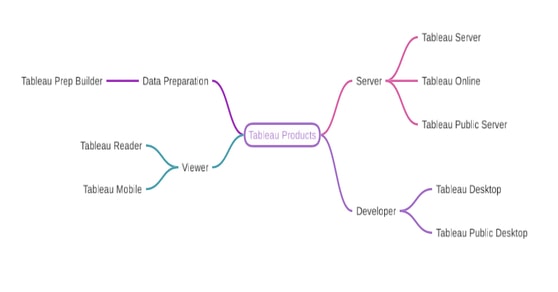 The products are
Tableau Server
Tableau Online
Tableau Public server
Tableau Desktop
Tableau Public Desktop
Tableau Reader
ableau Mobile
Tableau Prep Builder
Server Part
Tableau Server
Tableau Server is a paid Server application which needs to be installed on a Windows or Linux server. This is used widely in the enterprise world. Usually there would be a dedicated admin team/person to take care of the memory, user management, data source management , folder management and other server related things.
Tableau Online
Tableau online is a paid server application too but it is already hosted by Tableau software and so no need to install on any windows server. It is better when you need the Tableau dashboards to be accessed from anywhere. It has almost all features of Tableau server but on the internet.
Tableau Public Server
Tableau Public server is a free server in the internet. This is the YouTube or Blogspot in Tableau Data Visualization world. It is free and people post their ideas and visualization here. We call it the Visual blog. It has no user management or folder management options. You can hide your work though. It cannot have live data source but only Extract. So many people publish their ideas and custom visualizations here. We could find the inspiration from here.

Developer Part
Tableau Desktop
Tableau Desktop is a paid desktop application. It is also called as Tableau Desktop Professional edition. This is where the developers create charts, formula, dashboards, actions and everything. It has 14 days trial too. The dashboards we create here can be published to any Server listed above. It can be opened in Tableau reader. Read Tableau reader for more information.
Tableau Public Desktop
Tableau Public Desktop is a free desktop application. It is the developer place for Tableau Public server.  It is free and has some limitations like cloud Save only, no live or database connection. They are widely use by learners, bloggers, public information related institution like media and etc.
Viewer Part
Tableau Reader
Tableau Reader is the free desktop application which can help us to view the Tableau dashbords created by Tableau Desktop. It supports only extract connection files. It can help new people to try Tableau by getting one license for Tableau Desktop and installing this free software on their end user's machine. It can open the dashboards, interact with them like filtering, tooltip and parameters. We cannot edit the formula or charts here.
Tableau Mobile
Tableau mobile is a mobile application. It is available in iOS and Android. It can connect to Tableau server or Tableau online. It is just like Tableau Reader buy for mobile. It can help to interact and view dashboards which are published to Tableau server or Tableau online.
Data Preparation Part
Tableau Prep builder
Tableau Prep builder is a new product of Tableau. It helps developers to cleanse, blend and wrangle  the raw data. It is a mini ETL ( Extraction, Transformation and Loading ) tool which can connect to different database, join the data, transformation over the data and save the file as output. It can be automated and help developers to avoid redundant manual data manipulation.
Tableau Tutorial For Beginners