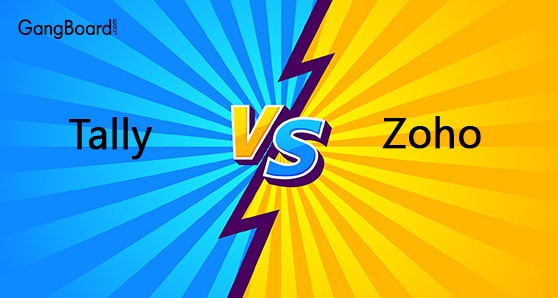 Tally Vs Zoho
Tally Vs Zoho
Tally is simple accounting software. Zoho Book is cloud based and more features and various application.
Why Tally ?
Tally is basically an accounting software .It is used for various types of accounts either it would be a business or a personal. It is a popular software among Small, Medium and Large enterprises. For Daily Accounting, Finalizing Balance Sheet, Inventory Management, and Tax Filling Tally is the ultimate solution. It is very prominently designed for making business accounting or bookkeeping procedure efficiently.
What is Tally ?
Tally is an accounting software. Tally software works through a technology called concurrent multi- lingual accelerated technology engine. It is a industry ready easy to use software. Generally its focus is to get a solution of accounting principles, inventory and data integrity. It has encompassing global business feature also.
Tally provides many solutions like stock management, inventory management, making invoice, managing purchase orders, discounting and making exact valuation of stock.
Tally accounting software has also some other capabilities. It can track every details of transaction. It helps to maintain classification of accounts, general ladger, receivable and payable accounts, bank transactions in a simple way.
Tally is more secure and data reliable because of its technology. For its reliability Tally is used to connect multiple office location for a secure data transfer.
In  financial analysis and financial management system Tally is the most capable software. Tally is also used to get a clear report of receivable turnovers, cash flow statement, activity consolidation and branch accounting.
Tally software is a simple and easy to use software. Multiple users are supported through a single connection. For publish global financial report it can easily connected with internet.
User can easily connect Tally with many Microsoft applications.
Benefits Of Tally Software
For every business organization its very important to understand there financial condition. Organizations have to maintain proper account books to get a clear concept about there productivity, and financial health. Previously the company hired employer who are expert to maintain all account related documents manually. After modernizing technology it is easy to maintain all accounting related works by accounting software. Tally is most simple and appropriate software for performing related works.
Tally is ultimate solution for business accounting systems. Tally software maintains cash receive to cash withdraw, bank statements, daily records of cash flows and even interest payment. Because of its multiple use capability it can transect multiple currency across multiple locations.
Why Zoho?
 Zoho software is created to resolve business related problems. The interface of Zoho CRM is very easy and understandable. From the setup to the terminology Zoho is simply designed. It is easy to operate without any technical knowledge, or even user is new to sales. Zoho CRM has also an app which can scan your business card automatically.
Zoho CRM is made to complete maximum work in a minimum time. Zoho CRM is used in business to support customers, achieve higher sales and get productive results. It can be used in any type of device with any type of operating system.
Features of Zoho

1. Zoho can create a contact list of all relevant information even social feeds in a single location. User can easily access the location and stay up to date.
2. Create a proper sales activities report on intuitive dashboard.
3. Zoho can manage ongoing projects by using tools like Planning, Time Tracking, Reports, Wiki, Forum Zoho mobile app will give user an update on smartphone.
4. User can post on Twitter for campaigning. User can attach a link in LinkedIn, Facebook or even post an image and status messages and use Zoho tools to track the interest generated.
5. Zoho connect is a platform where all employees can interact and get things done without any security threat.
6. Make emails with customize templates, to boost email marketing.
7. Zoho CRM is complete service called Zoho CRM integration service. It is enriched with above thirty five apps. User can easily use extensions like Zoho Mobile Edition, Zoho Email, Zoho Projects, Google Apps, Mail Chimp, Twitter, Facebook and many more. Zoho CRM is still working on collaborate more apps. User can easily transfer data from app to app, which minimize time consumption. It makes far more better communication between employees in any organization and decision making
8. Zoho CRM is more affordable than any other CRM software. Recently Zoho has launched a new software suite called Zoho One. Because of its wide range of application and lower costing it is highly preferred by small and medium enterprises.
9. It allows for an open API, which gives user far more freedom to use the system. User can customize there business interface according to fulfill needs.
Comparison of Tally and Zoho
| | |
| --- | --- |
| Tally | Zoho |
| Tally is a simple accounting software | Zoho is a fully business ready CRM software. |
| Tally is on premises software. | Zoho CRM is cloud based software. |
| Tally is used to calculate multiple types of accounts, multi currency transaction, calculate profit and loss controls , and make a perfect budget report for the company | Zoho CRM has all those features including accessibility of contacts. Its feature is more efficient to give user a close view of invoices, supply bills and users contacts. |
| Multiple Indian language support which makes it more efficient for Indian users. |  Multiple foreign language support which makes it globally acclaimed CRM software. |
| Onetime payment system and its much higher. | User friendly payment system, monthly and yearly basis and costs very low. |
| Mobile compatible for IOS and Android platform. | It is better mobile compatible features like Android, IOS, Amazon, Microsoft windows. |
| Company name Tally solution Pvt. Ltd. Headquarter is in Bangalore. | Company name Zoho Corporation Pvt.Ltd. Headquarter at Chennai. |