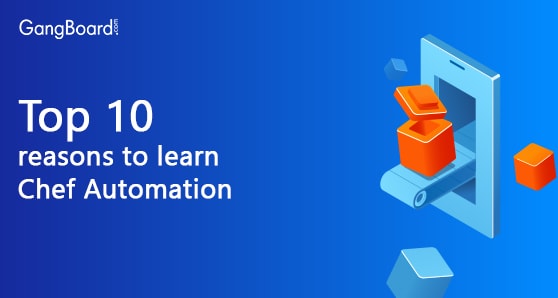 Top 10 reasons to learn Chef Automation
In the field of Software if there is one name that is catching everyone's attention it is Chef Automation. Some experts already call it the rise of a new generation in Software and there are good reasons for it. Chef is software that is used by many big organizations to configure and maintain their servers. What is different about this software is that it is fully automated. This means more output in less time. This software can easily collaborate with cloud based platforms such as Amazon and Google cloud to configure new machines automatically. Such is the power and utility of this product. This software is in high demand today and a good Chef Automation online training is available for those who are looking to learn and earn from it.
In this post, we will cover top 10 reasons that should help you make up your mind in favor of this software.
Rise of new age: All trade pundits have predicted that the rise of technology in coming years and this software is the start of it. This software brilliantly configures and maintains all the servers in the organization without much manual effort. It will not be wrong to term it as a mini robot with a brain of its own.
Better control over software: One thing that all software developers' desire is a complete control over their product. Though this product is fully automated but it offers a great flexibility and can be easily managed and controlled by a developer.
An entire new approach to work: In earlier days developers use to spend long hours in configuring the server but with chef those days are now gone. If you are trained with good chef automation training and are confident using it you can easily configure more than hundreds servers in a day.
Good and helpful libraries for support: Chef Community is available and growing fast. Tonnes of cookbooks and material are available online for developers to see and use. If you are working with this software you can actually save a lot of your time by using references from other developer's experiences.
Makes work faster and easier: When you can do a whole lot of your work in just one fourth of your time you will find more time to spend with your family. This is what this software empowers you with.
Good Pay checks: The demand for people who can operate this software in market is high. Developers who are working on it are taking handsome pay checks with them every month. This makes this field all the more lucrative and appealing. Therefore, if you are planning to go in for chef automation training to enter this line this is the right time.
Good demand in big organizations: Many big and reputed organizations are now using this software. The demand for skilled developers who can handle this software is huge in the market today. If you are good with your skills of using this software then you can very much land yourself a good job in a big blue chip company.
Safe and secure: The newer version of this software allows you to store the passwords in encrypted form. This adds a new layer of security and makes the whole process safe.
Easy to learn: If you already have a hand on experience in any programing language or software then it will be easier for you to upgrade to this software. As mentioned above there is Chef Automation online training available for those who wish to make immense in this field.
Future belongs to automation: It will not be wrong to say that Chef is still in its toddler days and there is a massive up-gradation happening on it every year. Developers are working tirelessly on this software to make it more useful and reliable. Its demand and reputation in market is notching up significantly. Trends and trade experts suggests that this is going to be the next big thing in future.