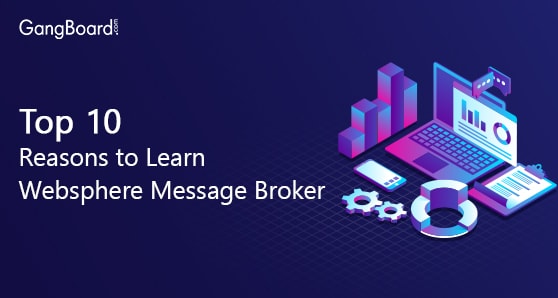 Top 10 Reasons to Learn Websphere Message Broker
What is Websphere Message Broker?
Before pitching the reasons, let's first understand what Websphere Message Broker is? It is an application that enables the business data to seamlessly move between different applications across numerous software and hardware landscapes. The information that is running via the message broker in order to route, store, retrieve and alter the data is ruled by many business terms and conditions.
How Can Websphere Message Broker Training Help?
Here are top 12 reasons to learn WMB-
This training enables you to design, develop and integrate message flows. It trains you how to develop, create message sets and message definition files for XML and Non-XML data. In addition, it also teaches you how to assimilate disparate apps using various Nodes.
It reduces point-to-point interconnections on development resources by connecting any application over many codes (HTTP , SOAP ), so it's easy to work on it and WMB training does justice to it. It simplifies programming by removing integration logic from the applications.
One of the top reasons to attend WMB training is that it makes you capable of defining solutions that can help various integration needs through some connectors to a spectrum of data platforms, making you indispensable for the company.
The advantage of WMB is that it extracts the information from one application, laying it on a format comprehensible by the target application and transmits the information.
WMB is the most used Enterprise Application integration. It allows you to integrate without making many changes to the current framework.
It supports visual studio development that includes debugger and code templates environments. A Common Language Runtime is installed to apply .NET logic in the integration process.
Getting Websphere Message Broker Training help you maintain quality productivity in the regular workforce. At training centers, you are trained by highly experienced and real time professionals with full stack technical background in the IBM WMB field. It is a firsthand knowledge as you can share your problems that you may face occasionally. The trainers understand your project and help you get the solutions.
WMB training course gives you a better insight on how to use IIBM (Websphere Message Broker) in real time for integration purpose. By using DFDL and MRM parsers, you will know how to develop message flows for integrating various systems and services, thus working independently. So whether it is to configure broker domains or to deploy message flow applications to the broker, all are learned under one roof of WMB.
WMB training helps you locate error information, using trace and troubleshooting common problems. In order to use the Flow Debugger to debug message, instructions are provided including debugging ESQL, Java, and mappings.
Due to the simplified process of installation of Message Brokers toolkit for creating applications, a high-performance and the scalable program is independent and common. This is the scope of WMB that widens.
A typically WMB qualified IT professional definitely gets that extra edge in getting a project on hand as WMB learnt professional improves the business agility by dynamically configuring information distribution patterns without reprogramming end-point application. Thus, access control to securely deliver personalized information is carried thereby.
At the end of Websphere Message Broker Online Training program, you will know to aim at crafting solutions rather than simply configuring, installing, and maintaining the software. The available platforms for WMB are HP- UX , SOLARIS , LINUX and so on. A variety of presentations, tutorials, workshops are held to give you firsthand knowledge. We, at GangBoard, are a popular online learning and certifications center that train many IT professionals every year as IT industries need much more WMB qualified professionals and this is the right time to do so.