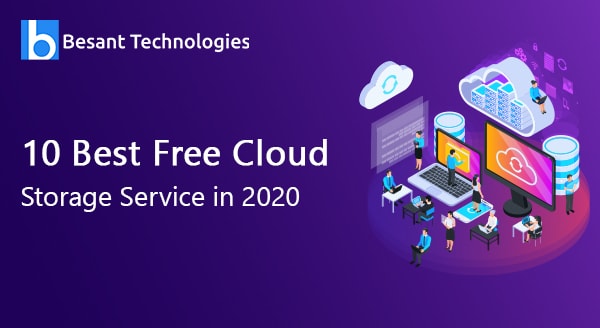 10 Best Free Cloud Storage Services in 2021
10 Best Free Cloud Storage Services in 2021
Over the decades, our data came out of files and folders and found space in computers. But both consumption and dissemination of information kept increasing and the hard disk was not enough to store data. There was a need to store and access a large chunk of data from anywhere. Welcome, Cloud Computing has taken care of these requirements. Let's learn a bit more about it.
What Is Cloud?
The term 'cloud' mainly refers to a global network or cluster of servers that are accessed over the internet. Each server will have a unique function. The cloud should not be mistaken as a physical entity as these groups of remote servers are meant to function inside a single ecosystem. These servers are generally designed to manage & store data, deliver a specific service or content, run productivity software, social media websites and so on.
The word cloud in cloud computing is a metaphor for the internet. It is basically the practice of storing, managing and processing data using a network of remote servers hosted on the internet instead of a computer's hard disk or a local server. With the enormous rise of data, cloud computing technology aided in delivering data with high speed. You can access your data everywhere as long as you have access to the web. Even social media sites like Facebook and LinkedIn are examples of cloud computing. The 'cloud' can both be private and public depending upon who is allowed to use that space.
What is Cloud Storage?

In the realm of cloud computing, it is a model of storing data on the internet. It is done via a provider that manages and operates data storage. The data is delivered as per the user's demand. It saves you the trouble from owning a data storage infrastructure.
The capacity of the storage depends on the needs of the users. The cloud vendor not only manages the capacity but also takes care of the security and durability of data.
What Is Free Cloud Storage?
As of the current age and time, there are multiple free cloud storage options available for the consumers. These 'Free Cloud Storage' companies or service providers offer free cloud storage space up to almost 50 GB and are generally very easy to use. The obtained free cloud space can thereby be used as a storage solution for both businesses as well as personal needs.
Why Cloud Storage?
The following are some of the major benefits of using cloud storage:
The Usability
All competing cloud storage service providers have an extremely user-friendly interface with support for desktop folders for both PC and Mac OS users. Such features allow users to directly drag and drop files between their local storage and cloud storage.
The Bandwidth & Accessibility
Instead of emailing essential documents and files to other individuals, with the help of cloud storage you can instead send a web-link to your recipients. Furthermore, your files can be accessed from anywhere using an internet connection.
The Chances For Recovery
Cloud storage can be used as a back-up procedure by businesses and individuals during times of emergency. A second-copy of the most important files can be stored onto the cloud and can be used as means of recovery when the master file gets deleted, stolen or corrupted.
The Savings In Cost
Organizations and businesses can easily reduce their annual operating costs by moving to cloud storage since they'll have to deal with less server infrastructure and hardware running costs. Moreover, subscribing to cloud storage will be cheaper in the long-term.
Why one needs it?
You need cloud storage because the storage space in your local server is limited. Also, your storage device can't be taken everywhere. Through cloud computing, you can access a vast amount of data anytime, anywhere. This easy accessibility and enhanced flexibility increase your productivity manifold as all your data needs are met within a few seconds. This also means it improves communication.
It's extremely cost-effective as it eliminates the expense of buying computer hardware and software and requires no maintenance. As far as the capacity is considered, you can always ask for more space if you need it. Along with ensuring that your data is secured with comprehensive encryption and login security system, the option of data recovery means you will never lose your data.
List of Top 10 Cloud Storage Available in 2021
Some of the top cloud providers on the basis of capacity, cost and security, for both consumers and businesses are Dropbox, pCloud, Google Drive, OneDrive, IDrive. There are many other good cloud storage as well but honestly, there's no one cap fits all policy here. You must pick your provider based on your data usage and storage space requirements.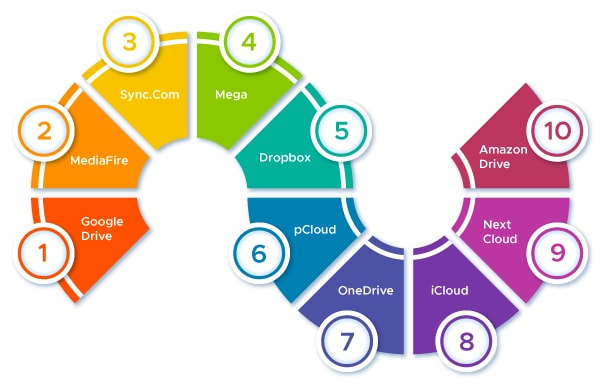 1. Dropbox: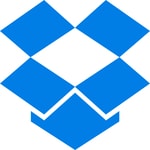 It gives you up to 2GB of free data to save on the cloud. Where Dropbox scores heavily are the security department. It uses the 256-bit AES encryption security to share files, which means your most confidential files remain absolutely secured.Moreover, if you ever lose your device, it has a remote wipe feature that helps you delete all documents from a lost device.
Dropbox is said to be one of the most powerful free cloud service providers in the current market. The main reason behind such a reputation is the back-up features provided by the platform. You'll have the option to upload and store files of all kinds, be it regular PowerPoint presentations, videos or large-sized CAD files. The service provider offers easy syncing options for the user so that you can access your files from any device you want – be it your desktop or mobile.
One of the security features of the platform includes a 'remote wipe' feature, using which you can delete or clear your important files stored in a lost device. The amount of free storage offered is 2 GB per user, which is a bit on the lower side, compared to the competition. But, in case you need more space, you can always opt for their premium plans.
Features:
The service allows you effectively sync your files across your devices smoothly and efficiently.
The service is available for platforms such as Linux, Mac OS, Windows, Android, and iOS.
The free storage space provided by Dropbox is 2 GB per user.
2. pCloud: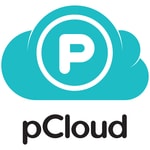 Sometimes, you don't want to save the actual size of a document as backing up an image in lower resolution works better to save space. In pCloud, you get the option of resizing pictures on the go without any help of software. Its unlimited remote upload traffic feature makes it unique and it is among the best cloud storage services for archiving files. With pCloud Crypto, you can lock your files with encryption on your device before uploading for storage. This security feature hides data from unwanted eyes. pCloud also offers lifetime subscription that means no hassle of monthly or yearly renewals.  pCloud's upload and download speed are really good.
One of the unique features of this platform is its ability to provide unlimited upload traffic speeds from any remote location you want to upload your file. The service offers 10 GB of free cloud space for all of its users who are subscribed to the basic plan. You'll have the option to resize and crop your pictures directly from the pCloud platform without having to deal with any third-party software. pCloud offers a massive range of photo resizing options for its users. There's also an archive option for users to be able to archive all the important documents and files. Moreover, users also have the option to password lock their folders once they log off from any single device. The maximum storage option offered by the service provider is up to 2 TB for a single user.
Features:
Free cloud storage provided to each user is 10 GB with options to upgrade up to 2 TB.
Ability to resize and crop photos directly through the online cloud platform without any need to download software.
The service offers folder encryption options to all its users – either basic or premium.
3. Google Drive: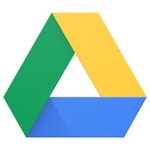 Google, that's the name we so trust. For every bit of information, we just 'Google' it. The search giant offers us 15GB of free space in their data storage service called Google Drive. A reason it is so popular is that its offline services help the users see their files and photos saved online even during network issues. You also get to enjoy other Google services that are integrated with the Drive. Its built-in search engine helps you locate files better and image recognition technology can identify the contents of your photos and help you find images using keywords.
Google Drive is one of the most popular free cloud service providers, offered by none other than Google themselves. The service helps in syncing all stored photos, files and other crucial documents across all the user's signed-in mobile devices, PCs and tablets. Currently, it offers 15 GB of free cloud storage space. Users have the option to take snapshots of any document and Google Drive will do the rest by saving them in PDF form into the cloud.
Features:
Support for Google Docs, Slides and Sheets.
The synchronization is provided in real-time.
There's added support for both PCs and Mac OS users.
Public forms can be created to help you run surveys.
Has the ability to integrate thousands of external applications such as diagram tools and Gantt charts.
Documents can be stored up to almost 1.02 million number of characters. Spreadsheets can be stored up to almost 5 million number of characters and presentation can be done to almost 100 MB of file size limit. Google Sites can be set up with almost 2 million characters per page.
4. OneDrive: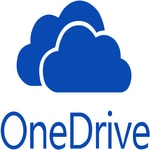 This comes from another trusted name – Microsoft and to be honest, has revolutionized how the corporate world interacts. Its close collaboration with other Microsoft Office apps like Word, Powerpoint, and Excel, makes it easy to save and transfer files directly. It began by providing 15GB of free space to the users but later limited it to 5GB. When you sign up for a Microsoft account, you'll be awarded a OneDrive cloud storage account with 5 GB of free storage. The amount of free storage earlier provided was 15 GB but now it has been reduced to 5 GB. OneDrive has support for all major platforms out there and you can access from any device you want.
Back in the nascent days of OneDrive, it was difficult to save attachments directly from emails, but over time it has been perfected and there are no issues whatsoever now. You'll have the option to save your attachments directly into custom folders. Moreover, you'll also have the option to create a survey via Microsoft Excel, due to the introduction of Office 365 and thereby save inside OneDrive. File syncing option is available throughout all platforms in a similar fashion.
Features:
You'll have the ability to use your smartphone to scan whiteboards, business cards, notes, documents and the like, and thereby save into OneDrive.
Expiration dates can be set up for shared links, photos, and files, mainly for security purposes.
The maximum upload size for the basic, free cloud storage account is 5 GB.
5. IDrive:

Its continuous data protection feature makes continuous data backups instead of scheduled updates. It means the changes you make to your data are saved in the cloud as well. Its snapshot feature helps you restore your data in case your machine crashes. It has a free version of 5GB.

6. MediaFire
MediaFire is one of the best and easy to use free cloud storage platforms currently available. You can use it to store all your files, photos and documents. The platform provides you with initial free cloud storage of 10 GB, which can be later upgraded to 20 GB.
The service is currently available for Windows, iOS, Android, Mac OS and also can be accessed separately via any web browser. One of the best features of this platform is the ability to organize and search files in a pretty easy manner, as users will already have compartmentalized folders for documents, music, photos, videos and so on.
Features:
The maximum file uploading capability of the platform is currently capped at 20 GB for free of cost.
The platform is responsible for offering an entirely ad-free experience for individuals and professionals alike.
You'll be able to control the way your files are being accessed on the web. For instance, there's an option to opt for 'one-time usable' links that will expire after a single user (to whom you're sending the access link) has accessed it.
Download speeds provided are pretty great compared to other cloud service providers.
7. Sync.Com

Sync.Com is responsible for providing a free base cloud storage solution of 5 GB. The platform has two of the most used and essential features that consumers want from their cloud service providers – great user-interface (UI) and the ability to restore deleted files.
The UI features provided by the platform is incredibly productive and the file restoration ability stops users from regretting any accidentally deleted files. The platform incorporates a referral program where a user can use his or her referral code and get 1 GB free storage when another new user signs up for the platform using the same referral code. The platform has also implemented a vault system known as the Sync Vault, where users can protect their critical documents inside a safe storage option.
Features:
Sync allows you to send files of any size to anyone you want.
The service has support for Windows, Mac OS, iOS and Android platforms.
You'll be able to enjoy unlimited data transfers for any plan you decide to choose.
Download and upload speeds are great, even if the file sizes are more than 40 GB.
8.Mega
The platform is similar to Dropbox in terms of the services provided and functionality, but when it comes to the amount of free storage offered, Mega has the upper hand. The platform offers 50 GB of free storage for all its users. You'll be able to download as well as upload multiple files in ZIP format, either through the online web interface or through the mobile application.
The storage amount coupled with the support for the ZIP file format made the platform one of the most popular ones out there and has thereby effectively attracted a large number of users. Therefore, if you're someone who is looking for an excellent backup solution with lots of space, then Mega should be your platform of choice. Furthermore, you'll also be provided with standard security features. The service is available on Mac OS, Windows, and the Linux platform.
Features:
The platform offers users 50 GB of free storage.
The service uses specific private keys for encrypting backed-up chats and files.
You'll have the general support for uploading files and the creation of custom folders.
The user will have the option to upload or download 1 GB of data every six hours.
9. iCloud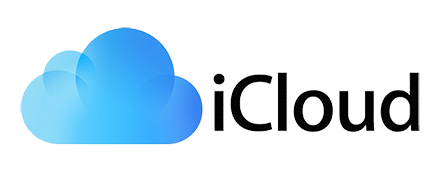 When it comes to Apple devices, there's no better cloud service provider than Apple's iCloud service. The platform initially provides users with 5 GB of free storage which directly syncs up with all the user's Apple devices. Apple iCloud users can easily share photos and videos with the help of iCloud among their family members and friends, who are using Apple devices and services.
Nowadays, organizing files and folders has become easier with iCloud. The service also saves the back-up of messages sent through Apple iMessage and WhatsApp (if the user has provided the required permissions). Such a feature becomes easier when changing devices so that users can continue from where they left off. For instance, if you're using iMessage on your iPhone and then you move onto using iMessage on your Macbook, your conversations will be left in the same place as your iPhone.
Features:
The platform provided 5 GB of free storage to all its users.
You can easily use iCloud to collaborate with other Apple applications such as Keynote, Pages, Numbers and Notes.
Sending or sharing links is easier than ever before.
10. Next Cloud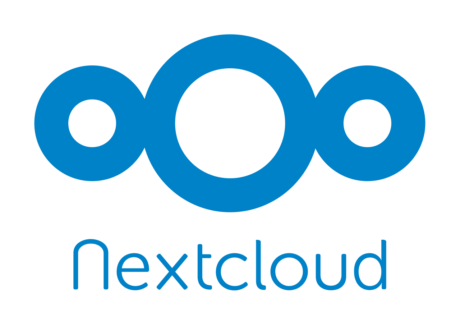 Next Cloud offers a different type of cloud service compared to other providers in this list. There are two plans offered by Next Cloud – one being the basic plan and other being premium. In the basic plan, you can use Next Cloud along with all its services and features provided you opt for a server space of your choice because in the basic plan the company will not provide you hosting space.
Hosting space is defined as server space or bandwidth that companies like Google or Microsoft provide with their free cloud service storage solutions. The premium plan, however, will provide you with the required hosting space along with all the features of Next Cloud. The platform is open-source and is very useful especially if you have a NAS or Network Attached Storage solution in your home.
Features:
The web interface is easy to use, allowing you to share files and documents with others.
There's an option to opt for either a basic (free) or premium plan.
The service is available on major platforms including mobile platforms such as Android and iOS.
Your data will be self-hosted by your choice of server provider and the service deploys end-to-end encryption will all of their products.
11. Amazon Drive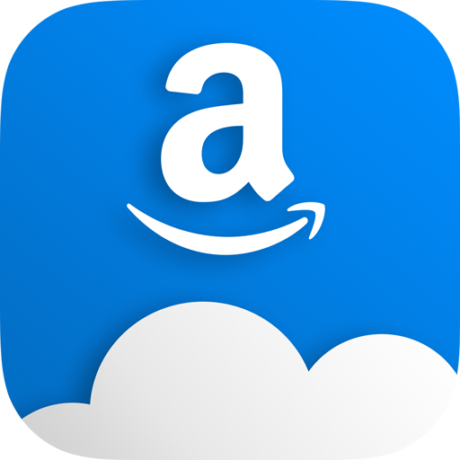 This is another free cloud storage service from the house of Amazon and Amazon Web Services. The service is available throughout all major platforms, including providing you access through its web interface, mobile applications, and desktop applications as well. Users who have subscribed to Amazon Prime will get 5 GB of free cloud storage for videos & files and unlimited for photos. Even if you upgrade your plans to 100 GB or 1 TB plan, photo uploads will remain unlimited. The company provides 24×7 support for all of its customers regardless of their cloud storage plans.
Features:
With the help of Amazon Drive, you'll be able to not only organize your photos but also edit those photos online as well, without having to rely on third-party software.
All the photos and videos on your phone will be directly backed-up by Amazon Drive automatically. Photo uploads are unlimited and will not count against your free storage space.
File and folder syncing options are available.
You have to be an Amazon Prime member to be able to get the free cloud storage space of 5 GB, with upgrade options up to 1 TB.
Comparison of the Best Cloud Storage
Cloud Storage

Purpose

Storage space plans

Platform

File Upload Limit

Price

Dropbox
Freelancers, solo workers, teams, & businesses of any size

2GB
2TB
3TB
5TB
Till Unlimited

Windows
Mac OS
Linux
Android
iOS
Windows phone

Unlimited
Rs. 6,000 approximately a year if paid annually – for 100GB of storage.
pCloud
Personal, Family, and Small businesses
10GB to 2TB

Windows
Mac
Linux
iOS
Android

2TB
500GB for Rs 12, 000 and 2TB for Rs 24000 (approximately) are lifetime plans.
Google Drive
Individuals & Teams

15GB
100GB
200GB
Till Unlimited

Windows
Mac OS
Android
iOS

5TB
The basic 100GB plan starts at Rs 130 per month.
OneDrive
Windows users

5GB
50GB
1TB
6TB
Unlimited

15GB
Prices start with Rs. 123 per month for 100GB
IDrive
It is mainly for Backup.

5GB
2TB
5TB
250GB
500 GB
1.25 TB

2GB
Rs 5, 000 per year for 2TB of storage
Summary
| | | | | |
| --- | --- | --- | --- | --- |
| | Free Storage | License | Mobile Clients | Server-Side Encryption |
| Google Drive | 15 GB | Proprietary | Yes | Yes |
| MediaFire | 10 GB (Upgradeable To 20 GB) | Proprietary | Yes | Yes |
| Sync.Com | 5 GB | Proprietary | Yes | Yes |
| Mega | 50 GB | Proprietary | Yes | Yes |
| Dropbox | 2 GB | Proprietary | Yes | Yes |
| pCloud | 10 GB | Proprietary | Yes | Yes |
| OneDrive | 5 GB | Proprietary | Yes | Yes |
| iCloud | 5 GB | Proprietary | Yes (Only For Apple Devices) | Yes |
| Next Cloud | Unlimited (Server Hosting Should Be Provided By User) | Open Source | Yes | Yes |
| Amazon Drive | 5 GB (With Amazon Prime And Photos Unlimited) | Proprietary | Yes | Yes |
Conclusion
At the end of the day, it's all about obtaining service from the best free cloud service provider that suits your needs. Therefore, you must know about the features provided by each platform so that you can choose the one that fits with your needs and requirements in a better manner. There are cloud service providers that not only provide you with free cloud storage space but also a host of other useful services and features.
Ensure that the service provider you're selecting offers the basic security features along with support for all major platforms of your choice. Having a good user-interface and customer support is also a plus as well. This trend of cloud computing is on the rise as the focus on local storage hardware and infrastructure continues to diminish. Cloud computing is transforming how individuals store data and companies operate. At a time when data is such an important aspect of our lives, businesses may be reluctant to change existing operations, but the benefits of the cloud mean the transition is worth it.

Related Blogs: