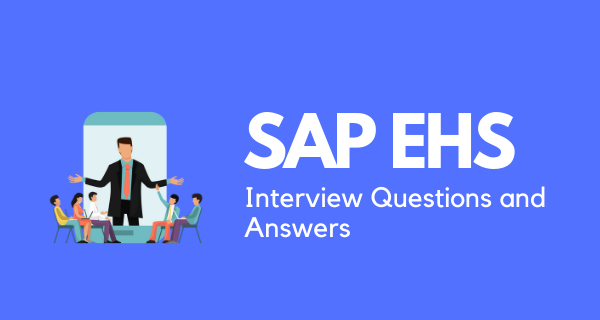 SAP EHS Interview Questions and Answers
SAP EHS Interview Questions and Answers
In case you're searching for SAP EHS Interview Questions and answers for Experienced or Freshers, you are at the correct place. There is a parcel of chances from many presumed organizations on the planet. The SAP EHS advertise is relied upon to develop to more than $5 billion by 2021, from just $180 million, as per SAP EHS industry gauges. In this way, despite everything you have the chance to push forward in your vocation in SAP EHS Development. GangBoard offers Advanced SAP EHS Interview Questions and answers that assist you in splitting your SAP EHS interview and procure dream vocation as SAP Developer.
These PMP interview questions and answers are based on mega trending topics. If you master most of these topics, there will be no PMP interview question that you cannot answer and secure your dream job.
Q1) What is substance workbench and what is the use of it?
Answer: Which holds class and characteristics value of the product or for any pure substance or list substance
Q2) What is a symbol ?
Answer: Symbols are place holders which holds certain values and in real time it executes it , in wwi using symbols it will display value to any output type like sds or Label
Q3) What are all types of Report symbols ?
Answer: Specification , Parameter and Descriptor – types of symbols
Q4) How do you configure a Property Tree ?
Create a number range for any kind of Specifications
Specify authorization groups
Specify specification types
Check identification types
Define class and characteristics
Q5) What are different types of substance ?
Answer: Real substance , Pure substance , list substance , UN listed Substance
Q6) What is a phrase and how it is used ?
Answer: Phrases are standardized texts and  used to display value in WWI templates and also helps in displaying Pictograms
Q7) What is blank comression in WWI ?
Answer: It CHecks if report symbol has value or not
Q8) What is SDS ?
Answer: Safety data sheet , which tells the Product information and how to use the product in safer way
Q9) What is generation variant ?
Answer: Generation variant acts as an Interface between WWI and Materials
Q10) What is the Transaction for CLass and Characteristics ?
Answer: CL02 , CT04