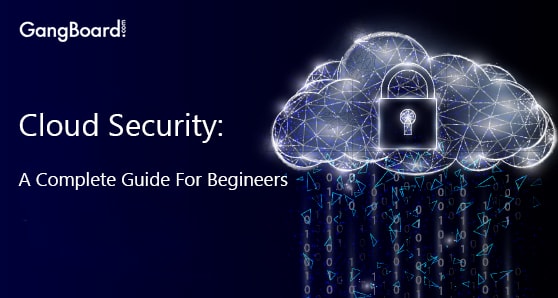 Cloud Security: A Complete Guide for Beginners
Cloud Security: A Complete Guide for Beginners
To Know How Cloud Computing Can Boost Your Career
One of the flamboyant technological innovations of the 21st century is cloud computing. Since this technology has been adapted fastest in almost every mainstream technology in the IT domain. The increasing number of smartphone and mobile devices fuelled this adoption on a daily basis.
The cloud computing technology is not only for organizations and businesses; it is useful for a regular person as well. Through cloud computing technology, several software programs can run without installing them on computers. In short, cloud computing is the 21st century's gold mine in every technological field.
The cloud technology has opened up a new horizon in the IT industry for storage, flexibility, productivity as well as accessibility. Other than its sharing features, identity management, and access control and privacy are some other point of highlights.
In this blog, you are going to discover some important aspects of cloud computing technology.
So, What is cloud security anyway?
Just like IT, security Cloud Security is an open-source data centre which doesn't need any hardware or maintenance frequently. There are certain software tools that are used in cloud security to protect and monitor the information flow in the cloud data centres. Hence any kind physical storage device does not require.
To be precise, cloud security is a subdomain of information security which predominantly contains the computer and network security. However, this security system runs on its own policies, controls and tools to ensure protection and smooth running of applications.

What Are The Various Challenges Of Various Cloud Securities?
This smart technology is not free from risks and challenges. Take a look at some dispute of the system
Insider ultimatum
Every reputed organization maintains the utmost level of security and quality control measures to ensure the confidentiality of the project data as well as sharing access.
Insider threat may occur if any violation caused by the employees, under such circumstances the employee may misuse his/her authorised access to the organization's cloud-based data centre; that could be customer account, financial information and other confidential information.
Account hacking
Account hacking is growing insecurity in the IT industry, because of the open source of the cloud platform. Naturally, credential security compromises to some extent; in order to run an organization smoothly, they need to rely on a number of professionals with whom they share the security data. The sensitivity of these data matters the most to an organization working projects on cloud security. Often these so-called hackers use the cloud credential for stealing security data with the help of the scripting bug.
Malware penetration
Sometimes codes are injected for malicious activities of the cloud, which are termed as malware injections. These codes generally embedded in genuine instances of cloud services. These codes usually run as Software (SaaS) to the cloud servers.
After injecting such codes, it automatically starts executing the functions on its own. The hackers may use this information for their own good, they may sell these for a higher rate to other organization as well.
Poor cloud service
Organizations host a large amount of data and information in the cloud in order to leverage the extended facility of the cloud storage. The huge amount of storage also comes with illegal software and several other harmful application and digital contents, which may harm your system and application if you run them.
These unwanted applications may alter cloud platforms and project clients. Often these contents include pirated software, music, game, video, banned application, cheap digital marketing collateral etc.
Doubtful APIs
In order to enhance the overall cloud experience to the users, APIs (Application Programming Interfaces) are customized to the features of cloud services. With the help of agile cloud computing application, programmers sometimes customize their own programme to integrate these applications with cloud platforms for enhanced performance.
These APIs are often used for authentication and encryption of the running processes, and here the sensitivity lies, as this may increase the risk with credentials.
Denial of Service Attacks (DoS)
Denials of Service attacks (DoS) are considered as cyber-attacks which does not focus on breaching the confidential information. The worst parts of these attacks are they carry long term harmful effect by breaking down the connection between a website and the server. Often they turn down the connection to perform malicious affairs.
Data Breaches
Irrespective of powerful applications IT industry is facing lots of problems in data breaches for years. There are so many applications who claim the full protection but no application can give 100% protection to overcome the problem.
Cloud computing somehow escalates the problem by providing open access to information stored online. Many market survey report shows, a data breach occurs 4 times more in those organizations that use it than those who don't use it.
Shared liability
Cloud security is designed to provide a shared goal to the clients and providers. Between the partnership of client and provider, the clients require taking necessary preventive measures to protect the security of important data.
This shared responsibility comes with higher chances of poor security. Compromised security is one of the prominent drawbacks of the cloud computing system.
Inadequate Due Diligence
Improper cloud strategy may result in an alarming security issue. When an organization is not organized about its organizational goals, work policies, and their resources improper due diligence may result in an increased security risk for the organization.
Accidental Data Loss
Every service provider that offers cloud service plan must have proper data recovery plan since there is a high chance of data loss on cloud services. These may happen due to-
Malicious attack
Accident due to the power cut
Natural disaster
During data removal
Other than the above-mentioned reasons there are so many other reasons which may responsible for huge data loss from the cloud system. Under any circumstances when an organization loses critical information, it may impact negatively. So whenever an organization is going to select a cloud security system they must check the data backup policy.
The organization may take control of the backup policy from the provider if required, for that they must have knowledge about the geographical location of the data centre.

Types of Cloud Security Solution
There are different cloud security solutions available in the market. Some of the applying cloud solutions are mentioned below-
Tokenization
Firewalls
VPN or Virtual Private Network
Penetration Testing
Advantages of Cloud Security
Cloud security works on a huge platform to remove all security concern that we were discussed previously. Predominantly, cloud security helps to recover data from the following areas-
Data Security
Regulatory Compliance
High Availability
Cloud DDoS Protection
Traditional IT Solutions Vs. Cloud Security Solutions
People sometimes have mistaken cloud security with traditional IT security, but practically it's not the same. Cloud security is a different form of traditional IT security system in various aspects.
Here is the basic comparison between traditional IT solutions and cloud security solutions
| | |
| --- | --- |
| Traditional IT Security  | Cloud Security |
| In house data centre | Outsourced or third party data centres |
| High upfront investments | Lower investment on an instalment |
| Slower scaling process | Quickly scalable |
| Lower efficiency | Higher efficiency |
| Need more time to market | Quick to market |
| costly | Budget-friendly (usage-based cost) |
Why Cloud Technology Is Important?
Cloud computing system has the potential to prevent software piracy forever, irrespective of its vulnerability there are certain ways through which both the service provider and the consumer can stop the software piracy scenario.
To prevent piracy of the software, cloud computing can be implemented in the business system by distributors and software companies.
Cloud computing can reduce the cost of running a business. Organizations can store, backup and launch a network for private cloud by using the existing infrastructure of cloud computing.
A prominent example is Netflix, who are using cloud computing applications in order to reduce the in-house cost of running and maintaining the server.
Cloud computing increases the productivity of IT projects. If you are using a cloud computing system you don't need to use and install different software for different applications.
Microsoft office is an ideal example of this- it is accessible on any device from anywhere without installation.
Make working life much easier- employees can save and upload their work documents on cloud storage applications such as Google drive. Workers can download and print these documents whenever required.
With cloud computing system managers' job has become easier like never before, since they can now monitor each and every team member's performance with the help of a cloud computing system.
Many Government and non-government organizations are now using these applications to easier work scenario.
The multiple storages and backup options of the cloud computing system are considered as one of its greatest features. With the better, faster and secure cloud computing storage system, there is no need to use an external hard drive, pen drive and other storage systems.
Various Cloud Security Certifications of IT Domains
The vast IT industry has different Cloud Security Certifications because of the importance of cloud computing system along with the growing industry. In order to sustain in the IT domain and to upgrade one's skill, Cloud Security Certifications are very helpful. Professionals with Cloud Security Certification have higher chances of getting lucrative projects along with the attractive package.
It requires a lot of skill along with proper training to pass the Cloud Security Certification exam. There are various certifications available in the industry for cloud computing technology.
Here we have tried to emphasis on the predominant ones but we have categorized
Vendor Specific
Vendor Neutral
Vendor Specific
AWS Certified Security – Speciality
Format: Multiple Choice Questions (MCQ)
Duration: 170 minutes, 65 questions
Languages: English, Japanese, Korean and other
Cisco Certified Network Associate Cloud
Format: Multiple Choice Question
Duration: 120 minutes, 60 -65 questions
Languages: English and other
Vendor Neutral
Certificate of Cloud Security
Supplier:Cloud Security Alliance
No of questions to be answered:60
Duration: 90 minutes
Questions type: MCQ
Certified Cloud Security Professional
Supplier:Cloud Security Alliance and (ISC) 
No of questions to be answered:125
Allocated time:4 hours
A passing score: 70%
Questions types: MCQ
Certified Cloud Security Specialist (CCSS)
Written and project work
Original Supplier: Global Science and Technology Forum (GSTF)
No of Questions to be answered: 3
Duration:45 Minutes
Pattern: Closed Book and MCQ
Passing score: 65%
Professional Cloud Security Manager
Original supplier: Cloud Credential Council
Exam pattern:
No of Questions to be answered: 40
Duration: 60 Minutes
Pattern: MCQ
Certified Integrator Secure Cloud Services
Supplier: EXIN
No of Questions to be answered: 40
Duration:60 Minutes
Pattern: MCQ
Few words before wrapping up
In order to become a cloud certified professional, you need your knowledge in a particular domain. In every organization cloud certified professional hold a precious position due to their knowledge, skills and a huge responsibility.
Keeping that in mind, GangBoard as a pioneer institution of IT certification online  training introduces many certification courses in cloud computing and cloud security domain. We believe in bridging the gap between knowledge, skills and professions.
Our Cloud Certification Online Training course is designed by a bunch of market professionals having more than ten years of experience in this field.
Our cloud security certification course is a perfect combination of theory and practical knowledge so that the individual get a proper idea on every aspect of the technology.
So, if you want to build a prominent career in this cloud technology field, our cloud certification training course is a must-have for you.
Don't miss the chance to minimize your competition in today's job scenario. In addition, there are thousands of MNCs who are working with cloud technology projects looking for cloud certified professionals. Our job oriented training will help you get your dream job seamlessly.
So, join us today and boost your career seamlessly with our dynamic certification courses!
Having any query regarding our Cloud Certification Training course, or any other training courses? Write in the comment section and we will get back to you at our earliest.
You can give us a call and fix a meeting with our professionals. So why wait, call us now!