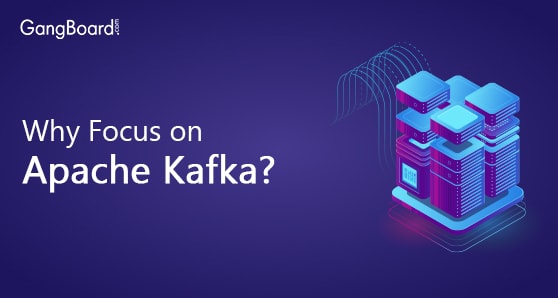 Why Focus on Apache Kafka?
Currently, the hottest messaging technology across the Hadoop ecosystem is Apache Kafka. It is creating an impactful buzz in the tech industry, prompting successful companies to use this technology. Apache Kafka is an open source data streaming system which is a scalable messaging system that gives you the ability to develop distributed applications. Used by recognized companies like Twitter, LinkedIn, and AirBnB, Kafka's momentum is unlikely to stop. Apache Kafka Online Training programs like in Gangboard can help individuals to attain adequate knowledge about this system.
What is Apache Kafka?
Developed by the Apache Software Foundation, Kafka is an open source asynchronous message system that is written down in Scala language. The objective of this booming technology is to provide a merged, low latency and highly throughput platform to manage and handle real-time data feeds. When used correctly for the right use cases, its unique features make it a highly healthy option for data integration. Features such as scalability, fault tolerance, data partitioning and its uncanny ability to handle a large population of diverse consumers make it an ideal fit for integration related use cases.
Apache Kafka was designed and introduced in the market to effectively manage and process the messaging systems where the messages are built and checked within multi-seconds. Kafka has created its identity in operational identity, website activity tracking and log aggregation.
Kafka's Popularity
Apache Kafka reached a new pinnacle of popularity recently as it joined the club of 1.1 Trillion messages each and every day. Moreover, LinkedIn's deployment of the technology has surpassed those numbers even further. Kafka's impact on LinkedIn's ability to face and tackle data has made the inaccessible data now spontaneously available for processing. Previously, it was not possible to accumulate the activity and log data on LinkedIn, but after Kafka's involvement, it has made the legacy systems of the professional networking site easily collectible. Adoption of the Apache Kafka tech has ameliorated the infrastructure of hundreds of other organizations.
Such has been its popularity that recent surveys have concluded that Kafka is among the top 10 most demanded tech skill in this industry. Thus, an adequate focus must be paid on this skill due to its soaring popularity.
Who should focus on learning Apache Kafka?
Kafka is a highly demanded skill set which is recommended for the following professionals:
Those working at Queuing and Messaging System as testing professionals
Those developers who are aiming to fulfill their career as a Kafka Big Data Developer
Big Data Architects
Those Project Managers who are related or involved with messaging systems projects.
Candidates' looking to learn Apache Kafka needs to be knowledgeable about Java and Scala Language as the system is written in those languages.
Why focus on Apache Kafka?
The usage of Kafka is spread among some of the most reputed and recognized companies in the world such as Netflix, Mozilla, Paypal, Uber, WalMart and various other companies. Companies can react and take decisions quickly due to its real-time data and detect any occurrence of fraud through its predictive mode. As more and more companies continue to integrate Kafka into their suite of valuable tools, the demand for Kafka professionals is likely to go up. Through Apache Kafka online Training program one can be part of this exploding scene and reap its benefits.