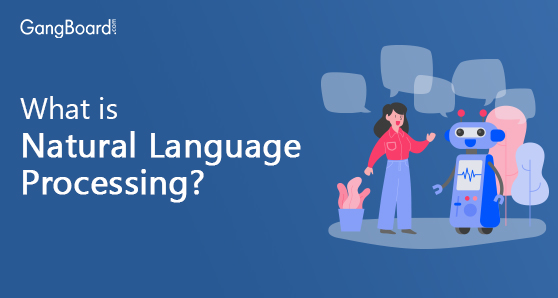 What is Natural Language Processing?
What is Natural Language Processing (NLP)?
Today, technology is rapidly evolving. Thanks to the increased interest in human-computer interaction and communication which led to the origin of Natural Language Processing.
Natural Language Processing (NLP) is a sub-domain study of Artificial Intelligence which assists computers to understand, manipulate, and interpret human language.  This component of Artificial Intelligence was introduced to fill the gap between human communication and computer understanding. The development and application of the NLP technique is a challenge as a computer requires humans to speak either through a programming language in a highly structured and precise way or through a voice command.
Natural Language Processing is a method for computers to understand, analyze, and arrive at a meaning conclusion out of human language.  With the help of NLP developers can perform tasks like translation, automatic summarization, named entity recognition, sentiment analysis, relationship extraction, topic segmentation, speech recognition, etc.
How Can Developers Use NLP Algorithms?
NLP is structured through algorithms that are typically derived from Machine Learning (ML) algorithms. There is no hand-coding of NLP rules involved. But, NLP relies on ML algorithms in order to automatically study these rules by analyzing a series of examples. The main key is to analyze more and more data, because, if more data is analyzed, the result will be more accurate. Following are some NLP activities:
Develop a chatbot with the help of Parsey McParseface. It is a language describing and analyzing and deep learning tool which is developed by Google. This tool uses Point-of-Speech tagging.
Summarizer is used to summarize the block of texts. This is done to extract significant data and ignore irrelevant data.
AutoTag is used to automatically create keyword tags from the content. This identifies important topics contained in a text body.
Named Entity Recognition is used to identify the type of entity.
Sentiment Analysis is used to understand the sentiment from a string of text such as positive, negative, and neutral.
Open Source NLP Libraries
NLP Libraries are the design blocks of NLP applications in real-world scenarios. Algorithmia offers a free API endpoint for algorithms to use as an open source without having any setup or infrastructure. Following are some open source NLP libraries:
Natural Language Toolkit (NLTK):
It is a Python library that offers modules for text processing, tokenizing, classification, tagging, stemming, parsing, etc.
Apache OpenNLP:
It is an ML toolkit that provides sentence segmentation, tokenizers, part-of-speech tagging, chunking, named entity extraction, parsing, etc.
Standford NLP:
It is a package of NLP tools offering named entity recognizer, part-of-speech tagging, sentiment analysis, coreference resolution system, etc.

Adoption Rate of NLP across the World
SAS had conducted a survey on the adoption rate of NLP across many organizations. According to this survey as mentioned in a SAS whitepaper, 42% of the respondents are already using NLP and ML in their organizational framework, and 43% of them said that they are planning to use this technology. This clearly indicates that NLP will be globally used by most of the organizations worldwide.
How NLP Works?
NLP uses various techniques for understanding human language such as ML and statistical methods, algorithmic approaches based on rules, etc. The text data and voice-based data differ widely from enterprise to enterprise. Hence, we need an array of approaches for NLP functions.
Basic tasks of NLP are:
Tokenization
Parsing
Language detection
Stemming
Part-of-speech tagging,
Identification of semantic relationships
In a very simple language, NLP breaks down the language into short components, tries to analyze the component relationships, and discover how the components work together to derive meaning. Below are some NLP capabilities:
Content categorization
Topic discovery and modeling
Contextual extraction
Sentiment analysis
Speech-to-text and text-to-speech conversion
Document summarization
Machine translation
The chief intention in all the above tasks is to take raw or unstructured language input and process it through algorithms and linguistics to transform the text to a greater value.
Various Methods and Applications of NLP
Text analytics and NLP:
Text analytics and NLP work closely with each other in activities like categorizes and group words to mine meaning from large content. The text analytics precisely used to discover textual content and extract new variables from raw text. This content may be envisioned, filtered, and used as inputs to statistical methods or predictive models. Here are some the NLP and text analytics applications:
Investigative finding:
This function identifies clues and patterns from emails and reports to detect and solve crimes.
Subject-matter expertise:
This function classifies the subject into structured topics in order to discover trends.
Social media analytics:
This function tracks the sentiments and awareness about specific topics and recognizes key influencers on social media.

Uses and Applications of NLP
NLP has very general, common, and practical applications in our day to day life. Apart from conservation with virtual assistants such as Siri and Alexa, below are some more examples:
A statistical NLP technique compares spam words in the subject lines of emails and segregates your valid, spam, and junk emails.
An NLP capability called speech-to-text conversion helps you read the automatic transcript of a voicemail. When you miss a phone call, this feature helps you read the automatic transcript of a voicemail from the inbox or smartphone application.
Many websites use NLP techniques for the browsers to know the suggested topics, topic modeling, category or entity tags, content categorization, etc.
What Makes NLP difficult?
In computer science, NLP is considered as a difficult problem to manage. But, the difficulty is with the human language and their expression. The computers face various difficulties in understanding the rules which carry the information of natural language. Some rules can be abstracted and highly structured. However, some rules can be very complex for computers to analyze, for example when some person uses a sarcastic language or tone to pass some information. Instead, some rules are low-leveled, such as usage of character "s" to signify plurals. Widely, analyzing human language needs a comprehensive understanding of both words and concepts, how they are connected to pass information. Machines find it tough to implement NLP due to the imprecise characteristics of natural languages.
Benefits and Challenges associated with NLP
NLP comes with a wide range of benefits such as:
Improved efficiency and accuracy of documentation
Increased ability to make an automatic readable summary text
Used for virtual assistants like Alexa and Siri
Improved customer support through chatbots
Sentiment analysis activities are made easier
NLP is not wholly perfected. The meaning of a sentence changes if the speaker puts stress on certain words. NLP faces challenges in understanding such contexts, stressed words, and the way people use it. Let's look at some of the challenges associated with Natural Language Processing:
Semantic analysis is a challenge for NLP
Intellectual language usage is tricky for programs and machines to understand such as sarcasm
Understanding of language and context is still a challenge in some cases
The advancement of NLP has a lot of significant implications for businesses.  As the volume of unstructured information continues to grow, the exponential requirement for NLP implementation will also continue to progress. NLP has now reached many streams like medicine, law, education, IT organizations, etc. People from multiple domains wish to benefit from the computers' untiring capability to support us in automating some manual activities.

Related Blogs