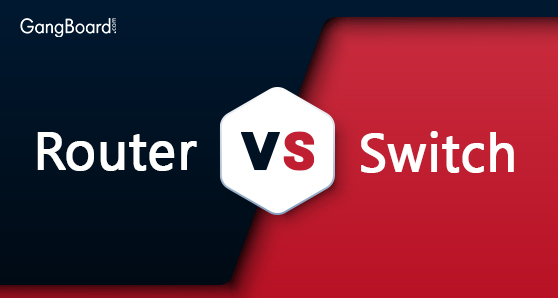 Router Vs Switch
Router Vs Switch
Router and switch, both are computer connecting devices which allows one or more computers to connect to many other network devices, transmitting packets in dissimilar methods.
What is a Router?
Router, a virtual or physical layer 3 networking device that forwards information between two or more computer networks and it accomplish the traffic guiding operations on the Internet. Routers identify whether the destination and source are on a similar network or whether data need to be transported from one type of network to the other.
What is a Switch?
Switches are frequently used in huge networks like large scale business and school atmospheres. A switch is to connect numerous computers together in a solo local network. Multiple switches are available in a large network connecting various computer system groups together. Naturally, these switches are associated with a router permitting the allied devices to obtain Internet access.

| | | |
| --- | --- | --- |
| Topic | Router | Switch |
| Explanation | A router is a virtual or physical networking device creating a connection between a local network to various other networks. | A switch is a networking device utilized to connect various devices collectively on a computer network. |
| Functionality | Router passes the data between various computers and the modem. | Switch enables connections to numerous devices like computers, printers, scanners etc, manage VLAN security configurations and handle ports. |
| Ports | Number of Ports: 2 by default. Serial ports can be added overtly. | A switch is a multi-port Bridge and accessible with different ports: 8/16/24/48/64 |
| Network | Routing table is used to store the IP address and uphold address on its own. | Switches utilize the CAM (Content Accessible Memory) table that is naturally retrieved by Application Specific integrated chips (ASIC) |
| Usage of Table | Routing table is used to store the IP address and uphold address on its own | Switches utilize the CAM (Content Accessible Memory) table that is naturally retrieved by Application Specific integrated chips (ASIC) |
| Types | Full Duplex | Half/ Full Duplex |
| Broadcast Domain | Every port of router has its own broadcast domain | One (1) broadcast domain in Switch |
| IP Address | Router is using an IP address for data transmission | Switched are using MAC address for data transmission |
| Security | Router afford security procedures to defend the network | Switched has Port security |
| Connections | Router is used to connect two or more networks | Switch is used to connect two or more nodes in a similar or dissimilar network. |
| Speed | Speed range of a router is 1100 Mbps, if wireless and 100 Mbps to 1 Gbps if wired | Speed range of a switch is 10/100 Mbps and 1 Gbps |
| Data Transmission System | Data transmission in the router is through Packets | Data transmission in Switch is through Frames |
| Layer | Router is operated on a Network Layer | Switch is operated on a Data Link Layer. Network switches are operated at OSI model Layer 2 |
| Device Connection | Router can connect to numerous networking devices or computers through WiFi or  Ethernet | Switch can connect to numerous networking devices or computers through Cat5e and Cat5 |
| Decision on Routing | Routers routing decisions are very quick | Switches consume much time for routing decisions if the scenario is more complicated |
| Performance on Network Address Translation | Routers can perform Network Address Translation | Switches cannot perform Port Address Translation or Network Address Translation |
| Examples | Examples of Routers: Linksys WRT54GL Juniper MX & EX series Cisco 3900, 2900, 1900 | Examples of Switches: Alcatel's OmniSwitch 9000; Cisco Catalyst switch 4500 and 6500 |
| Manufacturers | Cisco, Asus, Linksys, TP-Link, D-Link, Netgear | D-link Juniper and Cisco |