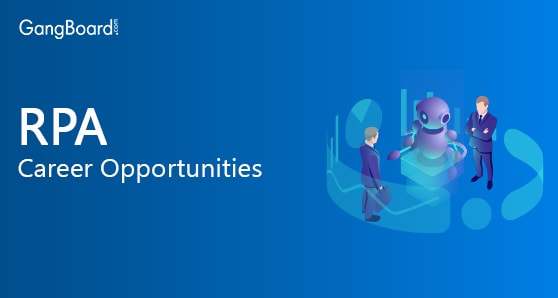 RPA Career Opportunities
RPA Career Opportunities
RPA or Robotic Process automation is the latest technology in the field of production and Artificial Intelligence. It is very handy and has gained a huge amount of success and recognition in no time. RPA can manage simple as well as a bit of complicated task without any human interaction. This means that it can do a task like jumping and swapping between different applications. Robotics Process Automation is the need of the hour and is a very popular trade for someone in the IT industry. It is ideal if your business work upon something whose process requires such things.
With robotic process automation, there are a lot of things that you can do without even moving a single finger. This technology has given birth to one of the best Job oriented courses of our time. The numbers of professionals who are trained in RPA are very few and the requirement of them is just enormous. Soon, Robotic process automation experts became the high earning peoples in the IT industry. So, if you are looking for a successful and money oriented career in Information Technology, then RPA is for you.
So, if you are in the dilemma of what to expect after the completion of your training in Robotics Process Automation. Then this list will help you to understand and find what the job opportunities are awaiting you. Once you become an RPA expert you can pursue the following as your career path
RPA Developer
One of the most straightforward careers for an RPA expert is to become an RPA developer. With all the training and skills that one gain in their programs, this might be the best option for anyone. The job of an RPA Developer is to build systems that can help to get a complete Robotics process automation work. For any professional, this would be something that they have trained in for months. These types of jobs pay well but sure they are time-consuming too. The projects are lengthy but all things considered being an RPA developer pays off well.
Robotics Process Automation Manager (Digital Risk Solutions):
This is a very good opportunity who can wield both Leadership and RPA skills. Being a manager of any project gives you an edge in your career whether it is IT or any other. The pay scale is obviously better than others as manager title comes with a heavy payoff. This is another career opportunity for an RPA expert who wants to get high salary and quick promotions. Moreover, when you are at such a post you get into contacts with people worth holding to.
Digital Media Coordinator
Being a Digital media coordinator is a fun and trilled job opportunity. The career of an RPA expert in the field of digital media is one of the best cross-industry careers. As a Digital Media Coordinator, robotics process automation experts are supposed to build technology that can come handy in marketing. Digital media is all about the growth of marketing, RPA expert makes blog postings and social media handling pretty easy. With automation on their side, they can help businesses to grow on a much greater scale. This career opportunity is best for someone who looking for a career with a wide scope of outlook.
Process Automation Specialist
Choosing a career path of Process Automation Specialist is something which requires serious skill-set. As the name says, only a specialist in IT and Robotics process automation can choose this as their career. They have to build automated software that can handle networking and provide better bandwidth. This career is one of those careers that are skill oriented but pay a ton. An Individual who is settled in the industry as a Process Automation Specialist earns approx $66,000 a year. This is like $30 per hour, and aces over engineering jobs.
Information Technology Specialist
A field that offers a great outlook as the salary payoffs. Being an Information Technology Specialist is something that could possibly be the best career choice in the industry. Companies pay a lot of bucks to those who are in this field. But only the best RPA experts can make up to this point. Thus, due to the scarcity of talent in the field one can hope for a much greater salary than other career options in the list.