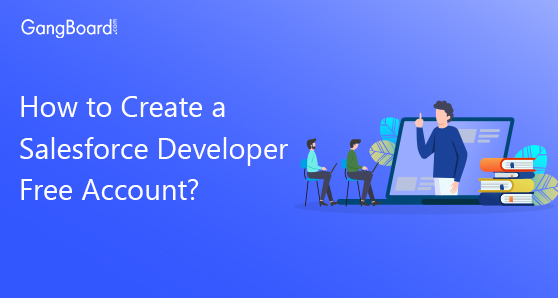 How to Create a Salesforce Developer Free Account?
How to Create a Salesforce Developer Free Account?
Salesforce is the best rated CRM (Customer Relationship Management) platform which means it connects the customers to an organization in a better way. A good CRM platform can mean better profits and happier customers hence, a lot of industries are looking to get their hands on the best platform available.
Salesforce is one of those few platforms that offers complete control to the user without having to depend on IT guys. It has a very friendly user-interface and anyone can use the platform to connect to customers easily. There are a number of services available on the Salesforce platform that appeals to both small scale and large scale enterprises. Anyone can learn how to use the software given that they also host certificate courses. It certainly is one of the best CRMs in the current market.
This Blog Post  will guide you in creating a Developer's account on the Salesforce developer edition website so that you can start connecting with your customers right away. The step by step process to create a free salesforce account is given further below.

Steps in brief to create Salesforce Developer Account
Open the Salesforce official website on your browser or open this link developer.salesforce.com.
Click on the Sign-up button located at the top of your screen.
Fill in all the necessary details and click on "Sign Me Up" to complete the Salesforce sign up process.
Click on the verification link sent to your e-mail account.
Open your account using Salesforce developer login. You can start accessing your Salesforce account by using the login salesforce option.
Now, before we get into the details of the Salesforce signup process you should know about the types of Salesforce developers account. So basically there are two types of these accounts, Business Account and Personal Account.
The very first step in setting up your account is to know what you want out of your business. This will determine the business model and ultimately the type of account you are going for.
Business accounts are basically used to store details about Companies and organizations. A Salesforce account is set to a Business account by default until you choose to change it.
Personal account as the name suggests help you to save the information and use them for individuals.
Now that we've known what type of an account we want, let us get on with the Salesforce sign-up process.

Detailed Steps to Create a Salesforce Developer Account
Step 1: Initially open your browser and navigate to this website https://developer.salesforce.com/. Then click on the green "Sign Up" button as indicated by the red arrow in the below picture.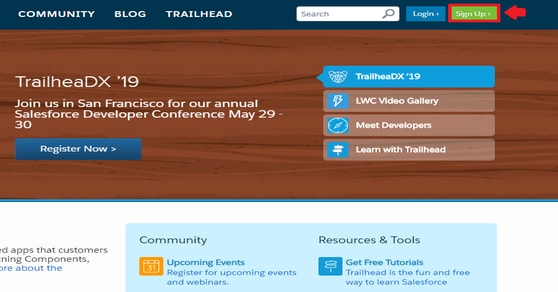 Step 2: On the left-hand side of the next page, you will find an application form as shown below. Fill in your details and a proper e-mail address. Make sure the e-mail address you use is working as you will receive the activation link on this address.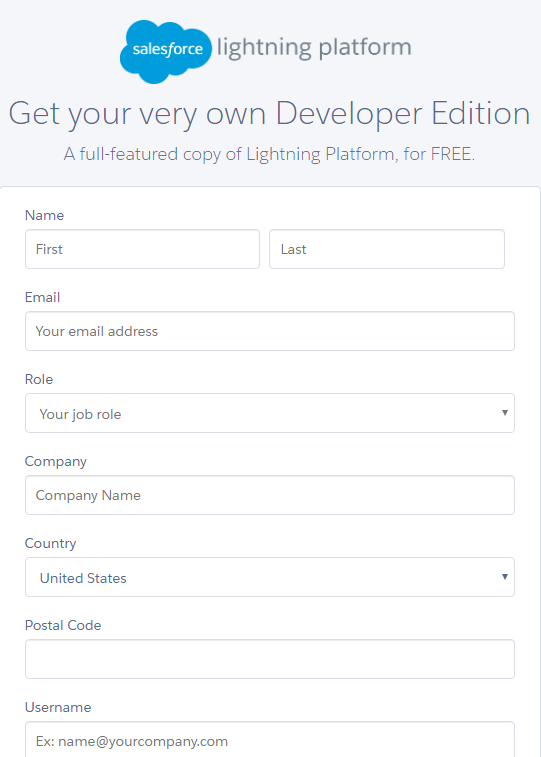 Step 3: Once you are done filling up all the important details, scroll down and find the blue colored "Sign me up" button as shown by the arrow in the picture below.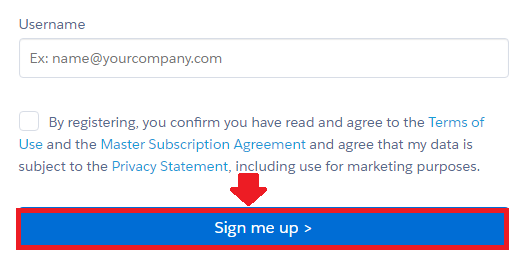 Step 4: A Verification link will then be sent to the e-mail account you entered earlier. Click on the link and you are good to go.
Step 5: The developer salesforce sign up process is now completed on the Salesforce platform and you can now access the account by logging in on salesforce.com login.
The EndNote
We hope that the blog helped you in creating the developer Salesforce account successfully. You can open up your account using the salesforce developers login option on the main website. If you have any queries or face any problems during the process feel free to write to us, our team will be happy to help you.