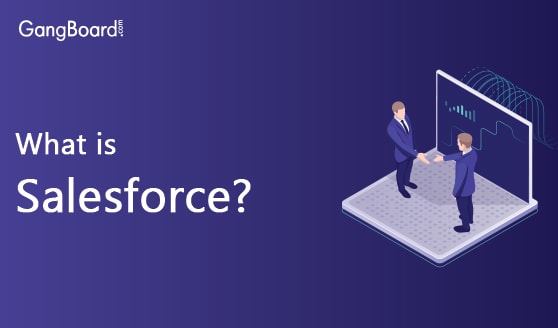 What is Salesforce?
What is Salesforce?
Salesforce CRM is a solution software used by many companies to interact with clients. Salesforce helps in bridging the gap between the company and the customer. Using Salesforce, all departments of a company can have access to every customer. Salesforce helps in tracking the behavior of the customer at all steps of the transaction process. Salesforce is used by the sales, marketing, service, and commerce departments of a company to have shared tracking of customers.

Table of Content
1. What is the need for Salesforce CRM?
For any company growth of the customer base is very important. Companies need to connect with their customers and understand their needs. Salesforce CRM allows companies to keep in touch with their customers irrespective of their location. Salesforce helps in tracking their progress, queries, complaints, etc. Salesforce also helps in the analysis process. After analyzing data, strategic decisions can be made. Salesforce CRM helps in increasing sales revenue, lead conversion, customer satisfaction. Salesforce CRM also decreases the time of project deployment. Salesforce CRM offers a personalized experience to clients.
2. Why the name Salesforce?
Growing a business is a difficult task. It needs boosting sales as well as building customer relationships. Salesforce provides business solutions to help you take your overall sales to the next level. Salesforce helps in making critical marketing and operation decisions to power your sales. Salesforce CRM converts lead to sales and build a customer database which is loyal and reliable.
3. Traditional CRM vs Salesforce CRM
| | | |
| --- | --- | --- |
| Feature | Traditional CRM | Salesforce CRM |
| Cost | Very Expensive | Affordable |
| Hosting | Hosted on the server of the company | Can be hosted with third-party cloud |
| Ease of using | Difficult to understand and use | Salesforce is easy to understand and use |
| Cloud-based subscriptions | There are no cloud-based subscriptions. | Salesforce CRM provides various cloud-based subscriptions such as sales, marketing, service, community cloud, etc. |
| SaaS | Not offered | Salesforce provides these services. |
Must Read:
Salesforce Vs ServiceNow
4. Key Features of Salesforce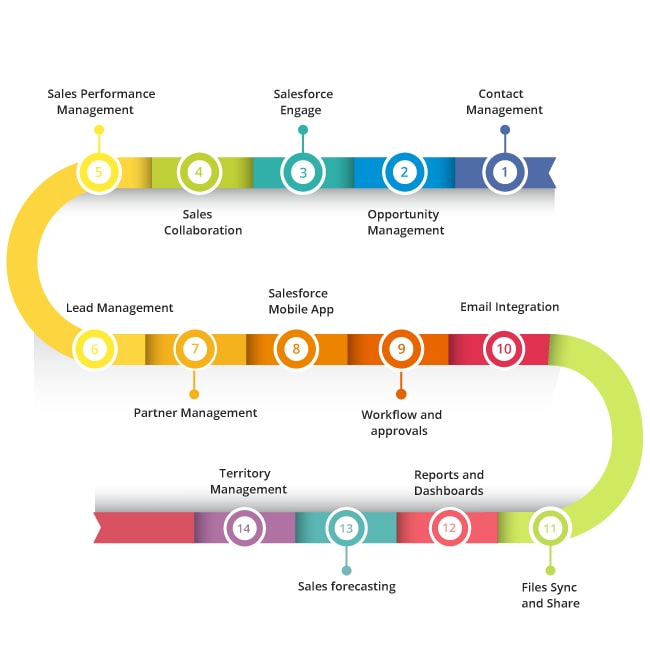 4.1 Salesforce cloud app
Salesforce cloud app is a mobile platform provided to developers by Salesforce. App integration, compatibility, scalability, etc. are some of the features provided by this Salesforce app. One of the best things about these apps is that they are available without any effort. Salesforce Cloud apps make all the business operations super easy. Any cloud user can use it. It can be integrated with business to implement business operations with ease.
4.2 Salesforce profiles and roles
Profiles in Salesforce are used to define the rights and responsibilities of users. A profile is used to control different types of permissions and settings in Salesforce. Such as field permission, object permission, tab settings, page layouts, etc. There are standard and custom profiles available in Salesforce. To control the visibility of data by various users of the organization, roles are used in Salesforce. Different roles are CEO, manager, executive, etc.
4.3 Object Relationship
Relationships in Salesforce CRM are used to connect two objects by allowing a link between them. Several types of relationships can be created using the custom relationship field. Relationships help in deriving values, reduce inconsistency and eliminating repetition. Different types of relationships are hierarchical, master-details, look-up, many-to-many.
4.4 Salesforce Technologies
Salesforce makes use of Cloud Computing. Salesforce.com has combined cloud computing with CRM applications to store and analyze the data in the cloud. This helps in building customer relationships by keeping track of their behavior. It also helps in increasing overall sales by making better marketing decisions etc. Tools can also be customized as per customer requirements.
Apex is used for the development of Salesforce applications. It is a programming language that allows customization of applications in Salesforce.
To create interactive user interfaces visualforce is used. It also enhances the visual aspects of Salesforce mobile applications.


5. Architecture of Salesforce
Salesforce architecture helps in the fast working of Salesforce.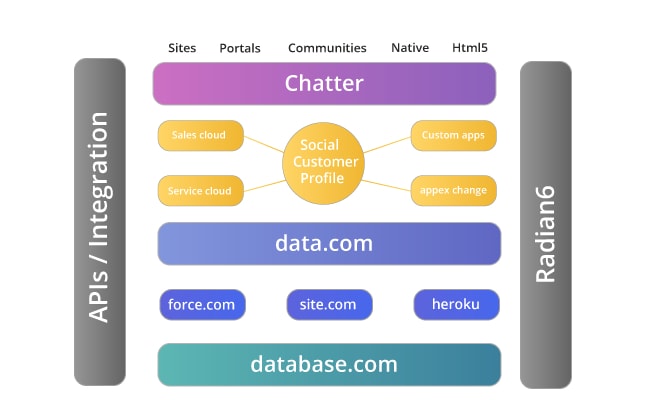 There are three main parts of Salesforce Architecture:
Multi-Tenant
Metadata
API
5.1 Multi-Tenant Cloud
This feature of Salesforce helps many independent instances to operate in a single environment. To Salesforce clients, applications seem integrated but in reality, they are running on different hardware and software architectures. In Salesforce applications, different databases use different kinds of schemas. An organization's identifier helps in identifying each organization and keeping the data separate for security reasons. Multitenancy in Salesforce allows the sharing of multiple resources. It helps in making modifications in only one software and notifying all the clients.
5.2 Metadata
Metadata provides a lot of information about Salesforce components. It tells about object structures, field structures, pay layouts, etc. Metadata also makes it easy for the developers to adopt customization as and when required.
5.3 API
There are many powerful APIs provided by Salesforce. These APIs help in customization of mobile apps. APIs help in different programming chunks to interact with each other. This is helpful for data trading and connecting different apps.
6. Different Clouds in Salesforce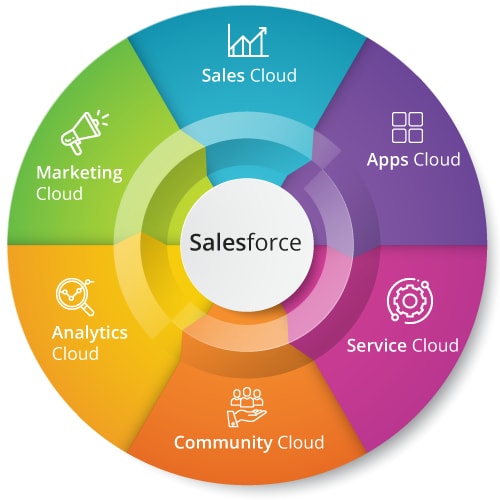 6.1 Sales Cloud
This Salesforce cloud offers support to the sales team to access the data such as contacts, products purchased, addresses, etc. This helps to make smarter decisions. It also helps in creating strategies to increase sales. The sales cloud of Salesforce helps in closing more deals. It also helps in generating more leads, increase productivity and forecast sales.
6.2  Service Cloud
Service cloud helps in serving the Salesforce customers by resolving their queries. If a customer has issues with a product bought, service clouds help in quick resolution of the query. Service is offered to the customer via agent console, mobile co-browsing and mobile chat, etc. Analytics from the service cloud of Salesforce help improve the future performance of the organization.
6.3  Analytics Cloud
The analytics cloud of Salesforce represents a business intelligence module. It is used to offer many data visualizations and mobile accesses. Two types of businesses supported in Salesforce are B2B and B2C. Salesforce's analytics cloud allows data representation in the form of graphs, charts and other visual forms. These firms help in understanding the analytics about data in an easy way. Analytics Cloud is also called Salesforce Wave Analytics.
6.4 Marketing Cloud
Salesforce's Marketing Cloud helps marketers in managing different campaigns. It helps in on-going interaction with the customers. Predictive analysis in Salesforce is used in marketing to choose the right product for the clients. Different means of marketing used as part of the marketing cloud are email, social media, running ads, etc.
6.5 Community Cloud
The community cloud of Salesforce helps in cooperation between partners, clients, and employees. Community cloud assists the Salesforce customers by allowing them to give feedback on products. It helps in knowing what products need improvising.
7. What is SFDC?
SFDC stands for Salesforce Dot Com. The reason behind choosing SFDC as the short name for Salesforce rather than SF is because SF is also confused with San Francisco. SFDC is a distributed SaaS supplier.
Salesforce started with the objective of reinventing the concept of CRM. By providing all the services from the cloud they have made transactions easy. It provides services in almost all the departments of an organization. It helps in the management of customers, activities, deals, reports and mobile apps.


8. Applications of Salesforce
There are numerous applications of Salesforce. Some of these applications are covered below:
Salesforce offers personalized marketing and helps in attracting potential buyers.
Salesforce offers many features for customers in online shopping. Customers enjoy the experience and visit again.
Salesforce helps in knowing the needs of customers and build a connection with them.
Salesforce helps in providing easy and quick solutions for customer queries and issues.
Salesforce provides many channels for customer interaction. That way, customers can avail of the customer support easily.
Salesforce automates many time-consuming processes with custom apps.
The Salesforce community is vast and ready to help.
As a mobile CRM, Salesforce features can be used on your mobile too
Click Here – To Know Process Builder in Salesforce
9. Right Edition of Salesforce
Different editions of Salesforce offer different types of functions and operations. The following discussion will help you choose the right Salesforce edition for your enterprise.
9.1 Salesforce Group Edition
The group edition of Salesforce is the best choice if you run a small business. It offers basic services and CRM operations to manage accounts, contacts, leads, reports, etc.
The cost of Salesforce Group Edition costs $25 per month for a single person.
9.2 Salesforce Professional Edition
Professional Edition of Salesforce has all the features from the group edition with some additional features. It offers quotes, mass emails, campaign management, process building, etc.
The cost of Salesforce Professional Edition costs $75 per month for a single person.
9.3 Salesforce Enterprise Edition
Enterprise edition of Salesforce is very flexible as compared to other editions. It offers customization support, triggers, actions, etc. It is best suited for mid to large type businesses.
Cost of Salesforce Enterprise Edition costs $150 per month for a single person.
9.4 Salesforce Unlimited Edition
The unlimited edition is for very large businesses. This edition of Salesforce offers a sandbox feature along with features from other editions.
The cost of Salesforce Group Edition costs $300 per month for a single person.


10. Salesforce Certification
Getting a Salesforce Certification will increase your opportunities in your career. There is a huge demand for Salesforce Developers by many big companies. Even if you have Salesforce CRM knowledge, a Salesforce Certification will help you to showcase your skills. There are different Salesforce Certifications are available with different skill set. A Salesforce administrator is responsible for putting solutions in the correct place. A Salesforce architect help in the growth of the business by building a new system. They need to be updated with the technology too. Salesforce Certification Training by GangBoard helps the learners understand the major concepts. You will learn about cloud computing, data modeling, APEX, visual force, etc.
11. Become a Salesforce Developer
Salesforce Developer is responsible for creating cloud applications. To minimize the development cost, the Salesforce developer works on CRM products. It also helps in deploying the product in a short time. Big organizations are always on the lookout for a professional to administer Salesforce products. You don't have to be a programmer with high technical skills to become a Salesforce Developer. Salesforce developers know how Salesforce works and engage with the platform too. Salesforce developers are able to earn $87,000 per year. With many years of experience, you can earn $125,000 per year.
Click Here – Get a free guide to create Salesforce Developer Account
12. Role of Salesforce Developer
Salesforce developer has the following roles and responsibilities:
Salesforce developer designs the software based on the needs of the customers
Salesforce developer makes suggestions about new upgrades for the software
Salesforce developer should stay updated with changing technological and business needs
Salesforce developer creates programs for the Internet and for the company intranet
Salesforce developer creates optimum software by collaborating with computer specialist
Salesforce developer should document all levels of company's applications' inventory for future reference
Salesforce developer understands the inconsistencies in the system and suggests overcoming measures
Salesforce developer designs convincing project plans
13. Salesforce Career
Companies are shifting from traditional CRMs and on-premise solutions to cloud services. Salesforce is the topic of the discussion here. Salesforce is in huge demand by small and big companies. Salesforce's demand will stay the same for many coming years. This is because there are many job opportunities in the Salesforce field. It is also important to keep up with evolving technology. GangBoard helps you to develop skills relevant to the industry. Salesforce Certification Training will give you an understanding of basic and advanced Salesforce concepts. Salesforce definitely has a promising future for those proficient in Salesforce technology.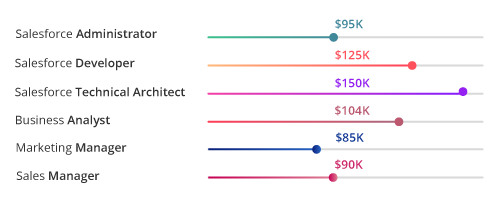 13. Services provided by Salesforce
Different Salesforce services are provided by different Salesforce clouds. These services are as follows:
Salesforce Work.com
It is the Social Performance Management program which is chiefly used by employees and managers. It helps in improving work performance.
Work.com offers a suite of sales-management as well as service-management ways. It helps managers along with teams to learn faster and also perform better. Work.com feature activation in salesforce is the main function and should be done before all activities.
Salesforce Sales Performance Accelerator
It is used to gather performance and feedback mechanisms from work.com and lead information and customer information from Data.com. With this Sales Performance Accelerator, it is now easy for sales teams to connect as well as access all that they require for supercharging their performance. It empowers them for closing more deals, quickly, both on the go and at their desks.
Salesforce configurations
Configuration means offering user-defined values to help install a given feature. A specific module can also be installed for specific functionality. Such as Email setting. CRM applications can easily be configured. Marketing User all allowed to enable a few tabs not initially available for Customer support. For example, user-defined fields can be added as part of the configuration process.
Salesforce Web Services
A web service is easily accessible over the Internet. SOAP/REST are web services and APIs. They provide many features. These are available at Salesforce.com. WSDL document is used to generate a SOAP web service class automatically. WSDL document generation allows callouts for Salesforce developers to the external web service in the Apex code.
Salesforce AppExchange
This is an online application marketplace similar to the App Store as well as Google Play. AppExchange provides almost 3000 applications. AppExchange offers an easy and fast way to extend Salesforce.
Salesforce Ideas
Salesforce Ideas represents a suggestion based management system for a community of Salesforce users. They are allowed to post, comment and vote for different ideas. An online and transparent route is provided by the Ideas community to attract, handle, as well as showcase innovation.
Salesforce users are given the privilege of the Ideas community. Here they can submit product feedback or suggest new features.
Salesforce Site.com
It is an App builder doorway. It is a web content management system. It is very easy to make dynamic and data-driven web pages with Site.com. The process is very quick and editing can be done in real-time. Marketing users and other content contributors can directly browse as well as update website content.
Salesforce Do.com
It is a task management system based on cloud computing. It is used for different businesses and small groups. It is famous for enterprise CRM solutions. This platform offers you the quick, most absolute way to put your clients at the center of all that you do.
Salesforce Desk.com
It is an online helpdesk system. Salesforce Desk.com, helps Salesforce interact with clients as well as solve their problems and issues. It is easy to use Desk to run business rules as per the information in Salesforce. It is a way to allow support and sales to work closely and firmly work together to offer better services to clients. You are allowed to view Desk cases within Salesforce whether current or past Desk cases.
Salesforce Data.com
Data.com is an online business directory. Business cards are used to exchange business information between companies and professionals of the business. Data.com represents sales as well as the lead generation component. The Data.com platform offers contact data sharing. This is the same as business cards. This is achieved by using a large user-generated database.
Salesforce Force.com
To create powerful enterprise applications Force.com is used by developers. Salesforce as a SaaS product and it holds in-built Out of Box (OOB) practical functions. These functions are used to allow a CRM approach to automate your sales, services, marketing, etc. Developers can easily develop applications with APEX as well as Visualforce languages.
Salesforce1
Salesforce1 offers a platform that allows application development as well as data exchange via application programming interfaces (APIs). It also prebuilds programming code parts. The combination also permits third-party applications and these can be on top of apps of Salesforce for tablets, smartphones, and wearables, etc. Salesforce1 is provided by salesforce.com. Salesforce1 is a mobile application for android and iOS devices.
14. Companies that use Salesforce
There are many CRM options in the market. But Salesforce is the number one choice of many sectors and big companies. Various sectors such as Banking systems, Telecom industry, Automobile industry, etc. choose Salesforce as CRM solutions for their organization. Google, Twitter, Facebook, and Amazon, etc. are some top-notch companies utilizing Salesforce services.
Salesforce's partnership with Apple
Salesforce and Apple are big technology giants. Apple is famous for creating the world's most progressive mobile operating system. With Salesforce and Apple collaborating together, they brought forth the best CRM platform. This platform is available for users as well as customers.
With these two companies coming together, users had a new mobile app of Salesforce with features available in Apple. Some of these features are Face ID, Business Chat, etc. This Salesforce app utilizes Siri technology and has opened up a world of possibilities for many users.
One of the most sophisticated portals for open learning is Trailhead. This portal has helped many Salesforce professionals launch their careers. Trailhead on iOS presents a fantastic option for all members, fresh or experienced.
Salesforce professionals can now easily use the Lightning Platform to build and deploy bespoke applications.
If you are new to iOS app development, Apple is adding a new feature to get Started with iOS App Development. This will help you to learn and build apps in Xcode using Swift.
15. Conclusion
By using a combination of innovative technologies, Salesforce stands out in the market. Salesforce positions have grown and are still growing faster as compared to other technologies. Fun fact is that Salesforce doesn't require you to know about coding or programming. Regardless of the Salesforce profile, Salesforce certified professionals are among the most demanding professionals in the market. Certification in Salesforce will make you stand out and help you take your career to the next level. There are lots of opportunities and lucrative packages for skilled Salesforce professionals.