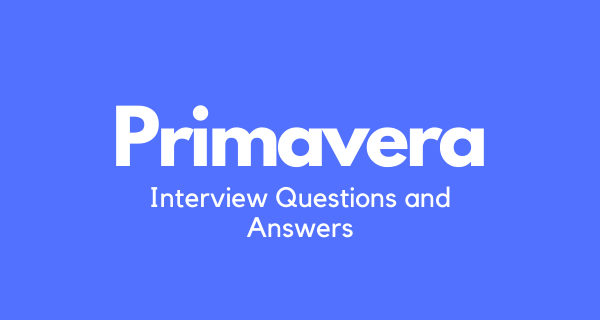 Primavera Interview Questions and Answers
Primavera Interview Questions and Answers
In case you're searching for Primavera Interview Questions and answers for Experienced or Freshers, you are at the correct place. There is a parcel of chances from many presumed organizations on the planet. The Primavera advertise is relied upon to develop to more than $5 billion by 2021, from just $180 million, as per Primavera industry gauges. In this way, despite everything you have the chance to push forward in your vocation in Primavera Development. GangBoard offers Advanced Primavera Interview Questions and answers that assist you in splitting your Primavera interview and procure dream vocation as Oracle Developer.
These Primavera interview questions and answers are based on mega trending topics. If you master most of these topics, there will be no Primavera interview question that you cannot answer and secure your dream job.
Q1) What is an OBS and how different is it form WBS?
OBS is an organizational breakdown structure which shows the existing, departments, units or teams which actually existed in the organization. It is arranged according to the work packages listed under each department. It is totally different from WBS because, WBS is the work break down structure which decomposes the total work into smaller manageable work packages.
Q2) Which are the most important techniques you use while defining the activities of the work?
The two most important techniques include
Decomposition:  This is the technique used to decompose the work packages defined in the WBS into activities.
Rolling Wave Technique: This is iterative technique where the work to be done in the near future is planned in detail whereas the work to be done afterwards is prepared in higher level.
Q3) What is a constraint and how does it affect the project? What are the different types of constraints that are there in the project?
Constraint is nothing but the restriction applied to the project. These restrictions will affect the functioning of the project. Following are the constraints that would be applied on the project
Scope constraint
Schedule constraint
cost constraint
resource constraint
quality constraint
Q4) What is CPM? How do you calculate Forward pass?
CPM is also called critical path method which is used to calculate the scheduled time for the activities specified in the WBS. The Critical path method uses the forward pass method to calculate the time.
Q5) What is float? What is the difference between free float and total float?
Float is the amount of time the activity or project phase can slip without affecting the project schedule. Two types of float which include free float and total float
Free float: the amount of time that a schedule activity can be delayed without delaying the early start date of any successor or violating a schedule constraint.
Total float:  the amount of time that a schedule activity can be delayed or extended from its early start date without delaying the project finish date or violating a schedule constraint.
Q6) What are the different types of relationships that are found between the two activities? Explain?
Different types of relationships that exists between the activities are
Lead: the amount of time whereby the successor activity can be advanced with respect to the predecessor activity.
Lag: The amount of time whereby a successor activity will be delayed with respect to a predecessor activity.
Finish to start: relationship in which the successor activity cannot start until predecessor activity finished..
Finish to finished :relationship in which the successor activity cannot be finished until predecessor activity finished
start to start :relationship in which the successor activity cannot start until predecessor activity starts
Start to finish: relationship in which the successor activity cannot start until predecessor activity starts.
What is a resource calendar and how is it important in schedule an activity?
Resource calendars are the document that usually specifies the time of the resource be it manpower or physical resources available for the project. It specifies if any resource is on leave or not available for the scheduled time. It is very important in scheduling because it can help to determine the time needed to complete the activity in case of unavailability of the resource.
Q7) What is a baseline? How is it used in the project?
Baseline is the approved version of the cost and schedule plan. It would be used to measure the project status whether the project is under cost or under schedule. Its just like benchmarking the project.
Q8) What is resource leveling? How is it used?
Resource leveling is a schedule optimization technique used to level the resources if there is any over usage of resources in certain activities, and under use of resources in certain activities you use resource leveling to neutralize the situation and bring the project back on track.
Q9) What is EVM? And mention different types of EVM?
It s a methodology that combines scope, schedule, cost and resource measurements to asses project performance and progress. Different techniques involves
analogous estimation
parametric estimation
bottom – up estimation
Q10) What are the different types of organizational structural types available?
The different types of organizational structure available are
organic or simple
functional
multi dimensional
matrix – strong
matrix – weak
matrix – balanced
project oriented
virtual
Q11) What is a PMO? What are the different types of PMO available in the organization?
PMO is an organizational structure that standardizes the project related governance process and facilitates the sharing of resources methodologies, tools and techniques. There are mainly three different types of PMO's in the organization.
Supportive: Provides with the required templates, best practices, and training to the employees
Controlling: Provide support and required compliance through various means. The degree of control provided by PMO is moderate
Directive: They take control by directly involving in the projects. Projects managers are assigned by and report to the PMO. The degree of control is high.
Q12) What Gantt chart? How is it used?
It provides the schedule information where the activities are listed on vertical axis and dates are shown in horizontal axis. They are easy to use and commonly referred. They also have activity durations shown as horizontal bars placed according to start and finish dates.
Q13) What is WBS? How is it used?
WBS – it is also referred as work breakdown structure. This is used to decompose the total scope of the project into more manageable and relatable work packages to make the work simpler and easier to carry out and understand the project. The WBS is created by using decomposition tool.
Q14) What are the factors that affect or influence the project?
Project operates in an environment that has a influence on them. These influencers have favorable or unfavorable effect on the project. There are mainly two types of influencers EEF and OPA.
EEF – Environmental Enterprise Factors: This originates from outside the project and has impact on organization portfolio, program, or project level.
OPA- Organizational Process assets – these arise from the inside the organization or portfolio or program or project.
Q15) What is the difference between portfolio, program and Project?
Portfolio – portfolio is where the projects, programs, suisdary portfolios ad operations managed as a group to achieve strategic objectives.
Programs – Related projects, subsidiary programs and program activities that are in a coordinated manner to obtain benefits not available from managing them directly.
Project- A temporary endeavor undertaken to create a unique product, service or result.
Q16) What is project lifecycle and different types of project lifecycle?
Project lifecycle is a series of phases that a project passes through from its start to completion. It provides the basic framework for managing the project. The different types of project lifecycle include predictive, iterative, incremental, agile and hybrid project lifecycle.
Q17) What is a project phase?
It is a collection of logically related project activities that culminates in completion of one or more deliverables. The phase in a lifecycle can be described by variety of attributes. It may be measurable and unique to a specific phase. Attribute may include date, number, duration and resource requirements.
Q18) What are project management processes?
The project lifecycle is managed by executing a series of project management activities known as project management processes. Every process produces one more outputs from one or more inputs using appropriate tools and techniques.  The output may be deliverable or an outcome. Outcome is end result of processes. They apply globally across industries.
Q19) What are different types of project management process groups?
The five different types of process groups include
Initiation Process Group
Planning Process group
Execution process group
Monitoring and Controlling Process Group
Closing Process group.
What is the difference between work performance report, work performance information and work performance report?
Work performance report – Raw details or information identified during activities performed to carry out project work.
Work performance information – The performance data collected from various controlling processes analyzed in context and integrated based on relationship across areas
Work performance data – the physical or electronic representation of work performance information compiled in project which is intended to generate decisions or raise issues, actions or awareness.
Q20) What is project charter? How is it different from project management plan?
Project charter is the document that authorizes the existence of a project and provides the project manager with the authority to apply organizational resources t activities. This document is issued by sponsor. Whereas the project management plan is the document that explains how the project is executed, monitored and controlled.
Q21) Mention the EEF'S internal and external to the organization?
EEF internal to the organization include:
Organization culture, structure and governance
Geographic distribution of facilities and governance
Infrastructure
Information technology software
Resource availability
Employee capability
EEF external to organization include:
Market condition
Social and cultural influence
Legal restrictions
Commercial database
Academic research
Government standards
Describe Requirement Documentation and Requirement management plan?
Requirement document is the document that describes the how the individual requirements meet the business need for the project. Requirement may be a resource or manpower.
Requirement management plan: it is a component of the project or program management plan that describes how the requirements will be analyzed, documented and managed.
Q22) What are the difference interfaces available on the primavera software?
The interface includes following:
Tables: where the activities and resources are available when added.
Gantt chart along with time scale :which shows the graphical representation of the activities
Project detail window: it provides the detail of the project with all resources, activities and schedule.
Q23) How do you use emotional intelligence in resource management?
The project manager who is in charge of the project should always invest in emotional intelligence by improving inbound and outbound competencies which include self awareness, self management and relationship management. The teams which succeed in developing team EI or become an emotionally competent group are effective. Additionally there is a reduction on staff reduction.
Q24) Explain the use of self organizing teams in the agile resource management?
Agile resource management is on a rise and self organizing teams are a part of resource management. Resource performs themselves in the absence of the centralized control. This is totally different from centralized control where project manager takes the control. In this type of management generalized specialist will have a more planning than the subject matter experts and they continuously adapt to changing environment.
Q25) Explain in detail the components of resource management plan?
Resource management plan includes following components
Identification of resources
Acquiring resources
Roles and responsibilities
Authority
Competence
Project organization charts
Project team resource management
Training
Team development
Resource control and resource Plan.
Q26) How does team charter influence a project?
Team charter is a document in the project management plan. It establishes team values, agreements, and operating guidelines for team it includes following contents
Team values
Communication guidelines
Decision making criteria
conflict resolution process
meeting guidelines
team agreements.
Q27) How does basis of estimates effect in the calculation during project planning?
The amount and type of additional details supporting the resource estimate vary by application area. Regardless of level of detail, the supporting document should provide a clear and complete understanding of how resource estimate was derived. Supporting details include
method used to develop estimate
resources used to estimate
constraints
range of estimates
confidence level of estimate
documentation of indentified risks
Q28) How will you describe activity attributes? How is it helpful in projects?
Activity attribute is the extended description of the activity by identifying multiple components associated with each activity. During Initial stages they include unique activity identifier, WBS     ID, activity label and name. After completion they may include activity descriptions, predecessor, successor activities and logical relationships. It can be used to perform where the work has to be performed; the project calendar has to be assigned.
Q29) Mention the different contracts available in procurement process?
The three main contracts available are
Fixed price :- used when scope of project is very well defined
Cost reimburse :- used when the scope is less and prone to changes
Time and cost: – used when for small projects.
Q30) What are the documents that are created before initiation of project? Who is responsible for creation of document?
The documents created before initiation of project are
Business Case: – this document provides the economic feasibility of project. It provides go or no go decision of the project
Benefit management Plan : – the document provides the benefits of the project to be obtained after completion of project.
These documents are usually created by sponsors.
Q31) How would you describe activity list?
The activity list includes the schedule activities required on the project, this document is updated periodically as the project progress. It includes activity identifier and a scope of work description for each activity in detail to ensure that project team members understand what work is required to be completed.
Q32) List the project documents used in the project?
Activity attributes
Activity list
Assumption log
Basis of estimates
Change log
Cost estimates
Cost forecasts
Issue log
Lessons learned register
Project communications
Project schedule
Quality metrics and quality reports
Risk register
Stakeholder register
Team charter