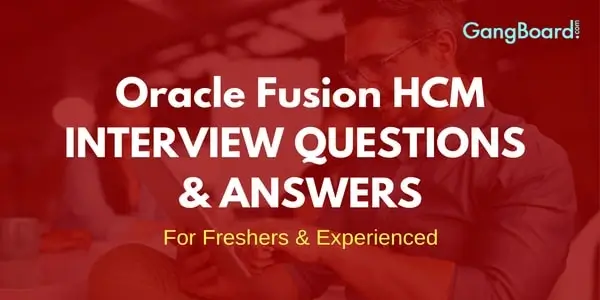 Oracle Fusion HCM Interview Questions and Answers
Oracle Fusion HCM Interview Questions and Answers
In case you're searching for Oracle Fusion HCM Interview Questions and answers for Experienced or Freshers, you are at the correct place. There is a parcel of chances from many presumed organizations on the planet. The Oracle Fusion HCM advertise is relied upon to develop to more than $5 billion by 2021, from just $180 million, as per Oracle Fusion HCM industry gauges. In this way, despite everything you have the chance to push forward in your vocation in Oracle Fusion HCM Development. Gangboard offers Advanced Oracle Fusion HCM Interview Questions and answers that assist you in splitting your Oracle Fusion HCM interview and procure dream vocation as Oracle Developer.
These Oracle Fusion HCM interview questions and answers are based on mega trending topics. If you master most of these topics, there will be no Oracle interview question that you cannot answer and secure your dream job.
Q1) What is the difference between Reports and Extracts?
Ans: Report will give full file and extracts will give changes only data.
Q2) What is the tool name that you are using data Migration?
Ans: We are using HCM Data Loader.
Q3) What are the workstructures we have in fusion HCM?
Ans: Jobs, Grades, Departments, Positions, Locations.
Q4) What are the different types of system user types?
Ans: Employee, Contingent Worker, Non Worker, Pending worker.
Q5) What are the different BI reports templates that you are used?
Ans: RTF, Excel, Drag and Drop.
Q6) Where do you set up enterprise in Fusion?
Ans: Manager Enterprise HCM information.
Q7) What are different Person Number generation method?
Ans: Manual, Automatic, upon save and Final save.
Q8) Tell me few Core tables?
Ans: Per_all_people_f, per_person_names_f, per_all_assignments_m, per_periods_of_Service.
Q9) What are the mandatory metadata to hire an employee?
Ans: Worker, Person Names, workrelationship, workterms, Assignments.
Q10) What is the task name to load geography for US Country?
Ans: Load Geography for US.
Q11) What are the source keys we have to load data?
Ans: Source System ID, User Keys, GUID, Surrogate ID.
Q12) What is Auto provision Rules?
Ans: Auto Provision Rules is used to assign a Roles to the users based on Criteria
Q13) What is the Default user name format in Fusion?
Ans: Lastname, FLastName, Person Number, Primary email.
Q14) What is the schedule process name to send email notification about user account details
Ans: Send email to Multiple users.
Q15) What is the latest version that you are using in Fusion
Ans: 20 B