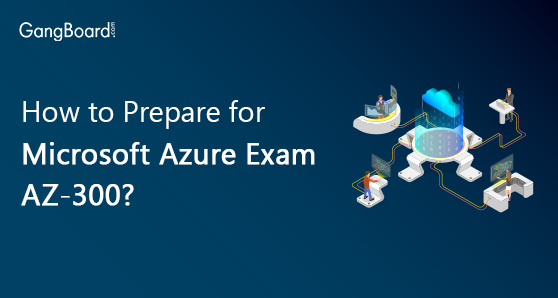 How to Prepare for Microsoft Azure Exam AZ-300?
Preparation  Guide for Microsoft Azure Exam AZ-300
Professionals who want to become a certified Microsoft Azure Solution Architect at the basic level is the Microsoft AZ-300 exam. The exam Az-300 is the first step of the role-based Azure certification path. The exam is only for the experienced candidates who are well versed with the roles of Azure Admin,  Azure Development and DevOps roles. The professionals should be master in any of the three domains.
So now you are thinking that the required skills are too much for taking preparation for the Microsoft AZ-300 Architect Technologies exam and passing the exam AZ-300 is difficult. Your concept is not fully right. If you are well versed with any of the above-mentioned domain then with proper planning and the help of exact study materials you will surely pass the AZ-300 Architect Technologies exam without getting any difficulties. Here we will guide you to prepare for the AZ-300 exam by suggesting the best study materials and perfect strategies.
AZ-300 Basic Exam Prerequisites
If you want to take the AZ-300 exam then you have to be an expert with Azure Solution Architect skills. You can work as an adviser of stakeholders and can create a scalable, reliable and secure solution as the business requires. You should have advanced level skills and vast experience in Identity, networking, business continuity, budgeting, visualization, data management, and disaster recovery and governance. You will easily get to know about all details after reading the exam instruction.
AZ-300 Exam Basics
| | |
| --- | --- |
| Technology | Microsoft Azure |
| Cost of Exam | $ 165 ( in the USA) |
| Number of Questions | 40-60 |
| Exam Time | 150 minutes |
| Passing Score | 700 |
Previously we have told that you have to be well versed with the Azure Development, Azure Admin and DevOps and should be a master in any of the domains. So, If you want to take the AZ-300 exam make sure that you are suitable with the above criteria.

AZ-300 Exam Basics, Information, and More
The Microsoft Certified Azure Exam AZ-300 is the recognition that you are an Azure Solution Expert. There will be 40- 60 questions to attend in the AZ-300 exam. The time limitation is 150 minutes. You have to face different types of questions formats in the exam. The questions formats are like active screen, review screen, the best answer, mark review, build a list, short answer, case studies, repeated answer choices, drag and drop, multiple-choice, and hot area.
The best part of the exam is that no negative marking for any wrong answers, so if you give any wrong answer there will be no number deducted from your right one. There is also a time allocation to review your answer before you leave the exam hall.
Pricing
If you are a citizen of the USA then the cost of the AZ-300 exam is $165. The exam fees will vary from country to country and there are other factors also. There is also a fee reduction policy for the Microsoft certified trainer, Microsoft Partner Network program member or Microsoft Imagine Academy program member. If any other student wants to get fee reduction then he/she has to submit their educational backgrounds and achievements.
Exam Scoring
You will get the online result in few minutes after completing the exam with the announcement whether passed or failed. But if you want to get the full printed scorecard you have wait for a few days. In the printed scorecard you can see your overall exam score, your result status, the strong and weak portion of your skilled areas, and will understand which part of your skill needs repair. You have to score at least 700 or more than 700 as it is the passing marks, otherwise, you will fail.
Exam Retake Policy
If you failed to get the passing score in the first attempt then you can take the second attempt after 24 hrs. Again you failed in the second attempt to wait for at least 14days to retake the exam. You can attempt up to 5 times in a year to pass the exam.  Normally you can't sit another time for the exam if you passed the exam previously.
Exam Cancellation Policy
If you want to cancel or reschedule your exam schedule due to some problem you have to do it before 6 days of your appointment then you have to pay no additional charges. If this process happens within 5 working days then a minimum fee is applicable. If you are unable to sit for the exam you have to reschedule or cancel at least 24 hours before the appointment or else your registration for the AZ-300 exam will be suspended and the total fees will be forfeited.
Read : Microsoft Azure Certification Courses & Relevant Exams
How to Register for AZ-300 Exam?
There are some steps to follow to register for the AZ-300 exam. First, go to the Microsoft Learning portal. Then you will see the link to schedule the exam. Click the link and you will go to the Microsoft's exam registration page then log in the page with your Microsoft email id, then fill the page with all your details. Then comes the next page for fee reduction only for the professionals working for Microsoft if you do not then skip the page and go to the next.
Most of the registration process will be done on the Microsoft official exam partner page named Pearson VUE. Now you have to choose for the AZ-300 exam delivery option. There are options like a local test center, certiport test center, and home delivery. Terms and conditions are available for every exam delivery option. After choosing a delivery option you have fixed the date and time. When you fix the date and time for exam delivery you can go for the next step of registration.
The last step is for exam fees. You can deposit fees paying by any type of debit/credit cards, but before payment doesn't forget to confirm the appointment.

Modules in AZ-300 Exam You Need to Aware about
Before you start preparing the AZ-300 exam you have to know about the modules. The AZ-300 exam preparation is covered with 5b topics or modules which are designed to analyze how eligible you are to sit for the exam. The 5 Modules are listed below. 
Configure and Deploy Infrastructure
This is the most important part of the AZ-300 exam preparation because 25-30% of the questions will be asked from this topic or module. In this module you have to learn about the analyzing resource utilization and consumption, creating and configuring a Virtual Machine (VM) for Windows and Linux, creating and configuring storage account, Automation of VM deployments, managing and implementing virtual network, managing Azure Active Directory (AD), managing and implementing hybrid identities, and the creation of connectivity between virtual networks.
Implementing Workloads and Security
This part has the second-highest question ratio in the AZ-300 exam. Approx 20-25% of questions will be asked from this module or topic. There are also many important tasks in this module like configuration of serverless computing, migrate any server to Azure server, implementation of application load balancing, integrate other local networks with Azure virtual network, managing RBAC and implementation of multi-factor authentication.
Creating and Deploying Apps
This part has fewer questions to answer in the AZ-300 exam. From this part, 5-10% of questions will be asked from this module. In this module there are two important skills described and if you are getting prepared for the Azure solution Architect exam AZ-300. In this module, you will get to know how to create web apps using PaaS (Platform as a Service ) and how to design and develop apps that are suitable and can run in Azure containers.
Securing Data and Implementing Authentication
This module contains 5-10% questions of the total exam paper. Here you will know the implementation process of authentication using certificates, forms, tokens, Azure AD. In this module, you also get to know about how to implement secure data solution at rest and in movement and how to use Azure Confidential Compute and SSL/TLS communication, and other tasks related with
Develop for the Cloud
This is the last module it contains 20-25% of questions of the total exam paper. You will get to know about the configuration of the message-based integration architecture of Azure services and the auto-scaling implementation rules and patterns in this module. The patterns address singleton application instances by the use of system matrics, schedule, and codes. So during preparation for the AZ-300 exam, you can't skip the module.
Now you know about all the importance of every single module in your AZ-300 exam preparation. So take very seriously every module because every module has its importance in the AZ-300 exam preparation.
Must Read: Preparation Guide for Microsoft Azure Exam AZ-100
The Relevance of a Genuine AZ-300 Exam Study Guide for This Exam
Comparing with AZ-100 and AZ-200 exam the AZ-300 is much harder and needs more effort to pass. Though it is not the toughest one with proper study material or preparation guide for the AZ-300 Architect Technologies exam you can easily crack the nut. If you can get the perfect study guide for the AZ-300 exam preparation that will not only describe every module easily to understand but also every single factor of the exam effectively. So it is very relevant to get perfect study material for the AZ-300 exam preparation.
The Right Material You Can Choose for Your AZ-300 exam Preparation
To prepare for the exam it is very important to choose the perfect resources, but don't worry we will guide candidates to the right process to be prepared for the AZ-300 exam. With proper course materials and proper guidance, candidates will be capable of the AZ-300 certification. A proper combination of course material and guidance the candidates will pass the exam with less effort.
Microsoft Learning Portal for AZ-300
The Microsoft Learning Portal is one of the best preparation guides for your AZ-300 Architect Technologies exam. You have to visit the portal many times at the preparation time of the Az-300 exam because many useful study materials will help you to prepare for the AZ-300 Architect Technologies exam.
In this portal you will find all requirements like exam schedule, the needed skills to prepare for the exam, other student groups where you can clear your doubts by asking their suggestions, you will get every single update related with the exam, exam policies, and also the options for preparation. This is a vital page because you will get the registration link from this page. So when you will prepare for the AZ-300 exam this page is the most helpful and important one.
In the above-discussed portal, you will find every information related to the AZ-300 exam like date change, price hike or drop, and many other pieces of information. So when you will take preparation for the AZ-300 exam don't log out from this portal, because it will guide you in every single moment.
Also Read: Preparation Guide for Microsoft Azure Exam AZ-102
Instructor-led Training
If you want to get training from experts for the AZ-300 Architect Technologies exam preparation then the Microsoft Learning portal has the option. The training is divided into six modules and it will vary country wise. So if you are interested in an Instructor-led Training then you have to find a Microsoft Learning partner in your area. There are two types of the partner of Microsoft gold or silver and also available online training and in-person training policies. So the choice is yours but sometimes the instructor-led training helps more than any other materials. The training is divided into 6 courses.
Course AZ-300T01- Deploying and Configuring infrastructure
Course AZ-300T02- Implementing workloads and Security
Course AZ-300T03- Understanding Cloud Architect Technologies Solution
Course AZ300T04-Creating and Deploying Apps
Course AZ-300T05- Implementing Authentication and Secure Data.
Course AZ-300T06- Developing for The Cloud
There are also some other preparation materials like Books and reference Materials, Forums and Exam Study Groups, Sample Tests, Exam Change Document. These are some of the best way to take right preperation for your AZ-300 exam.
After passing the AZ-300 exam you have to sit for the AZ-301 exam  to become a Microsoft Certified Azure Solution Architect.