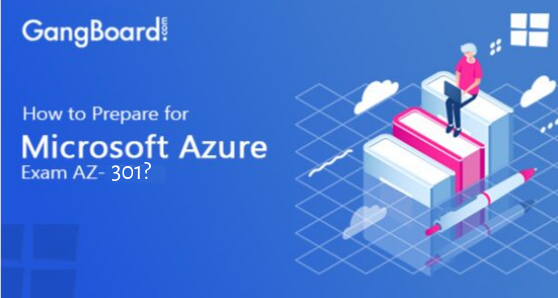 How to Prepare for Microsoft Azure Exam AZ-301?
How to prepare for Microsoft Azure Exam AZ 301?
Presently, Microsoft Certified Solution Architect is one of the popular as well as eminent job titles in the IT industry. Holding this certification can easily demonstrate your capability and knowledge of various phases of  IT jobs such as data management, visualization, networking, security, budgeting, disaster recovery, identity, governances, and the list continues.
In order to get the Microsoft Azure Solution Architect certification, it is necessary and to clear or pass the exam of AZ-300 and AZ 301.  In GangBoard, we are helping you with all the tricks and tips of passing these exams. This article is extremely important for all of you who are planning to acquire the Microsoft Azure Solution Architect certification.  This article will assist you with the preparation of AZ-301 exam and to be precise this is going to be your 2nd step for acquiring Microsoft Azure Solution Architect certification.  We have already published an article on AZ-300 preparation guide and you must go through that article to get a complete idea.
Why you must prepare for Microsoft AZ-301 Architect Design exam?
You must be wondering why we are emphasizing on Microsoft AZ-301 exam preparation, well there are a couple of reasons which you must understand. First and the most significant reason is acquiring the Solution Architect certification from Microsoft will be futile if you failed either of the exams (AZ-300 and AZ-301).  Although, you have already cleared your AZ-300 exam, failed score in AZ-301 can stop you from getting the certification.  You need to understand that not only AZ-301 exam helps you to acquire the certificate but also requires a lot of appropriate preparation as this exam is considered tough.  Therefore, you must start preparing for the AZ-301 exam with the right strategies and dependable AZ-301 exam study material.
The second reason is quite relevant when you start considering this certification as your career option.  We can help you to get a clear picture regarding the demand and decline of this career option by providing you an approximate idea regarding salary and other facilities. Based on the latest report released by PayScale an Azure Solution Architect average salary ranges $85000-$162000 in the United States alone. However, this can go higher or maybe less depending on the country and its market growth.  Therefore, these facts can be extremely relevant or useful is you are serious regarding the preparation of Microsoft AZ-301 Architect Design Exam.            Naturally, remuneration is not the only matter what keeps you motivated for the exam preparation but the overall acceptance and demand of this certification.


Essential information that you need to know regarding AZ-301 exam
AZ-301 exam generally follows an identical structure for most of the Azure role-based exam. In case if you have any prior experience regarding Azure role-based exam then exam policies, scoring pattern and other exam related information would be familiar to you.  However, it is always helpful to recall exam policies as a part of your basic exam preparation as this would boost your confidence and solidify your knowledge regarding Azure exam.
Some of the preliminary information that you must know regarding the AZ-301 are given below
Basic of Exam
Based on the previous exam pattern, a number of questions for AZ-301 is subject to change over time, however, you can expect around 40-60 questions if you are going to attend this exam at present. However, there are varieties in question that you can expect during the exam and that includes mark review, multiple choices, short answer, hot area, repeated answer choice, drag, and drop, build a list, case studies, build a list and many more. The exam may follow any of this question type and thus you need to make sure you are well accustomed with these question types.  The total time for completing the exam will be 150 minutes (2hour s and 30 minutes) and there will be an additional 30 minutes for your sitting time. If you are planning to get a good score, it is necessary to follow weight related to each exam module during the preparation of AZ-301 exam.

AZ-301 Exam basics (in US)
Technology
Microsoft Azure
Exam cost
$165 (in  U.S)
Question number
40-60
Exam time
2 hours and 30 minutes (150 minutes)
Passing score
700
Click Here: Azure Vs AWS
Cost of Exam
If you are from the United States then you need to pay $165 as the cost of AZ-301 exam and this cost are subject to change without prior notice based on the country.  However, we have mentioned the exam pricing excluding applicable taxes and it is always advisable that you contact exam providers to get the idea about the exact exam fees. If you are a student then you have the opportunity to get a discount on the exam fees but that is possible only after you submit your valid education documents.  Other people who are also eligible for a discounted exam pricing are Microsoft Partner Network Program Members, Microsoft trainers, and Academic program members.
Passing Score of the Exam
Quite like most of the Microsoft technical exam, AZ-301 also requires a passing score of 700.  Any marks equal to or greater than 700 will be considered as 'Pass" and anything below 700 will be marked as "fail". The best part of this exam is that there is no negative marketing or penalty for inaccurate answers.  Each of the short questions carries one point and if any of the question is worth more than one point then that will be indicated in the question part. We will advise you to check every question before answering them to keep the right track.
Exam Result
As soon as you complete your AZ-301 exam, within few minutes you will get to know your exam result. You will also receive a printed report card which contains your exam score and performance score in individual areas of the exam. Generally, exam providers send you your scorecard within 5 working days. To make the result analysis more convenient for you, this scorecard includes different scoring areas like your "Pass/ Fail" status, performance in individual skill areas during the exam, on the whole performance along with the guideline on how to interpret exam results.
Must Read: what is Azure Certification?
Cancellation policies & Retake policies of Exam
Like you, most of us have doubts regarding exam retake and cancellation policies and those doubts often hinder your exam preparation. For your knowledge, let us assure you that in case if you fail to clear AZ-301 exam at your first attempt then you must wait 24 hours to reattempts or retake the AZ-301 exam. If somehow you fail to clear your exam even after your second attempt, then you must wait for 14 days before reattempting your exam. Microsoft has given you the opportunity to retake your exam 5 times within a year. But if you clear your exam then you cannot retake this exam in most cases.
Microsoft has a predefined exam cancellation policy.  There will be no extra charges if you reschedule or cancel your exam at least before 6 business days of your scheduled appointment. If you are canceling your rescheduling your exam within 5 business days of your exam then a nominal charge will be applicable. But, your entire exam fees will be forfeited, if you failed to appear for the exam or failed cancel or reschedule the exam at least before 24 hours before the appointment.  This is a very important point to remember and must-know factor for everyone who is planning to take their AZ-301 exam preparation.
Click Here: AWS Vs Azure Vs Google Cloud
Know-how of the registration process for AZ-301 exam
Since you have already registered yourself for your AZ-300 exam, so the registration process should not be unknown to you. As soon as you feel that you have taken adequate preparation and ready to take your AZ-301 exam, you can proceed for AZ-301 exam registration. All the important steps are given below.
You need to visit Microsoft Exam page for AZ-301, you will find an option like "SCHEDULE EXAM", click on that link, and you will be redirected to Microsoft exam registration page.
With the help of your Microsoft Account details, you need to log in to the Microsoft exam registration
As the registration page appears, you will find a form that you must fill up with accurate information like your name, address and job role. Then enter your valid credentials, after that click on "Save & Continue"
After this, you will find an account linking page and this is useful only if you are an existing employee of Microsoft, otherwise, you can skip this page and move to the next section. IF you are an existing Microsoft employee then you can fill your employment details in this page to obtain an additional benefit.
From this section onwards the rest of the registration will be done on Pearson VUE which is the official partner for AZ-301 exam by Microsoft.  In this section, you can choose your exam location as per your convenience. You will have some options like the local test center, your home, and Certiport test center and you can select any and moved to the next section.
Next, you need to look for available slots of exam and you can choose any date and time from the available exam slots based on your convenience. You can only choose time and date from available slots and then you can move to the next page.
At last, you will process to the check out page where you will get options to pay for your exam fee. You will have multiple card options both Debit and Credit card to make payment for your exam fee. Once you make the payment you will be notified about the successful payment.  Once the payment is successfully done, you will get a notification that you have successfully registered yourself for the AZ-301 exam.
Related Blog
Exam modules that you must focus during your Microsoft AZ-301 Architect Design Exam Preparation for better result
Based on the structure of AZ-301 exam, it can be stated that it is easier for professionals who are taking preparation or planning to take preparation for the exam in the future. You can find the below module if you refer to any AZ-301 exam preparation guide. In the below list you will find all useful modules with their respective weight in AZ-301 exam.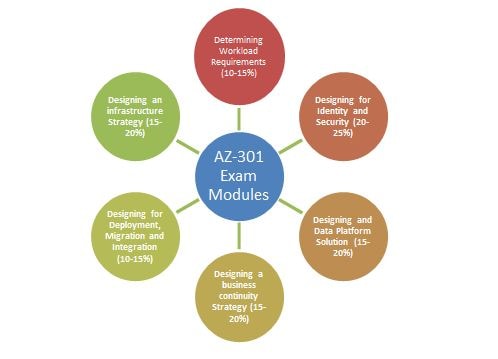 Determining Workload Requirements (10-15%)
This is one of the significant modules of AZ-301 exam and 10-15% of the total questions are from this section. So, if you focus on this section, you can easily score well in 1015% of the total questions during your exam.  Further, this module is divided into three subsections. The first section under this module includes information and requirements from different Azure resources and that includes task like identify and access management infrastructure, identify compliance requirements, service-oriented architecture, etc. The second section gives you information regarding how to optimize consumption strategy. In the final section, you will learn to design an auditing and monitoring strategy.  So, to master this module, you must individually focus on each of these three subsections.
Designing for Identity and Security (20-25%)
If you are taking preparation for AZ-301 exam and have gone through many preparation guides, you have already noticed that every topic under this module holds special importance over many modules. The reason is this module has high weight and at least 20-25% of the total question of AZ-301 exam comes from this section. Some of the important subsections of this module are designing identity management, designing authentication & authorization, design for risk prevention and identity and many more. Thus, we would recommend you to follow this module if you want to clear your AZ-301 exam at one chance.
Designing and Data Platform Solution (15-20%)
This module contains 15-20% of the weight, thus; you should not avoid getting a good score during your AZ-301 exam. The central idea of this module is to test your skill in designing data management strategy, designing data protection strategy, designing and documenting data flow along with designing and monitoring a strategy for the data platform.  Basically, this module gives you the opportunity to understand whether the learning process is moving in the right direction by taking a test of your proficiency.
Designing a business continuity Strategy (15-20%)
The weight of this module is quite similar to the last module, 15-20%.  The idea of this module is to present your expertise in various areas such as designing site recovery strategy, designing for high availability, designing data archiving strategy, disaster recovery strategy and few more.  It is always recommended that each of these modules is important for AZ-301 exam and thus you must pay almost equal attention to each of these modules.
Designing for Deployment, Migration, and Integration (10-15%)
From this module, you can expect 10-15% of question during your exam.  In this module, you will learn designing deployment, migration and API integration under the Azure infrastructure.
Designing an Infrastructure Strategy (15-20%)
This module includes several sub-topics such as designing of storage, compute, networking and monitoring for Azure infrastructure.  Each of these modules is important and it is advisable not to neglect any of the modules that are part of the AZ-301 Architecture Design exam study material for preparation.


Most Effective strategies that you should follow for AZ-301 Exam preparation
Aspiring candidates can choose any strategy they want to take the best preparation for the AZ-301 exam as per their convenience. Here, our team of experts has developed a list of methods and guideline that will certainly help to clear your AZ-301 with ease. However, we will only recommend you to follow those study materials which you find easy and helpful during your preparation.  You can find some free and great resources here and each of these resources is useful in its own way.
Let's take a look into some of the useful resources that can assist you with your AZ-301 exam preparation.
Follow Official learning page of Microsoft
The most important study guide for your AZ-301 exam is the official page for AZ-301 exam.  This page includes information that you need for the appropriate exam preparation. So, you must start your AZ-301 exam preparation with the official page of Microsoft for AZ-301. Besides, any updates related to AZ-301 exam first get published in this page. So, you must follow this page on a regular basis.
Search for eBooks and White Papers from official Microsoft portal
Unfortunately, there is a lack of availability of books and white paper from trusted sources that you can use during your exam preparation. However, if you know the right searching technique then you can get some helpful eBook and white paper on the Microsoft Azure portal.  These eBooks have a helpful source of information and can help you with your exam preparation.
Appear for Sample Test
We recommend you to opt for an available sample test as that helps you to understand the nature of the exam and reduce your exam fear. Such sample tests are available on the official Microsoft learning pages. Microsoft periodically updates such sample test and study material online to help candidates, however, tries to follow test which are recently uploaded.  Besides Microsoft, you can always reach us to find such sample test papers for your AZ-301 exam preparation.
Join Study groups and Forum
Nothing can be a better help for you than study groups and forum. Nowadays we all are connected over the internet and that same style can help you to prepare for your AZ-301exam. There are several forums and groups where you can post your queries related to AZ-301 exam and the group of experts will guide you through your query. In fact, through Microsoft official page you can get access to the official study group of Microsoft where you can take help from experts. In fact, these groups and forums are free of cost, thus pocket-friendly unlike eBooks and sample test. There are several other Azure forums where you can join and be a part of the discussion.
Opt for Instructor-led training
For helping the candidate with AZ-301 exam preparation, Microsoft has designed an Instructor-led training format in 4 courses. There are many classrooms training partner for each module and you can avail then based on your location. Detailed information regarding each course is given in the table below

| | |
| --- | --- |
| AZ-301T01 | This course is useful to manage security and identify in Azure Infrastructure |
| AZ-301T02 | The primary intention of this course is to help with effective management of Azure data platform |
| AZ-301T03 | This course can help to learn to deploy an ARM template to a resource group, integrating logic App  and many more |
| AZ-301T04 | One of the significant learning through this course is describing DNS & IP strategies of VNETs in Azure |
Let us help you
We are positive about the fact that this article will help you with the best preparation for your AZ-301exam.  But we would like to add the fact that passing the AZ-301 exam not only show your skill in Azure Architect technologies but gives you a chance to stand out from the crowd. Azure Solution Architect is a very demanding job with lucrative payment and growth opportunity. Bypassing the AZ-301 exam you can easily become certified Azure Architect with plenty of opportunities in Azure technologies.
For all what you need to do bring some changes in your existing AZ-301 exam preparation style and for the same, you can follow the above tips. Besides, we can also help you with your exam preparation. In GangBoard, we offer you AZ-301 practice tests. You can enroll now to check your preparation level and be ready for the exam.
Do not worry, if you have cleared your AZ-300 exam, you can start your preparation here with us in GangBoard. Our AZ-300 practice test will make you ready for your exam.
We will you all the best for your exam!


Related Blogs