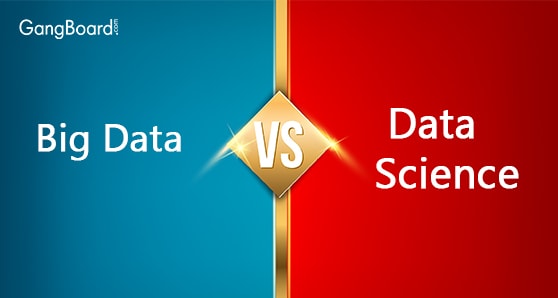 Big Data Vs Data Science
Big Data Vs Data Science
There may be not much a difference, but big data vs data science has always instigated the minds of many and put them into a dilemma. Today, we will reveal the real difference between these two terms in an elaborative manner which will help you understand the core concepts behind them and how they differ from each other. First of all, data science is an evolutionary extension of statistics that deals with large data sets with the help of computer science technologies. Many confuse Data science with absolutely wrong machine learning. Although machine learning is a subset of Data science, they are not the same.
On the other hand, big data deals with the vast collection of heterogeneous data from different sources and is not available in standard database formats that we are aware of. This implies that the data won't be tabulated into a table or chart or graph. Big data classifies data into unstructured, semi-structured, and structured data.
Unstructured data – Social networks, emails, blogs, digital images, and contents
Semi-structured data – XML files, text files, etc.
Structured data – RDBMS, OLTP, and other structured formats.
While structured data is quite simple to understand, unstructured data required customised modelling techniques to extract information from the data which is done by the help of computer tools, statistics, and other data science approaches.

Key Difference Between Big Data and Data Science
There are some major differences which we should talk about when our topic is Big Data vs Data Science.
Big data is used by organizations to improve the efficiency, understand the untapped market, and enhance competitiveness while data science is concentrated towards providing modelling techniques and methods to evaluate the potential of big data in a précised way.
The amounts of data that can be collected by the companies are huge, and they pertain to big data but utilization of the data to extract valuable information, data science is needed.
The 3Vs of the big data guide data set and is characterized by velocity, variety, and volume but the data science provides techniques to analyze the data.
Data science supposedly uses theoretical as well as practical approaches to dig information from the big data which plays an important role in utilizing the potential of the big data. Whatsoever, big data can be considered as the pool of data which has no credibility unless analyzed with deductive and inductive reasoning.
Big data analysis caters to a large amount of data set which is also known as data mining, but data science makes use of the machine learning algorithms to design and develop statistical models to generate knowledge from the pile of big data.
Data science focuses more on business decision whereas Big data relates more with technology, computer tools, and software.
Big Data vs Data Science
| | | |
| --- | --- | --- |
| Basis |  Big Data | Data Science |
| Meaning | revolves around the huge volumes of data which cannot be handled using the conventional data analysis method | skewed towards the scientific approach of interpreting the data and retrieves the information from a given data set |
| Concept | scientific techniques to process data, extract information and interpret results which help in the decision-making process | obtained with big data is heterogeneous that indicates a diversified data set which has to be pre-cleaned and sorted before running analytics on them |
| Formation | data filtering, preparation, and analysis | Internet users/ traffic, live feeds, and data generated from system logs |
| Application areas | Telecommunication, financial service, health and sports, research and development, and security and law enforcement | Internet search, digital advertisements, text-to-speech recognition, risk detection, and other activities |
| Approach | used by businesses to track their presence in the market which helps them develop agility and gain a competitive advantage over others | uses mathematics and statistics extensively along with programming skills to develop a model to test the hypothesis and make decisions in the business |
Related Blogs