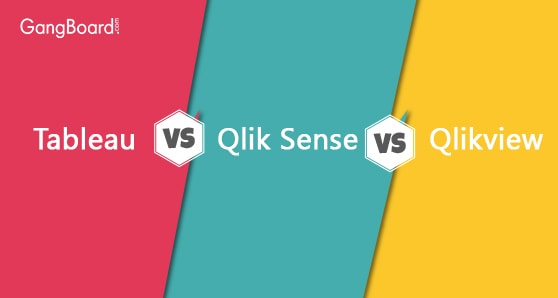 Tableau vs Qlikview vs Qlik Sense
Tableau vs Qlikview vs Qlik Sense
In this modern world of competition Business intelligence  and the areas of it like Data Analysing makes or breaks a business. Making the right kind of business forecast  holds the key role in success  and organization have been constantly  evolving their strategies to accumulate, analyse and compare information. The days of chart and graphs had given way to data analysing tools long ago and this have given place to intense competition among software companies to develop and reinvent their  services to make them edgy.  Qlikview, Qlik Sense and Tableau are some of the examples of data analysis specific tool that have excelled in their respective arenas. They are made to half the effort involved in data analysing and presentation and add accuracy to the job done thereby saving money and time for business enterprises.
What is Tableau?
Tableau is modern data analytical tools that accumulates crude data and enhance them visually for better presentation and understanding, thereby helping business forecasts. Tableau is a highly popular tool that is gaining popularity for the ease of its usage. The ability to present data in a more understandable and comprehensive way makes it favourite among users.
Key features of Tableau
Different range of data can be imported ,regardless of the size
Security of data is guarded at every stage
Works with ease on both desktops and mobiles
Inbuilt cvb dashboard
Native data connectors
Management of Metadata
Timely automatic updates
The functioning of Tableau is more focused on the presentation and visual effect rather than the analytical part.  This makes a heap of difference when comparing the same with QlikView or Qlik sense

What is Qlikview?
It is a database platform that is hugely popular among organizations across the world for data transformation into business knowledge. The software is used search, consolidate and analyse the data visually. Qualities such as user friendliness, simplicity and flexibility, Qlikview gathers data from multiple sources and creates centralised data storage for high level business reporting and forecast.
Based on the Qlik associative engine, Qlikview was developed in the 1990s as a flagship product which held its popularity for decades and still popular among organizations.
Key features of Qlikview
Out of many a few key features are explained below
Implementation is fairly short and less complicated combined with low cost and quick return on the investment.
Negotiate with high volume of data without compromising on accuracy.
Data conversion into graphical analytical and visual format helps ease of understanding and functioning.
Data filtering and integration is simplified.
What is Qlik Sense?
Qlik sense too is a business intelligence platform that performs deployment and analysis of applications and data. Based on the Qlik associative engine, Qlik sense was introduced as an advanced functional tool that would work in line with the above mentioned. Since its launch in 2014,it have been widely acknowledged as a new age data exploration platform.
Key features of Qlik sense
Manual creation possibility of which employees can use for greater efficiency.
An easier drag and drop method that helps the user visualize the desired area of data.
Tableau Vs Qlikview
Visualization
Since the key role of Tableau is presentation, it does indeed hold an edge when it comes to the presentation of data compared to the Qlik twins. The in-build extension helps this easily whereas the same is a time consuming affair with Qlikview and Qlik Sense.
Interface
When Tableau comes with a simple and easy to use drag and drop interface Qlikview is a bit crowded with tools in the menu which for a person not associated with the application can be difficult to navigate though they are purpose build.
Suitability
When Tableau is more suited for dash boarding and rapid visualization, Qlikview provides a wider business solution that is involved in various stages of the functioning of the enterprise.
Product diversity
When Tableau has a diverse set of products for various uses to handle purpose specific jobs, Qlikview is more of a function centric to a single product that is to meet all of the business requirements.
Graphical inputs
There are certain areas of the visualization that shows some considerable difference between the both. The tables are a bit weaker in the Tableau whereas Qlikview gives a good support for the same. Similarly Tableau does not support gauge charts and 3D graphs where as both are available in Qlikview.
Integration
The ability to integrate with a wide variety of data sources is highly important in order to make the data analysing and interpretation job successful. A wide range of data sources from FIREBIRD to Google big query are well integrated with Tableau whereas Qlikview associates with sources like Redshift, Impala and more.
Cost
Tableau provides a diverse range of products which makes it difficult to compare the cost as each specific service is priced differently whereas Qlikview gives a more uniform pricing for the whole function.
Storage capacity
With a subscription Tableau gives a storage capacity of 100 GB data on cloud against a stronger Qlikview that gives 500 GB storage per work group on Cloud storage.

Qlik Sense vs QlikView
Being churned out of the same software company that follows more or less the same foundation and core –Qlik associative engine. Both the applications have the ease of functioning in not having to manually adding the query rather a computer linking system that looks for similarities in the data.
When QlikView focus on visualization of data and sharing of business intelligence reports, qlik sense holds data exploration as its key function.
QlikView lacks the flexibility of qlik sense in terms of desktop or mobile viewing enabling report developing and visualization. A similar trend can be seen when it comes to embedding analytical application as Qlik sense provides an easy functioning whereas QlikView would want the user to get accustomed to specific skills specific to the application.
Comparison of the both reveals that when QlikView, as gained popularity and been in the scene for years is also undergoing constant research and development which have reduced the gap between the both adding to similarity of functioning. For companies that are new to the application in data analysis tend to go for Qlik sense being more modern and easy functioning and ones traditionally used to the software are depending on the QlikView and the updates provided.

Qlik Sense Vs Tableau
Though Qlik Sense and Tableau functions on the same path more or less serving the same purpose of analysing and visualizing they hold some key differences. As mentioned before when Tableau is focused on the presentation or visual representation part of the data Qlik Sense is more of a ready to serve the full organizational needs, an aspect that have been filtered from the initial days of Qlikview experience. These changes are particularly visible in the areas such as repeatable reports, data access etc.
Reporting
Though the functioning standard of Qlik Sense and Tableau are strikingly competitive the former seems to hold an edge in report designs, scheduling and ad hoc reporting whereas Tableau provides a very competitive predefined report.
Dashboard
Though the performance of the Dashboard are similar in function for both Qlik sense Tableau is widely seen as better in quality and in details and scorecards, especially of charts and graphs. This makes it easier for person without in-depth IT knowledge to handle the application with ease.
Cost
The cost factor as discussed before is based on two different models. The numbers of desktop users determine the pricing of Qlik Sense on top of a license fee. Tableau offers annual or monthly subscriptions and is sometime seen as a convenient one by many users.
Conclusion
The comparison between the Qlik Sense, QlikView and Tableau is a very sceptical one as the 3 provides distinct functions yet overlap each other in a lot of the services that they provide. The choice of each by different end users is often prone to the nature of business, past experiences and to a great extends the skills of the user. Over the years the 3 are closing in on the gap, competing with each other to better themselves which have made the functioning a lot easier and they all hold the value for money with the service that they provide.
It is often seen that Tableau is requires a structured data format which in turn helps in easy deployment of the same and on the other hand Qlikview produces great reports within a short span of time as its own data warehouse gives a more value for time and money.
The speed and compatibility of all of the applications are competitive and highly depended on the RAM of the devices they are operated in and also they are capable of working both online and offline on a variety of instruments from laptops, desk tops and mobile phones. The space of difference that they exhibit are on the constant shrink due to intense competition.
If at all one that holds a slightly higher advantage over the other would be Tableau over the other two because of the quality of the graphics and usability as per customer reviews.

Related Blogs