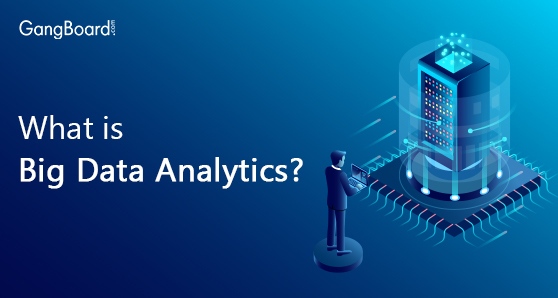 What is Big Data Analytics?
What is Big Data Analytics?
Big Data analytics is the course of a gathering, organizing, and examining the huge group of data, otherwise called as Big Data, to produce patterns and a few other beneficial data. Big Data Analytics can assist organizations to well recognize the information contained within the data and will also aid to detect the data which are most significant for the current business process and forthcoming business verdicts. Analysts dealing with Big Data naturally need the learning that is derived from data analysis. With the current technologies in the market, it is probably to examine any of your data and retrieve responses almost instantly.
The Big Data Analytics concept has been used for many years is most of the organizations and now all have understood that while seizing the data that flows into their businesses, they can easily apply analytics and receive substantial value from those data. During the 1950s, before using the term or concept of "big data," many businesses were using fundamental analytics to expose visions and inclinations.
It is one of the processes of examining the varied Data or to know the information about customer preferences, market trends, unknown correlations, hidden patterns, etc. which help the organizations to make their business decisions to stay ahead of the competitors.
In a broad view, Big Data analytics is a study of advanced analytics compromising of complex applications such as predictive models, statistical algorithms supported by high-performance analytics systems.
Data analytics technologies provide a way to analyze the Data sets properly and draw a conclusion about them which helps the organizations to study the market and prepare a business plan accordingly.
The Requirement of High-Performance Analytics
Big Data Analytics is classically performed to investigate a huge capacity of data with the use of dedicated software applications and tools for text mining, data mining, data optimization predictive analytics, and forecasting. Together all these procedures are distinct but extremely unified functions of high-performance analytics. With the use of Big Data software and tools, you can qualify an organization to process enormously great capacities of data which is being collected by a business to find out which data is appropriate and which can be examined to run a healthier business choice in the future.
How important is Big Data analytics?
As discussed Big Data analytics brings in new opportunities to the organizations with its unique analytics system and software as well as with high-powered computing systems. It opens them the door for new revenue opportunities by implementing more effective marketing strategies, better customer services and by much improved operational efficiency, etc.
The other advantage of Big Data analytics is that it encourages all the analytics professionals to properly analyze the unstructured Data from various resources like content form different social media, information from customer emails, etc. by utilizing the most advanced tools and thus leverage the organization to make their next business move confidently.
Importance of Big Data  Analytics
Big Data Analytics is very much helpful for organizations to attach their data and make use of it to find fresh openings. Do you know Big Data Analytics method enable to have a cleverer business moves, further effective actions, higher incomes, and gladder clients? Below are some of the best values of Big Data Analytics to be known by anyone who is interested to learn more about it.
Cost Effective Concept:
When you think about storing a large amount of data, Big Data technologies like cloud-based analytics and Hadoop plays a major role in bringing momentous cost benefits and additionally, Big Data Analytics can identify a better competent method of running a business. Sometime, the primary charges for the deployment of Big Data Analytics may appear to be high, but the revenues and profitable visions are more which is considered as the main essence of all the businesses.
Rapid and Healthier Decision-making:
Businesses are gifted to study the information instantly with the help of Hadoop speed and in-memory analytics. This is one of the rapid methods to make decisions depending on what the analysts have learned. Big Data has few modern tools which can present the essential percentages of data anytime in an organized and effortlessly understandable format.
Well Recognise Customer Requirements:
With the help of effective big-data analysis, the organization can plan well for client gratification and make modifications required to guarantee trustworthiness and customer belief. Healthier client experience absolutely influences the organization growth. Reliable collections of feedback from the client, collaborating websites, grievance resolution, and 24×7 customer support are some of the fair actions that made big-data analytics much famous and supportive to businesses.

Big Data Analytics for Whom?
Just by knowing what Big Data Analytics is and how it works will not end up the blog. Now it's time to know who the people are and what are the industries using Big Data Analytics and how effective is for their businesses.
Life Sciences:
Clinical research has a very sluggish and luxurious method for a variety of motives. Hence, Artificial Intelligence (AI), the Internet of Medical Things (IoMT) and Big Data Analytics unlocks the probability of enlightening rapidity and productivity at each phase of clinical research by distributing brainier, and mechanized resolutions.
Health Care:
In the health care business, insurance information, Patient records, health plans, and other kinds of information appears to be very tough to handle. When Big Data Analytics are applied to the system, we can see full of key visions in health care domains. Big Data Analytics examines the huge amounts of information quickly which can be either be in structured and unstructured. Through this analysis, Health care employers can afford lifesaving treatment or diagnoses possibilities instantly.
Retail:
There are many shoppers expecting retailers to understand accurately what is required from the customers. Big data analytics technology is the one that helps retailers to fulfil the demands, equipped with infinite quantities of data from client loyalty programs. Using Big Data Analytics, retailers will have an exhaustive understanding of the customers, trends can also be predicted, fresh products can also be recommended and increase productivity.
Government:
There are multiple challenges faced by the government when they constrict the budget without negotiating excellence or production. This is chiefly upsetting with law enforcement interventions, which are stressed to have crime rates down with comparatively rare resources. Hence, most of the agencies are carrying out with big data analytics process as this type of technology updates operations providing all-inclusive sight of criminal actions.
Manufacturing:
We can see manufacturers struggle with tough glitches every day. Problems may occur on labour constraints, supply chains, motion applications, and apparatus failures. Hence, the manufacturing industry is highly relying on big data analytics as this technology has permitted modest administrations to produce fresh cost-saving prospects and income openings.
Banking:
Using Big Data Analytic, most of the financial institutes collect and access analytical perception from high capacities of unstructured data to generate wide-ranging financial choices. Big data analytics permits the banking domain to carry out the information when required, by eradicating overlying, dismissed systems and tools.
Growth of Big Data:
Big Data analyst market is growing rapidly and it shows no sign of slowing down. It has been estimated that the Big Data analytics industry will reach a new height as global market share will scale up to $40.6 billion by 2023 according to several types of research.
Most of the enterprises think that Data analytics is one of the major tools on which they can rely while making business decisions and many of them responded that Data analytics report helped their organization to enter and expand their services into new areas in which they have never been before.
Initial only few companies related to internet business such Yahoo, Google and Facebook, and also some e-commerce related companies were depended upon Big Data applications for the growth of their business but later on many companies from different sectors like retailers, financial service providers, manufacturers, and companies into the energy sector, etc. have also relished the importance of Big Data applications and have started to implement the Big Data analytics reports into their business.
How the Internet of things contribute to the growth of Big Data?
Now a day's people are using gadgets more than before to get their most of their work done. These gadgets are connected to the internet directly they send and receive information easily in huge quantities. As per the estimation, the total Data from internet-connected gadgets will reach up to 500 zettabytes per year by 2019.
Organizations are well known about how this Data can help them to increase their business so they gather information from these IoT devices which provide them a Data analytics report which helps them to prepare their business plan.

How Big Data Analytics works
As discussed with the increase in the usage of smartphones by the people more and more Data is getting generated and all this Data from different sources is being collected in a systematic manner with the help of technologies. Once the Data is collected then lit is linked together and filtered properly so that it can be useful information to the organization.
Companies are relying on cloud computing service which allows them to collect all the Data and later combine this Big Data with other advanced technologies like Machine Learning and Artificial Intelligence for the further improvements of their business.  Data centers help them to distribute Data in batches for processing over multiple servers, and the number of servers can easily be increased or decreased as per the requirements.
Which industry sectors are using Big Data?
As we are discussing the benefits the Big Data that it brings to different enterprises. Some of the prominent sectors like Banking, Manufacturing, Government and Retail industries, etc. are utilizing Big Data to meet their demand.
Key Technologies of Big Data Analytics
There is some innovative analytics which can be applied on big data, but the truth is numerous kinds of technology is working collectively that helps to retrieve much value from the available information. Below are some of the key technologies and they seem to be the principal players in today's trend.
Data Mining:
Data mining technology is a better technology to examine the huge volume of data to generate patterns in the data and this material is helpful in providing an additional examination on multifaceted business queries.
Machine Learning:
Machine learning is the one that trains a machine how to study, enable to rapidly and mechanically create models which are helpful in analysing superior and multifaceted data.
Hadoop:
Hadoop has turned out to be a chief technology for running a business just because of the endless rise in data volumes and assortments and be aware that its circulated computing design makes big data wild.
Predictive analytics:
Predictive analytics is the one that identifies the probability of future consequences depending on the ancient statistics with the use of statistical algorithms, data, and machine-learning systems.
Data management:
All the data must be in the best quality and well organized before the date consistently examined. It is significant to launch frequent developments to build and uphold values for data excellence.
New Job opportunities in Big Data Analytics
As Big Data industry is growing, each and every company from the different industry have started to implement Data analytics reports into their business. This has created a huge demand for professionals who have skills to manage, analyze and help organizations to prepare and use Big Data analytics reports effectively.
According to a report, the Big Data market will grow at a high rate of about 23.1% from 2014 to 2019. Investments in cloud computing and Big Data technologies are also increasing. Most of the organizations are set to invest Big in skill set for Big Data deployments in the coming days. All this has created demand for individuals to learn skills that require to get Big Data jobs.
As the demand for Data analyst professionals has multiplied several times has put a new challenge for organizations to hire the right talent for their workspace. They can see a significant gap in the demand and availability of such professionals. So many organizations are conducting corporate training to their employees to reduce the gap between demand and availability of required manpower.
Final words on Big Data Analytics!
The significance of big data analytics results in a powerful race and amplified claim for big data specialists. Big Data Analytics is a developing arena with enormous potential, and it helps in studying the value of a business and benefit with insights. Through Big Data Analytics, analysts can improve the business knowledge and they can create chances to learn more about the business within organizations.
The overview highlights show us how Big Data is gathering momentum day-by-day and is being considered as one of the important department of every organization. The availability of IoT devices and their supported software has revolutionized the world of Big Data. We can also note that there are numerous factors that contribute to the growth of the Big Data and many and more companies are willing to rely on Big Data for the growth of their business.

Related Blogs: