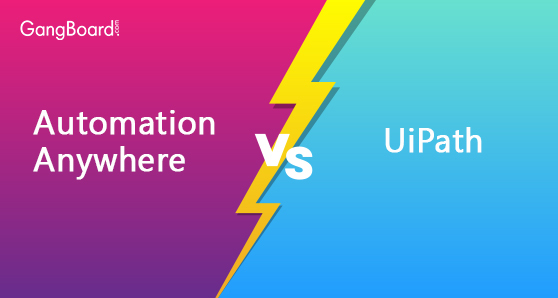 Automation Anywhere Vs UiPath
Automation Anywhere Vs UiPath
Robotic process automation (RPA) has matured into a strong competitive advantage, which means businesses will have the opportunity to make big decisions and select among the leading platforms– UiPath and Automation Anywhere (AA).
What is Automation Anywhere?
Automation Anywhere can be defined as the most prominent and robust RPA vendors offering the top RPA capabilities in order to automate any complex tasks. As a matter of fact, it is a kind of revolutionary technology that changes the entire operating process of an organization. This tool combines conventional RPA which helps in reading any unstructured data and understanding natural language.
Automation Anywhere (AA) allows organizations to automate the processes which are performed by humans. In a nutshell, it is a web-based management system which uses a Control Room to run the automated tasks promptly.
What are the Benefits of Automation Anywhere?
Following are the possible benefits of using automation anywhere.
Continuous Automation:
It allows companies to create and make the best use of smart bots that would help carry out the major tasks of the business.
Smart Bots:
with Automation Anywhere Enterprise, developers will likely to create automation robots that can be taught how to carry out the activities without any difficulty. This would ultimately result in minimal control and most developers will assure that their bots will follow the necessary steps assigned to them.
Effective Insights:
Organizations with the help of Automation Anywhere Enterprise gauge how their RPA robots assist them. Being equipped with a reporting feature, it would help company to get a comprehensive report of the performance of the bots.
Simple Software:
Automation Anywhere Enterprise is user-friendly software that can be used by employees who are not even well-versed with IT training. This allows them to deploy bots and make them as productive which would certainly ease the burden on the IT department.
High-Class Security:
Automation Anywhere Enterprise is equipped with top-class security protocols that give businesses assurance that their information is well-protected.

What is UiPath?
UiPath can be defined as the Windows desktop (RPA) Software which is specifically designed to empower business analysts, resulting in automating business processes within their companies. It's a tool based that reduces manpower and contains less code like .net, scripting language.
Talk of the working of UiPath, it majorly focuses on the activities related to flow-chart. It provides a multitude of services, including process modeling change management, deployment management, execution monitoring, and remote execution and scheduling.
What are the Benefits of Using UiPath?
Listed below are the benefits of using UiPath.
Customer Experience:
With the help of UiPath, back office tasks usually get speed up. This would allow companies to provide timely and effective services to their potential customers. With the existence of UiPath, automation and integration between sources of applications can be done successfully.
Increased Productivity:
When the end to end business processes are automated, companies will likely to provide early services to their end customers. And as a result, back offices can provide the best and exact responses.
Management Capabilities:
With its centralized management server, UiPath allows organizations to manage bots to perform the activities automatically. When it has the ability to handle bots, better security, and management capabilities will be offered quite easily.

Comparison between Automation Anywhere & UiPath
1. Automation Anywhere is more script based, while UiPath has visual process designers.
2. Automation Anywhere and UiPath have Macro Recorders, a feature that will get you up to speed in process mapping.
3. Talk of access, there is application based entrance in Automation Anywhere. On the other hand, there are both browser and mobile access in UiPath.
4. Coming to architecture, there is client-server based architecture in Automation Anywhere while there is cloud-based architecture in UiPath.
5. There is a high cost of deployment in AA. On the contrary, there is effective, entry-level pricing in UiPath.
6. AA has the capacity to manage high scale robot deployment whereas in UiPath, debugging highlights break in all types of project.

Related Blogs