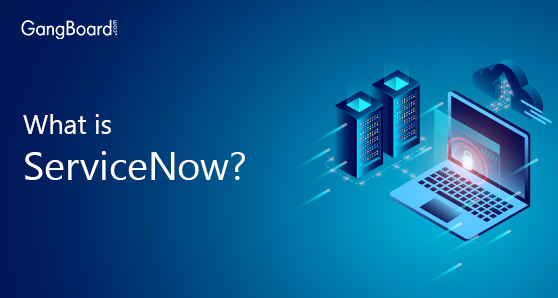 What is ServiceNow?
What is ServiceNow?
Before we look at what is ServiceNow, get to know how ServiceNow came into the IT field and how effectively ServiceNow works for a better result.
Today's IT field is highly targeting to accomplish ideal productivity. Everyone should be aware that it not a relaxed process to face several barricades and succeed in business. Still, there are many bequest structures in use which can sluggish the progression substantially. To answer all these scenarios, we must read on what is ServiceNow and how ServiceNow came into reality in IT Service Management (ITSM) sector, and how ServiceNow turned to be a developed enterprise cloud solution.
Origin of ServiceNow
Why know the origin of ServiceNow? Is it mandatory? Yes, It is always good to know the history of any concept that we use in our work that rules the IT field. History on ServiceNow gives clear information on when and where ServiceNow is founded and by whom, specialties of ServiceNow, segments of ServiceNow, tools incorporated with ServiceNow notion, etc.
ServiceNow is an effective business oriented company, founded by Fred Luddy in 2003, later in 2004, merged in California, standing as a chief performer service management commerce.
Principally, ServiceNow is an ITSM tool, based on SaaS, aiding to systematize the IT Business Management (ITBM) and built with ITIL guidelines. The important segments presented by ServiceNow include Knowledge Management, Change Management, Problem Management, Incident Management, Request Management, Configuration Management, and Service Catalog.
The topmost specialties of ServiceNow are IT Business Management (ITBM), IT Operations Management (ITOM), and IT Services Management (ITSM). ServiceNow affords service management for different sectors such as facilities, finance, human resources, customer service, legal enterprise requirements, marketing, software development, security, IT and field service.
ServiceNow assimilates effortlessly with many other tools and also offers an app store containing tools from third-parties. Through all these catering services, ServiceNow has increased its fame in most of the business field.
ServiceNow perfectly makes use of machine knowledge to influence statistics and work sequence to benefit contemporary enterprise becomes quicker and further accessible.
Motives to use ServiceNow
People using ServiceNow has some reasonable motives for their business and they are listed below:
Through ServiceNow, work can be done very rapidly that makes the work course cannier and sooner.
ServiceNow users can swap the formless work designs/business progressions with intellectual workflows
ServiceNow is based on SaaS and no one is expected to fear about deployment, updates, conformation, and maintenance.
ServiceNow gives the possibility to propose a user-friendly self-service gateway with stamping.
ServiceNow bids numerous methods to retrieve support counting emails, chats, forms, questionnaires, and a few more.
ServiceNow permits the employees to accomplish an improved service, and the service points will ultimately expand.
ServiceNow affords email performance and Web services manage events from numerous peripheral sources and monitoring tools.
All investors (workers and clients) can apply changes to the identical platform that modernizes processes and affords a single truth version.
ServiceNow assists in reducing ITSM charges up to 60 percent.
ServiceNow for Whom?
Many investors/stakeholder use ServiceNow to attain business mission and goals:
Developers to generate innovative and fresh functionalities with coding to inflate the typical configurations.
Employees for associated IT business services.
IT support Crews to manage incidents or service requests.
Administrators to help administrators for roles, user access, and privilege administration.
Implementers to organize procedural applications and platform features that satisfy a company business desires.
ServiceNow Applications
ServiceNow applications overview helps the users to know more about ServiceNow concepts.
Security Threats Resolved
ServiceNow makes use of organized workflows that helps in arranging perils based on their brutality and influence on the firm. Threat investigation would usually consume approximately 45 minutes using manual processing and spreadsheets. Nevertheless, mechanized tools deliver these evidence within the platform reducing the time lesser than  20 seconds.
Customer Service
ServiceNow is transmuting Customer Service into a Squad Sport. ServiceNow Customer Service Management (CSM) functions by involving the precise folks, workflows, and structures. This process is unlike general Customer Relationship Management (CRM), restricted to usual customer assignation. We all are attentive that in today's IT trend, the need of the hour is to afford never-ending quality service by retaining the cost limitation, hence ServiceNow plays a major role. Be aware that Customer Service is not just ending with undertaking patron issues/tickets. When a customer faces an issue, it is mandatory to find out the root cause. The purpose of this effective service is to decrease the compliance ticket capacity for the long term.
ServiceNow is combined with Service Mapping and it delivers cross-functional data to determine the primary fact, the place where the blunder was initially observed. Through ServiceNow, it is simple to report across dissimilar branches that are authorized, field services, manufacturing and so on.
IT Service Desk
ServiceNow is good enough bringing the comfortable practice of social media applications to the ITSM segment. We all can easily identify that most of our work hours are spent performing tasks which are apart from our major process and this is because of the usage of obsolete ITSM software. To avoid all these unwanted jobs in working hours and reduce the burden, teams are offered with a self-service gateway through ServiceNow, where they can gain IT Services by communicating with the respective division employees.
HR Service Delivery
Have you ever thought of how HRs are performing continuous and monotonous tasks, instead of concentrating on deliberate jobs?
ServiceNow helps in getting rid of those manual tasks. These labor-intensive tasks are shared across dissimilar branches like Accommodation Facilities, IT, Finance and Legal. ServiceNow's single platform is helpful in linking the HR process with all these sections. Policymaking is easily designed with its relevant stalking and inclined tools. Nowadays, HR is power-driven with personalized papers to distribute pleasing provisions to employees.
Business Applications
ServiceNow is providing a drag and drop method allowing the users to tailor Business Apps without preparing any code. The qualified developers are not required to initiate from scratch as they can pick from ecological mechanisms, workflows and connect blockades across various branches with the data from the cloud.
ServiceNow Specialities
Orchestration
On remote servers, ServiceNow permits users with the ability to compose or systematizing meek or multifaceted jobs. If an Orchestration is executed in an IT company, any work doesn't require much work and employees. Automated systems such as Microsoft Exchange mail servers, VMware helps the business and reduces the labor effort.
Mobile Equipped
Do you know that ServiceNow is mobile equipped? Yes, in today's world, there is no one ignoring the mobiles and most of the people expect a mobile-enabled enterprise application/service. We all need a good space to apply changes on the daily run and there we have our ServiceNow.
LDAP
Active Directory is used by many companies for different reasons like affording application access or sustaining Distribution list and many more. ServiceNow handles the LDAP integrations and this integration process is treated to be a small part of the ServiceNow tool. One of the most important and easiest concepts is coding is not required at any cost and it has an effortless configuration!
Authentication
ServiceNow provides SSO feature as this tool holds numerous SSO features and it is obvious that each company is very fond of Single Sign-on (SSO) feature. ServiceNow gives a possibility for an organization to utilize multiple SSO Identity Providers to handle the authentication process.  Without requesting for any User ID or password, SSO allows the user to access the application and the fact is, Windows ID and Password is being used.
Summary
ServiceNow declines provision charges and expands resolution periods via cohesive self-service. Customers get a very good prospect to hunt information articles, participate in a knowledgeable community and specialists through media, or expose a sustenance event through the identical web porch.
So, what are you waiting for? Just go-ahead and enhance your business with all the available ways.